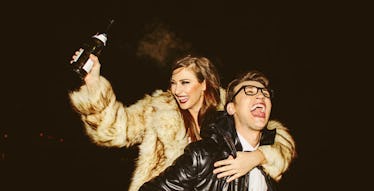 The Hell Of The Hunt: What Happens When You're Newly Unemployed
Stocksy
Unemployment is new to me. The whole prospect of being jobless, without income and having to consider between splurging on a venti or settling for a tall is not commonplace in my books.
It's been a long time since I've had to scour the job postings for something that might trigger the kind of interest that provokes the effort required to compose a cover letter and fine-tune the old résumé.
I'm no longer familiar with the go-to job sites for people in the kind of industries I like to think I'm in.
But of course, since I'm not technically employed, I can't fully claim to be in any industry. Having several friends in the same boat, I've discovered there's a timeline for the journey us jobless folk seem to be on.
The first month you find yourself somewhat shell-shocked. You spend your mornings getting up early and robotically starting the pre-workday grind, only to remember that you have no place to go.
A mental battle takes up the bulk of your day; half of your brain is convinced you've completely screwed yourself and the other half feels smug at the thought that at such a young age, you've taken a risk that most people wait until their mid-life-crisis to consider.
Your evenings are spent dreaming up new hobbies to pass the time and discovering it's been a while since you've let yourself "just try" something new. There might just be some light on the horizon after all…
In the next few months, you feel relaxed and relieved at having taken the first step toward the life you know you were born to live.
You put job hunting on the back burner and enjoy the newfound freedom that comes with sleeping past 8 and staying up past 11, with no real schedule to follow anymore.
The prospect of finding work seems promising and you feel excited at the thought of seeking out something new.
The next few months after that are where I find myself now. I'm nestled somewhere between panic and bliss; limbo that some would call a delusion and others, a revelation.
Fifty percent of the time, I feel discouraged. I think about the security (albeit partnered with misery) that used to accompany a steady paycheck and I wonder when I'll see that kind of "safety" again.
Nights are spent tossing, mornings spent turning, days spent flipping through bills and, at the risk of resorting to rap quotes, trying to make a dollar out of 15 cents.
I put on a brave face for the people closest to me and secretly wonder if I've somehow lessened in their eyes.
I'm no longer able to justifiably claim exhaustion at the end of the day or "talk shop" at the table. I wonder if my boyfriend now sees me as more of a liability and less of a partner.
Have I lost some of the sex appeal that comes with being an "independent woman?" Thanks Beyoncé, you picked a hell of a time to make that the trend (I kid, I kid; feminists, put down your pitchforks.)
On the upside, 50 percent of the time, I feel more focused than I've ever been. I am proactively seeking out new work, and slowly but surely, narrowing in on what will work best for me in this next chapter of my life.
I've been able to dedicate more time than ever to my personal blog and writing ventures, which has me feeling fulfilled and somehow, busier than ever.
Life seems full of promise and new amusements. Personal projects no longer have to wait, I am able to recognize some of the flawed relationships in my life and give some energy toward making them better.
My domestic skills have never been sharper, and I'm surprised to find that I'm quite the little cook. No need to roll your eyes — I'm not about to suggest women should put down the diplomas and instead invest in slow-cookers.
I am, however, discovering that there is something oddly satisfying about indulging in the stay-at-home persona I didn't know I had in my arsenal of multiple personalities.
From where I currently stand, I suppose the jury is still out on where the cards will fall. I took a risk and while that's usually where the story ends, I'm living proof that things don't fade to black after the credits in real life.
I take it day by day, and clearly, some days are better than others — 50 percent of them to be exact. You can't win 'em all, and if I know anything, it's this: I've never heard of a real-life success story that wasn't first marred with failure.
As the days continue to pass, I have no doubt things will continue to move forward, as they tend to do. And, when things get interesting enough to talk about, you can bet your ass there will be a follow-up article. After all, I do have time now.