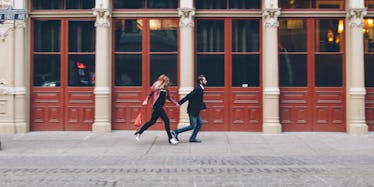 How To Be Happily Alone, Rather Than Depressingly Lonely
Stocksy
When I was 2 years old, my mother divorced my father. This was her second divorce, as she was previously married to my sister's father. My mother spent the majority of my childhood focusing solely on three things: work, her two daughters and her search for a suitable stepfather.
We got by just fine; money was never an issue, and we had a nanny who would step in for my mom. Still, she firmly believed that having a male figure around the house would make our family dynamic great, instead of just fine.
My 13th birthday came and went, and soon after, my mom met someone at a work conference. He was a wealthy surgeon, and he lived alone in a mansion in Texas. He gave my mom a beautiful ring and promised her a laundry list of things: security, the willpower to be a good father and a new house in Texas for us all.
Excited for a new chapter, we decided, as a family, to sell our house on Long Island, and proceeded to pack our bags for a permanent trip down South.
But, when the day came to fly down to Texas, he didn't show up to take us. Countless calls to his phone went straight to voicemail. It didn't take long for us to realize he was a con man — a skilled one, at that.
So, there we were, homeless and heartbroken. He may have disappeared from our lives, but with his footprint, he left behind a broken heart, tainted spirits and two young girls, wondering how it was possible they had less than they did before they met him.
Being single sucks -- there's no doubt about it. Most of my girlfriends, myself included, label singledom as a static state; one that must be changed as quickly as possible.
As single girls, we're all doing one of three things: crying over love lost, helplessly stuck in a hookup where the guy refuses to commit to an actual relationship, or actively looking for new love.
Hell, we may even be doing all three at the same time. Even so, the end result of each of these situations is the common denominator that links them all: We are unsatisfied.
So, if all of these options are unsatisfactory, why do we keep turning to them? The obvious answer to this is that we're afraid of ending up alone. It's okay to pine over a romance that did not work out, and it's even understandable to keep a guy around who won't commit.
But, when it comes to looking for our next romantic pursuits, we should consider refocusing our energies.
We do anything and everything in order to find our next whirlwind romances — Tinder, OkCupid, asking our friends to set us up with their friends, ordering three drinks at the bar instead of one so we're juuust tipsy enough to approach that cute guy with no shame. You name it, we do it.
There's just one problem with these methods: They're unnatural. If that cute guy was interested in you, don't you think he would have approached you? And, online dating sites lead us to subconsciously fall for the idea of someone, rather than the person himself.
We fall in love with love -- with the possibility of finally having someone to date, someone who will pay for our dinners and someone who will call us beautiful when we're feeling down. These all may be admirable qualities, but all they do is qualify him as a man, not necessarily the right man for you.
Thus, by following these methods, a large chunk of us end up in relationships that are only just good enough to help us get by instead of ending up in ones that offer us the ability to complement us flawlessly.
At their capacity, these relationships we actively seek only help make us feel less alone.
Subsequently, because we choose to be tied down in relationships simply for the sake of being tied down, we put ourselves at risk for potentially missing out on those great opportunities we could have had, if only we were single.
My mother was so overcome by her desire to have a husband that she was too blind to see that what he was giving her were false promises. Eventually, my family found a new home in a new town, and we had to start all over. But, we went through an ordeal that took us forward two steps, and set us back 100.
By looking for love, we end up stalling, and maybe even limiting, our progress as human beings.
Instead of searching for love, then, we must find ways to be content with waiting for it to find us. We can do this by learning to have newfound appreciation for the things in life we already have. And, by focusing our energy on things like exercise and how to move up in our careers — and retail therapy.
We must lower our expectation so that when Prince Charming does find us, he will feel like a dress that fits perfectly, right off the rack, rather than one that needs to be tailored to fit. We must accept that love will find its way, only when we are not doing everything in our power to hunt it down.
There is a stark difference between being alone and feeling lonely; if you accept that love is one of the only forces in life that you cannot control, you don't have to be a victim to the latter because that core-shaking, breathtaking, ridiculous kind of love comes when we are focused on bettering ourselves.
And, because good things come to those who wait.