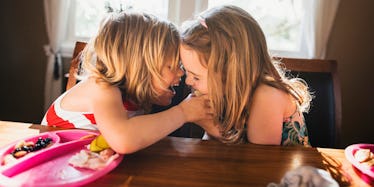 What Actually Happens To A Traveler's Identity When She Stops Traveling
I am sitting in the airport in Bangkok. It's the same departure area where I have sat a million and one times, readying myself for whatever big adventure lay ahead: going to explore the Himalayas in Nepal, heading down to explore the underwater worlds of Indonesia, following my heart to Australia, moving back home to New York.
Moving. Back. Home.
As I sit here, two planes and a mere 24 hours away from my family and friends, I cannot help but look at this new chapter in two ways: Am I one day away from a new and exciting story, or am I one day closer to retiring a lifestyle that has come to define who I am?
What happens when the day comes to stop traveling?
Lonely Planet never made a guidebook for that. There is no chapter mixed in the endless highlighted pages of things you must do, places you must see and food your palate must savor that says, "By the way, here is what to expect when your time on the road comes to an end."
My future right now remains very uncertain, like a fog that just settles over the whole world and makes it difficult for me to see what lies ahead.
I will admit that as I rode the Skytrain through Bangkok and headed toward the city's main airport, there was a part of me that started to feel like I was choking.
There was this part of me that was ready to get off at the next stop and head back in the other direction so that I could join a friend on a random trip to Burma and figure out everything else out along the way.
Am I ready to give this up? Am I ready for this to be the end?
At 27, I know in my gut that the answer is a big, fat no. All it took was watching "The Secret Life of Walter Mitty" on the plane ride home to know that while I am not yet ready for this to end, I am ready to put it on pause.
Yet still, the question is inevitable and hangs in the air like an apple ready to fall from a tree.
Every day, I receive emails and messages from family and friends back home, travel friends who are back in the daily grind and people I had not even met before who read my articles on Elite Daily, and they all say the same thing:
"What you are doing is amazing, incredible, brave. I am living vicariously through you. Never stop. Keep on keeping on."
In a way, it feels like I am someone who escaped from a small town and made it out to the big leagues.
Everyone out there is cheering for me, but what happens when I stop cheering myself? What happens when I am ready to call for a sub?
I started to feel tired, exhausted and less present than in trips past. There was something different about this leg of my backpacking adventures, something that made me feel like I was ready to go home for a bit, to settle and be with my family and friends for a few years, to start working toward the larger picture of my life.
Maybe it was that everyone seemed much younger on this trip or that everyone seemed like all they wanted to do was get drunk.
Maybe it was that I did not want to be traveling alone, or maybe it was that my baby niece's eyelashes were growing longer with every day I was gone.
I would never say I was not happy this time around because there were times when life was absolutely euphoric. There was just something different; something was missing that made me start to think, "Do I really have to?"
It happens. Maybe not to all travelers (and maybe not all of them will admit it), but when this happens, it is clear that it is time for a break.
This is also when you know that though you may be having fun, it is not this way 100 percent of the time. For whatever reason, your heart is just not fully in it.
Everyone says that the time to travel is now, when we are young and free of responsibilities, and I firmly believe in that. Life catches up with us before we know it.
Sometimes, though, traveling is absolutely draining. Living out of a bag gets old. Feeling sub-human takes a toll. Having dirty fingernails gets disgusting.
Meeting new people becomes exhausting. Saying goodbye to friends becomes tougher. Knowing your family through FaceTime feels empty.
Though I know that now might not be the time to fully retire, this overdue halftime foreshadows what is to come.
For so long, in the eyes of my family, friends and strangers, I have been a traveler — the traveler who embodies all the things they did not have the courage or drive to do.
I have been the daughter who is off climbing mountains in China, the sister whose house my brother was able to visit in Italy, the best friend who lives in Australia, the Bay Ridge local who is a visitor to her own neighborhood, the friend of a friend whom you could trust to be off in the world somewhere for you to cross paths with.
In my own eyes, I see myself as someone who wants to explore the world, to slip into its nooks and crannies and discover the beauty that not many people will ever get to experience.
Travel has come to define me; it has been the driving force that has propelled me forward to revel in some of the greatest experiences of the world.
I know that it will not last forever. I know the day will come when it is time to put away my backpack for good and become the amazing mother I have always wanted to be, the incredible wife I hope to be and the brave journalist I dream to be.
I am not sure of when that day will come or the events that will bring that day to my doorstep, but what I do know is that I will have a lifetime of stories on which to look back.
I will have endless passport pages to flip through whenever I am feeling nostalgic, adventures around the world that will always bring a smile to my face, and most of all, I will have badges of courage, bravery and accomplishment tattooed onto my heart that will be there long after I put away my backpack.
Photo Courtesy: Tumblr