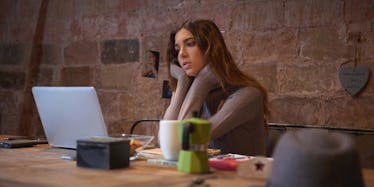 14 Crazy Thoughts Every Student Has While Applying To Grad Schools
Senior year in college is supposed to be full of fun.
Senioritis may already be in full swing, and it's the perfect time of year to soak up the last of the warmth and get ready for snow days.
It's all fun and minimal work, right?
Wrong.
If you plan on going to grad school right after you're handed your degree, you're anxiously waiting for that December 1 deadline to arrive.
It can't get here fast enough, but it's also approaching way too quickly.
No one tells you in high school you may end up applying to college and grad school. Depending on your major, four years of college simply isn't enough.
As senior year rolls around, you'll notice your friends gearing up for the "real world," while you're hiding in the library, stressing out over application essays.
Everyone talks about how hard it is to get into grad school.
Professors have told horror stories of students applying to over 30 programs, and still not getting in on their first try.
But a lot of people do get in, even if it's not on their first try.
Every grad program has students, so someone got in at some point.
Here are the 14 thoughts all of us filling out grad school applications are thinking:
1. This can't be as hard as everyone says.
People were just being dramatic. It's just like applying to college!
I got into college. I can get into grad school.
2. This is harder than everyone said, and it's extensive.
All applications are to be completed online and on different websites, yet they require mostly the same information.
There's nothing like writing your lengthy personal information on 15 different applications.
3. This is very expensive. I need to redo my budget. I need to make a budget.
Each application costs close to, if not more than, $100.
Most professors suggest applying to at least five programs.
Ordering take-out three times a week isn't going to be a thing anymore.
It almost makes it easier to part with the money, if you think of it as an investment in your future self (almost).
4. Can my personal statement say, "I'm almost sure how to be an adult, but please accept me?"
A professional résumé and personal statement are the keys to standing out.
There's no shame in asking for help polishing your résumé, and making sure your statement reflects your best self.
5. What is a curriculum vitae?
How is that pronounced?
6. Three letters of recommendation? Do I even have three professors who like me?
Asking for a letter of recommendation is exciting and nerve-racking at the same time.
Find professors who know you well and with whom you've built great relationships.
It's important to get people in your corner who are willing to help.
They've been there, so make sure to ask them any questions you may have.
7. I should probably clean up my social media accounts and set them all to private.
There's a good chance schools will check you out. The idea they might is enough to make me rethink anything I've ever tweeted.
It's time to stalk yourself on social media and delete anything you wouldn't want your parents to see.
8. I forgot to sign up for GREs.
The deadline to get scores to your schools in time sneaks up on you. Signing up and studying on time is a challenge.
9. They're how much?
I'll just pick up an extra shift (or 40) at work. It's no big deal.
Buying food also isn't necessary.
10. Oh, there are GRE subject tests? Fabulous.
More things to study for!
11. But not every school requires them.
I'll just drop the schools that require them. Less things to study for!
12. This college only accepts 8 percent of its applicants?
Changes of getting into these schools seem slim to none, but you can't get in if you don't apply. Applying, of course, ups your chances of acceptance.
That's what I keep telling myself.
13. I could just live with my mom.
I could have cable, fast WiFi, free laundry and my dogs.
One college degree is enough; I'll just live at home forever.
14. I wonder if there's anything new on Netflix.
Grad school applications are temporary, but "Grey's Anatomy" is forever.