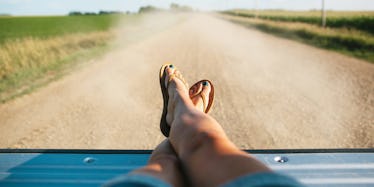 No Stress: How My Flip-Flop Mentality Follows Me Through The Seasons
I love to wear flip-flops.
They're comfortable and easy to slip on and off, and they provide a feeling of liberation for my feet.
Moreover, they evoke images of white sandy beaches, tropical turquoise waters and fruity cocktails.
They pair well with shorts or jeans, and they can be worn for a day in the Hamptons or a casual night out.
However, flip-flops come with a strong caveat: They provide little support for your feet and increase the chances of stubbing your toe or twisting your ankle.
Recently, I've been sporting flip-flops every day.
I made the imprudent decision to wear them to a day session of the US Open.
By the end of the day, the Y-shaped strap of my Havaianas started to abrade the top of my left foot, and both of my feet were sore.
At that moment, I decided I would start wearing them in moderation.
I purchased a new pair of black and silver Nike Pegasus running sneakers, and I began to opt for those more frequently.
While this may seem like a small change or a recalibration of sorts, my feet have started to feel much better.
Before you think I'm crazy, let me tell you why I recounted this anecdote.
In May, I graduated from Duke University with my post-graduation plans still up in the air.
I planned a trip to Southeast Asia for the month of July, to explore a remote, yet fascinating corner of the world before eventually starting to work, wherever that would be.
I was enjoying my trip until I caught an unidentified stomach bug in a southern Cambodian beach town on the Gulf of Thailand.
I decided to shoot straight back home from Ho Chi Minh City, cutting my trip short by three weeks.
I began to look into job opportunities and explore what I really wanted to do, or where I needed to start to get there.
Less than a month after stepping back on American soil, I developed an acute case of appendicitis, and that same night, I needed an emergency laparoscopic appendectomy.
Convalescing for the next week or two, I needed to recalibrate.
Since May, my life has been characterized by an incessant whirlwind of "flip-flops."
One day, I would contemplate law school.
The next, I'd be indefatigably sending emails to try to expand my network, looking into positions that would place me on a path to do business in the Arabian Gulf.
I'm still tirelessly (yet optimistically) searching for just the right opportunity that will lead me down the path to ultimately achieve my personal and professional goals.
Though the sun has already set on this tempestuous summer and autumn is upon us, there are some aspects of my life I've kept constant.
I ensure fitness and interminable learning are indispensable parts of my routine.
Going to the gym and playing tennis, for example, helps to assuage and deter those feelings of inadequacy and disappointment that tend to creep in when I receive yet another rejection email.
Fitness helps me to maintain a healthy mind and body, pushing me to fight another day.
It encourages me to stay my course and battle through the turbulent seas of job recruitment.
I also read voraciously.
From peripatetic spy thrillers with anfractuous plots to works of political nonfiction, there's no limit to what my mind can absorb.
With each new novel or article I peruse, I learn something new.
I read to become smarter and more articulate, to broaden my horizons and to become more aware of the world and my place in it.
I've had to change my way of thinking a myriad of times over the summer.
These are the times I assess what I'm doing, figure out why a strategy hasn't been working and think about appropriate solutions.
Despite deciding to scale back wearing flip-flops, which my feet have thanked me generously for, I still continue to flip-flop back and forth as I trudge forward and delicately carve out my future.
Just like I relinquish flip-flips sometimes for the good of my feet, I abandon strategies that have proved unfeasible.
This has been my "recalibration."
Steve Jobs said:
[F]or the past 33 years, I have looked in the mirror every morning and asked myself: 'If today were the last day of my life, would I want to do what I am about to do today?' And whenever the answer has been 'No' for too many days in a row, I know I need to change something.
I hear him say these words when I decide a recalibration is necessary.
This summer has taught me as long as I stay focused and keep exploring what I eventually want to accomplish, the flip-flopping back and forth is only just another barrier to break through.
I'll discover more about who I am along the way.