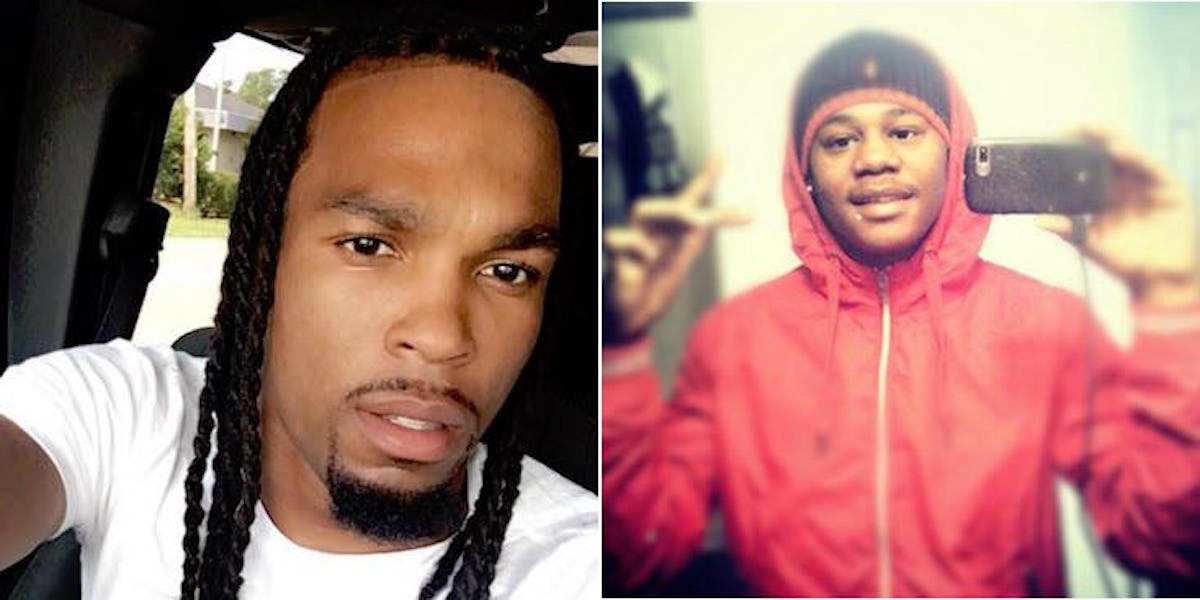 People Think Ferguson Protestors Are Being Killed, Here's A Look At What's Going On
Facebook
The Ferguson riots took place in 2014 after 18-year-old Michael Brown was killed by Officer Darren Wilson.
Since that summer in 2014, three men connected to the protests have been killed in eerily similar ways.
Currently, the skepticism only surrounds the Ferguson protestors.
But there are more facts to add to the conversation.
The three men are actually part of a seven-man lineup of deaths that all happened in a similar fashion.
Elite Daily has pulled together a list of men who were all shot in cars — most of them burned as well — in or around the St. Louis area.
1. Edward Crawford
The 27-year old was found dead from a gunshot wound inside of a car on May 5, 2017, as reported by The Root. According to police accounts, he was in the car with two women when he shot himself.
Crawford is the man in the now-iconic photo from the Ferguson Riots, in which he is seen throwing a tear gas canister away from a crowd, while holding a bag of potato chips.
The photo was taken by St. Louis Post-Dispatch photographer, Robert Cohen, and was part of a series that won a Pulitzer Prize.
Crawford told the St. Louis Post-Dispatch that his defiant move wasn't about taunting police.
He said,
I didn't throw a burning can back at police. I threw it out of the way of children. I can't even throw a baseball that far, let alone a burning can of tear gas.
And this is how the photographer remembers Crawford after his death:
Much like the case of Sandra Bland, there is much skepticism about his apparent suicide.
Edward Crawford is survived by four children and an official cause of death has not yet been released.
2. Deandre Joshua
Joshua was found shot to death and burned via lit gasoline inside of his white Pontiac Grand Prix. This happened on the night that a grand jury failed to indict Darren Wilson in 2014.
Though the 20-year-old has been identified as a protester via Twitter and a few news outlets, his family has stated that he never participated in the riots or protests.
He was however, a friend of Dorian Johnson, the young man who was walking with Michael Brown when he was murdered by Officer Darren Wilson, according to the New York Times.
3. Darren Seals
Almost two years after Joshua, Seals was also found shot to death and set on fire inside of a burning car in Riverview, Missouri — a town that is just a 15 minute drive from Ferguson.
Like Crawford, Seals was a Ferguson protestor, though not part of the Black Lives Matter (BLM) organization—which are two concepts that are often mistaken as one in the same. Seals publicly criticized BLM leaders for, as he expressed, taking the focus off of Ferguson for a private agenda.
Seals was known for protecting other protestors as they filmed the events, embracing Mike Brown's mom as she reacted to the grand jury's decision and helping people prevent the effects of tear gas.
Ferguson residents have called out the St. Louis Police Department for not properly investigating the crime scene where he was killed. They provided photos that show shell casings left near Seals' car that police left.
Seals' case remains unsolved.
4. Vincent Cascella
According to St. Louis's Fox 2 Now, 24-year-old Vincent Cascella was listening to music in his car during the wee hours of the night in February 2014, and then later found shot in the chest with his car set on fire. It is not on record that he was a Ferguson or BLM protestor, nor was he involved in the riots in any way.
He and his car were found in south St. Louis, although it is reported that he was a resident of Ballwin, Missouri which is about 34 miles from Ferguson.
5. Antonio Jones
Jones, a Ferguson resident, was found in the burning trunk of a Buick in East St. Louis in November 2014.  He had two gunshot wounds to the abdomen, as reported by the Northwest Herald.
6. Darnell Robinson 
In September 2014, Robinson's body was found with a gunshot wound to the head in a burned car in St. Louis. Three people were charged with the 24-year-old's murder: Dylan George Irizarry, Dana Wallace and Bryant Evans.
7. Terrell Beasley
28-year-old Terrell Beasley was shot twice during a 2014 shootout that involved another man, Dominic Irons, and an off-duty officer, Don McGhee, reported the Daily Beast. Beasley was found several hours after the shooting in a burned car, reported St. Louis Post-Dispatch.
So much is unclear, but a few things are certain:
Not all of these men are Ferguson activists as many believe, but still, it's safe to assume patterns usually mean something.
Seven men being shot and killed in the back of cars, with many of them set on fire, is undeniably odd. The majority of them being black is equally strange. Three of them having such a close proximity to the fight against police brutality? That's plain freaky.
The St. Louis County Police Department has only publicly addressed a possible connection between Darren Seals and Deandre Joshua's murders. Spokesman, Sgt. Shawn McGuire, told The Daily News,
They are aware that DeAndre Joshua died in the same kind of way. Anything's a possibility. Our detectives are always going to look into different avenues, or if it's the same kind of motive.
The statement neither acknowledges claims that the department failed to investigate the crime scene where Seals were murdered, nor does it mention the four other men who were also killed in the same way in surrounding areas. We reached out for a comment from the St. Louis Police Department and did not received a comment at the time of publication.
St. Louis, which borders St. Louis County, is already known for its high crime rate, and falls on the Forbes list of most dangerous cities in the United States. Between 2014 and 2015, St. Louis saw a 60 percent increase in murder rates, as reported by the New York Times.
There are many unanswered questions and clearly, Mike Brown's death wasn't the end of the horrors in Missouri.
Neither St. Louis nor Ferguson are exactly Flint, but something in the water definitely ain't clean.
*Some of the men could not be pictured, as public photos were not available.