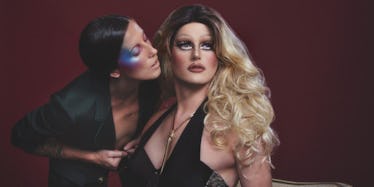 This Couple's Wedding Pics Were Inspired By 'Drag Race,' And They're Amazing
Benjamin Stone
At first glance, the wedding invitations for Mr. Patrick Holbert and Ms. Ross Erin Martineau read like any other.
Gold calligraphy illustrates the date, time and place of their nuptials, with instructions to RSVP.
But when you flip that invitation over, there's a professional photo of the couple decked out and looking stunning — in full drag.
Notably, Patrick is straight and Ross is bisexual.
So, why do the shoot in full drag?
The couple, who lives in Brooklyn, NY, admit that the shoot was, in some way, intended to provoke and educate their more conservative relatives, who are limited in their exposure to different cultures, as well as to celebrate the artistic nature of their relationship.
Ross was a women studies major in college and designs her own clothing line, and Patrick is a standup comedian.
Ross tells Elite Daily,
We may look vanilla on the outside, but we wanted to make sure that everyone knows that we're far from it on the inside.
The photos were also an homage to the couple's initial bond over Ross' love for "RuPaul's Drag Race," which, according to Patrick, evolved his understanding of sex and gender politics as a 35-year-old white male, and it "quickly became a mutual passion."
The photos, shot by Benjamin Stone, display the couple's reverence and respect both for each other and drag culture, and the experience proved highly educational, especially for Patrick, who explains,
I learned a lot about the unfairness of beauty standards in our society. I was layered in spanx, padding, makeup, eyelashes, a wig... My face was snatched (stretched and lifted). My feet were crammed into torturous shoes... It did not physically feel very good. As a straight man, I never have to put much effort into my appearance.
It took over two hours for Patrick to be transformed by makeup artist Michael Anthony into a "beautiful housewife of New Jersey."
Despite the artistry of their transformations, the feedback on the couple's invitation has been mixed.
Many of their friends and family members have responded with enthusiasm and support for their artistically experimental invitations, and others were genuinely confused by the photos, not knowing the models were, in fact, the couple.
Notably, Patrick has not heard back from his parents yet.
But, we believe they'll come around soon. I mean, who couldn't love these photos?
And as Patrick says,
From what I understand, drag is all about living an amplified version of who you want to be, or who you are in your heart, and I'm a big cornball and believe that everyone should do that, no matter what the passion is.