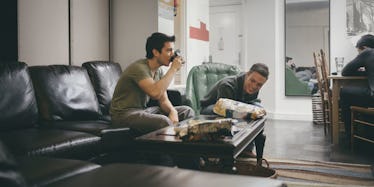 Check Out These New York Bars For Drinks Inspired By 'The Great Gatsby'
Stocksy
Gatsby season is in full effect, and nothing says flappers and dapper dons like a properly prepared cocktail.
The Roaring Twenties was a time of merriment, celebration and partying; an era best captured by F. Scott Fitzgerald's 1925 novel, "The Great Gatsby."
Now, "The Great Gatsby" has finally been adapted into a movie, and the excitement surrounding the film is feverish to say the least. Some people want the Gatsby experience carried out all the way to the bar.
The drinking culture of the twenties was much different from that of today, so don't expect to see any Jäger Bombs or Red Bull-vodkas.
"You would have a highball in the day, then maybe a sherry in the afternoon, cocktails after dinner, and then champagne," says Frank Caiafa, bar manager of The Vault at Pfaff's in NoHo. "They rolled pretty good back then."
Not all was fun and games, however, as Prohibition caused attendees of bars and speakeasies to move in silence in order to keep drinking.
In fact, the majority of the alcohol used was bathtub gin, which had to be concocted in secret.
"There weren't real distilleries," says Walter Easterbrook, the bartender at the Bowery Hotel. "Everything was shut down and people were just learning from friends. If you couldn't get it from a bootlegger, you would try to make it yourself."
The Baz Luhrmann-directed film comes out on Friday, and features perennial A-List stars Tobey Maguire, Leonardo DiCaprio and Carey Mulligan.
In the meantime, you can hit one of these New York bars the New York Daily News checked out for their signature Gatsby-style drinks.
So grab your best pinstripe suit and your favorite gal and grab a drink at one of these spots!
Turf, The Vault at Pfaff's. 643 Broadway, at Bleecker St., downstairs, (212) 253-5421
"It was a rougher product," says The Vault at Pfaff's bar manager Frank Caiafa of the alcohol served during the '20s. " 'Smooth' probably didn't come to mind if you took a swig." Luckily, the Turf will elicit no such complaints. Using gin, Geneva and vermouth, Caiafa's take on the gin martini is simplistic and easy to replicate on your own.
The Phantom, Mulberry Project. 149 Mulberry St., (646) 448-4536
At Mulberry Project (one of the bars in the Project Group), mixologist Scott Fitzgerald set out to re-create the kinds of cocktails that Daisy and her friends would have enjoyed. The Phantom is a "very classically inspired cocktail," he says. "I saw people in a very dark, dense speakeasy sipping on that. It's got whisky with fresh lemon juice, a dash of lavender bitters, a little bit of simple syrup and egg whites." To put it mildly, "the alcohol is definitely in the forefront."
Southside Rickey, Raines Law Room. 48 W. 17th St.
"The Southside Rickey is one of the only drinks that got popular around Prohibition," says Meaghan Dorman, head bartender at modern-day speakeasy Raines Law Room. It consists of gin, fresh mint, lime juice, simple syrup and club soda in a Tom Collins glass. Dorman says today's drinkers are lucky enough to be able to sip on the rickey slowly and enjoy the taste of the alcohol. "Unless you really had the money, alcohol quality was pretty low," says Dorman. Of course, Nick Carraway and Jordan Baker wouldn't have had any trouble paying a pretty penny for top shelf, no matter how hard it was to find.
Killa' Beez Kneez, The Tippler. 425 W. 15th St., (212) 206-0000
"The Killa' Beez Kneez would have been a very typical kind of drink," according to Tad Carducci, head bartender at The Tippler, "especially when you think of the Gatsby estate and lawn parties." The $13 cocktail features Tanqueray gin, honey syrup, champagne, a dash of lemon juice and lavender. It's the bubbly that makes this mixture unique to Gatsby and his crowd, says Carducci.
Since champagne was so expensive during Prohibition, "Gatsby would have had to be in the acquaintance of some nefarious characters," says Carducci. "He'd have to pay a really high price for it. It took large amounts of money." Well, money was never exactly his problem, was it?
Moët Imperial Gatsby, the Plaza. 768 Fifth Ave., at 58th St., (212) 759-3000
The Plaza serves the definitive Gatsby cocktail, called the Moët Imperial Gatsby. This is the actual drink we'll soon see on screen in the hands of Tobey Maguire, Carey Mulligan and Leo DiCaprio's characters. Jim Meehan, who created the champagne cocktail, says the herbal combination of Moët & Chandon Imperial Champagne with Green Chartreuse "mimics the bucolic nature of spring and evokes the lavish champagne-soaked garden parties in 'The Great Gatsby' book and film."
Dark 'n' Stormy, Smith & Mills. 71 N. Moore St., (212) 226-2515
Just because booze is legal doesn't mean bartenders have it easier than their 1920s counterparts. "I have bruises on my palms from muddling ginger all night," says Aaron Blakely, bar manager at Smith & Mills in Tribeca. He's referring to the work that goes into creating a Gatsby-inspired Dark 'n Stormy. "In order to get that nice spice, we use fresh ginger, lime juice, the rum of course, simple syrup, and we top it off with soda. Traditionally, the Dark 'n' Stormy is topped off with a rum float: two inches of dark rum on the top."
The Prankster, Grape & Vine. 52 W. 13th St., (212) 300-4525
F. Scott Fitzgerald may have been a heavy drinker, but according to Sean Gibbs, head bartender at Grape & Vine in the Jade Hotel, the "Gatsby" author was also a lightweight. Named in honor of Fitzgerald, who was known as a troublemaker, the Prankster takes the author's favorite drink, a Gin Lime Rickey, and adds a mischievous half ounce of absinthe. "I spiked it," says Gibbs, proud of his own little prank.
Gin-Gin Mule, Bemelmans Bar at the Carlyle. 35 E. 76th St., (212) 744-1600
As the first female bartender at Bemelmans, Lori Bodinizzo is well aware of how things have changed since Gatsby's drinking days. "Gin is sort of the forefather to all cocktails today," she says. And her Gin-Gin Mule pays homage to all the elements of a typical '20s cocktail, with top-shelf gin, fresh-squeezed lemon juice, simple syrup made on-site and fresh mint leaf muddled that day. "It has some kick," says Bodinizzo.
The Chancellor, Dutch Kills. 27-24 Jackson Ave., Long Island City, (718) 383-2724
"It is possible that someone concocted the Chancellor in the earliest days of the Great Experiment," says Dutch Kills bartender Jan Warren, "perhaps at a garden party on the grounds of some luxe Long Island manse." Sounds perfect for Gatsby. Warren has made some changes to the classic Scotch cocktail, replacing dry vermouth with sweet vermouth, and orange bitters with angostura. Stir in some ruby port, garnish with a Luxardo cherry, and just make sure you don't fall into the pool.
Creole, Bathtub Gin. 132 Ninth Ave., at W. 18th St., (646) 559-1671
One of Bathtub Gin bartender Ivan Mitankin's favorite Gatsby-era cocktails is available at his bar, but only by request: Death in the Afternoon. Made with absinthe and champagne, the drink may be decadent, but Ivan has a warning: "It's one of those drinks where you have one, and you're down for the day." More cautious customers should try Ivan's take on the Creole, featuring Bulleit rye whisky, Dolin Rouge vermouth, Benedictine, Cynar and angostura bitters.
"The best part of the drink is the hit of sweetness from the Benedictine, and the bitter finish," Mitankin says.