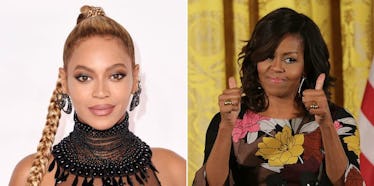 5 Times Michelle Obama And Beyoncé Were #BlackGirlMagic Goals
Shutterstock/Getty Somodevilla/Staff
Former First Lady Michelle Obama sent out a sweet thank you note to Beyoncé  via Twitter on Tuesday, after the pop singer announced she would be granting four dope women scholarships to celebrate the one-year anniversary of her album, Lemonade.
Michelle Obama wrote on Twitter:
Catch those crowns and bee emojis; even America's political royalty knows who the queen of pop is.
Michelle Obama is no stranger to college advocacy efforts. Her initiative, Better Make Room, encourages Generation Z to start seeing themselves as college applicants, and therefore minimizing how unattainable the application process may seem.
But that isn't the only time that two of most powerful black women in the United States were on the same page.
Here are four more times that the reigning queen of pop and Michelle Obama joined forces for social change.
1. Beyoncé provided the workout music for Michelle Obama's Let's Move campaign.
Michelle Obama launched the Let's Move campaign in 2010 to combat childhood obesity and Beyoncé provided the movement's anthem by remixing her Swizz Beatz-produced dance record, "Get Me Bodied."
The former FLOTUS even added the new song, "Move Your Body," to her official Spotify workout playlist.
2. They fought poverty and gender equality with Global Citizen.
The pair took over New York's Central Park — along with many other celebrities like Ed Sheeran and Coldplay — to champion the Global Citizen cause. The organization fights worldwide poverty and put on a free concert to raise awareness about how poverty impacts gender equality.
There, Michelle Obama highlighted the "62 Million Girls" education campaign, and then introduced Beyoncé's set.
3. Michelle Obama wore black to support Beyoncé's Black Panther-themed 2016 Super Bowl Halftime Show.
Michelle Obama actually hinted that she was privy to the politically charged halftime show before any of us during a CBS News interview with journalist and Oprah's bestie, Gayle King.
She said,
"I care deeply about the halftime show. Deeply. I got dressed for the halftime show. I hope Beyoncé likes my outfit."
The FLOTUS was wearing all black, just like Beyoncé and her Black Panther girl squad when they hit the gridiron in support of the Black Lives Matter movement.
4. They both joined Hillary Clinton's campaign trail.
Beyoncé graced the stage at a Friday night Hillary Clinton rally in November 2016 to perform her hit record, "Formation," and encourage the crowd to get out and vote.
Days later, Michelle Obama graced her own stage in Philadelphia and delivered one of her most praised speeches to date.
The speech left many people hoping she might consider running herself in 2020.
Even though she confirms that she will not, we're pretty sure that if she ever changes her mind, Beyoncé would be more than willing to get right back in formation for the cause.
Because, of course, great minds think alike.