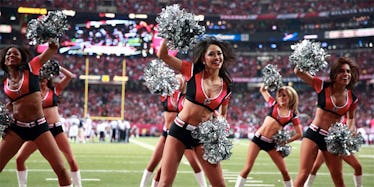 3 Things, Places And People That Make Atlanta Uniquely Wonderful
When you set foot in the southern metropolis of Coca-Cola and streets dubbed "Peachtree," you'll notice that something is different here.
The residents are as warm and inviting as the sunshine, and the environment is far from the smoggy, grimy imagery that the word "urban" might conjure up.
Unlike the thin-skinned in New York City or the naïve in Los Angeles, there's no personality trait that could make someone not "cut out" for life in Atlanta.
Rather, you can chase your dreams, make a home and maybe even settle in for the long haul.
No matter who you are or where you come from, you can fit in and find your way in the ATL.
Whether you're a laid-back suburban type or an adventurous city dweller, whether you're ready to settle down or nowhere close, whether you're young or old, Atlanta's inherently diverse nature is accommodating to all.
Atlanta is simply unlike the rest. Here's why:
The Things.
1. The Environment.
One of the things that makes Atlanta so unique is its ratio of nature to man-made structures. We have beautiful, sweeping skylines, but we also have lush, green foliage and colorful flora.
Fun fact: 47.9 percent of the Peachtree lovin' city is occupied by trees, making the "City in a Forest" moniker well-deserved. And it's true: you can spend a day hiking Stone Mountain, and still be back in time for a night out on the town.
2. The Activities.
Chances are that if you have an interest or hobby, there is a community in Atlanta for you.
Like to run? Check out the Atlanta Track Club, go on a visually satisfying run along the Beltline and sign up for a few of the races that are held here each week.
Maybe acting is more of your thing? There are numerous community theaters and comedy clubs that will take you in, not to mention the up-and-coming film community that is dubbing Atlanta as the Hollywood of the south.
And because we all love sports, a Braves game in the summer and a Hawks game in the winter are both must-dos!
3. The Nightlife.
Have you ever wanted to slip into a club through a secret bookcase in a pizza parlor?
How about sneak into a speakeasy by dialing a secret code in an inconspicuous telephone booth?
These are just a couple of the noteworthy options for a night on the town in the 404. Have a penchant for elderly exotic dancers?
You can pay a visit to the Clermont Lounge, where "Mad Men's" Jon Hamm reportedly said he understands why everyone says it's a must-see.
If you're feeling swanky, you can sip bubbly with socialites on Shout's rooftop patio.
If you want to rock and roll all night, check out metal karaoke Thursday through Saturday nights at Dark Horse Tavern.
Or, if you're dreaming of reliving your college days (aren't we all?), spend an evening bar-hopping in Buckhead.
The vodka waters are dirt cheap and the pastel polo game is strong.
The Places.
1. The Neighborhoods.
Between the hipster paradise that is Little Five Points, the lap of luxury that is Buckhead and the dozens of other neighborhoods with their own unique feel and cast of characters, there's a pocket in the greater Atlanta area for everyone.
Do you like a cozy, small-town feel with artsy coffee shops and cozy pubs that will make you feel like you've stepped overseas? Try Decatur.
Prefer to spend your time under a blanket of blue southern skies and warm sunshine?
Try Virginia Highlands near Piedmont Park. Want the bustling grit of a historic city? Head downtown.
There's a reason why they call Atlanta the New York City of the South.
2. The Festivals.
Atlantans love festivals. It's nearly impossible to keep up with all of them.
Maybe it's because festivals offer a place to gather and celebrate common interests, or maybe it's just because they're so damn fun.
If you're a music lover in Georgia, you won't have to worry about investing in a more spacious wallet.
The metro Atlanta area is home to the massive TomorrowWorld and CounterPoint festivals, as well as smaller but equally fun excuses to booze and groove, such as Music Midtown, Sweetwater 420 Fest, Shaky Knees and more.
If you'd rather focus on boozing, you can shift your attention to the plethora of bar crawls and beer and wine festivals right in your backyard.
Or, for a little bit of everything, check out the dozens of neighborhood-hosted events, like the Atlanta Dogwood Festival, Sweet Auburn Springfest, or the Street Food Festival.
As for the most quintessential "Atlanta" festival of them all, the annual "Fire in the Fourth" takes the cake.
It's a historical celebration of the rebuilding of the city after the Great Atlanta Fire of 1917. Like I said, Atlantans love festivals.
3. The Eateries.
I'd like to believe that foodies rejoice when they come to Atlanta. Where there's a diverse population, there's a diverse cuisine scene to match.
Here you'll find things like authentic German schnitzel at Der Biergarten, greasy burgers that put McDonald's to shame at The Varsity and southern staples, like fried green tomatoes, mac 'n' cheese and fried chicken abound.
Want to sample dishes from around the globe without ever setting foot in Hartsfield-Jackson International Airport?
Check out Buford Highway for restaurants that serve up meals for every international craving, from sushi to dumplings, and empanadas to curry.
If you're more of the DIY type, the Dekalb Farmers Market is your one stop shop for produce, cheeses, spices and more, from all over the world.
The People
1. The Drivers.
Atlantan drivers are the good, the bad and the ugly of the city all wrapped up into one. Unless you live within walking distance of work, a trafficky commute is a given.
On an ordinary day, it's bad. On a holiday weekend, it's ugly. And anytime in December, within five miles of a shopping mall, it's horrific.
But, the good news is that most Atlantan drivers know what they're doing when it comes to navigating the windy streets and intricate highway systems, which is pretty cool when you compare it to cities that rely more heavily on public transit.
It's just a matter of, you know, the vehicles actually being able to move.
2. The Southern Hospitality
Much like the tea they drink, Atlantans are as sweet as sugar. Tell an Atlantan you're new to town, and he or she will welcome you with open arms.
Get used to friendly faces and being greeted about town. If you're a woman, expect to rarely open a door for yourself or exit an elevator last if there are men around.
It may come as a culture shock, or seem reminiscent of a backwoods town rather than an expansive city, but it's just how they do it here.
3. The Blend Of Cultures
Atlanta is a melting pot. Particularly striking is the element of internationalism you'll find here.
It's like living in a little pocket of the world where every culture intersects. Your neighbors will be Korean, Indian, Mexican, French, Ethiopian and American alike.
When language is a barrier, the blend of backgrounds, cultures and traditions is an asset that gives the city a rich flavor you won't find anywhere else.
In essence, the people of Atlanta are like cobb salads (not to be confused with Cobb County, also in Atlanta).
Each ingredient is unique in every facet, and wonderful in its own right. But when mixed together, they create an even better, more flavorful palate.
Atlantans embrace diversity and recognize their own individual worth, but also accept and celebrate others.
They understand that individuality is important, yet fruitless without unity. Great alone, but better together: that's Atlanta in a nutshell.