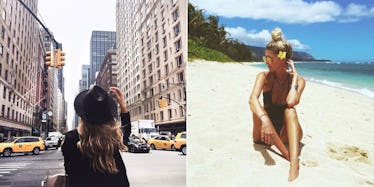 The Question Every Ambitious Girl Faces After Graduation: NYC or LA?
'Tis the lovely, highly anticipated season of college graduation.
Amidst the slew of raucous celebratory parties and the seemingly endless string of familial affairs is an ever-present, incessantly lingering, swiftly escalating feeling of generalized ANXIETY.
It sweetly whispers, "Oh, what to do, what to do, what to do NEXT!?"
Every freshly graduated girl is hungry, starving for a mere semblance of guidance, a wise entity to help answer the age-old question that ruthlessly torments the soul of every hyper-ambitious, mega-intelligent young woman who is fervently hoping to turn her mega dreams into a thriving reality: LA or New York?
While there is most definitely a handful of populous, dynamic, semi-exciting cities in the great expanse of this fine country -- if you want to play with the big dogs, it's NYC or LA.
Not everyone wants to compete with the international moguls and the groundbreaking bigwigs, which is fine -- but don't kid yourself, lovely; if you're teeming with a relentless desire to kill it in the industries of fashion, finance, media, literature or entertainment, these are the only two cities that count.
Both are outrageously expensive, crushingly competitive, legitimately terrifying yet intoxicatingly rich with golden opportunity.
If you haven't yet ventured to the palm tree-adorned, glittering wonderland of Hollywood or to the beautifully diverse concrete jungle of New York City -- how could you possibly know which city is best suited for the likes of you?
Have no fear, my high-reaching sister, for it wasn't long ago that I walked several miles in the same uncomfortable shoes.
Fortunately, I've spent the last decade teetering between the East and West Coast, and together, we're going to figure out whether you should deem LA or NYC home (at least for now):
Are you a die-hard carnivore or an impassioned vegan?
Die-hard carnivore: NYC, baby. The city is carnivorous by nature (in both cuisine and desire). To put it in simple terms: New Yorkers are out for blood. They order steak cooked rare and wash it down with whiskey.
New York City is home to the no-nonsense, meat-eating, sophisticated dominatrix who prefers to dine alone.
Impassioned vegan: Los Angeles, specifically the west side (Santa Monica, Venice, Pacific Palisades). The greater Los Angeles area holds court to more vegetarian restaurants than I could possibly count on my nail polish-adorned hands.
California, after all, is the queen motherland to the liberal vegan. It's the natural habitat for the committed kale consumer.
Are you a Golden Sun Goddess or a Chic Ice Queen?
Golden Sun Goddess: If you are one of the rare souls that can actually rock a braless bohemian caftan or tie-dyed maxi dress, if your skin glistens golden from a day in the sun, if you simply thrive in the dry desert heat, and the thought of wearing open-toed shoes to work turns you the f*ck on -- then LA is where you belong, sweet sunny sister.
Chic Ice Queen: If you love cropped faux fur jackets, thick vintage peacoats, over-the-knee boots, black tights, burgundy nail polish, blood-red lipstick and have a complexion akin to Snow White -- you will fit seamlessly into New York. There is something so chic about a gray sky and dismal weather, don't you think, Ice Queen?
Which excites you more: a cigar bar and live jazz or fresh air and vinyasa flow?
Cigar bar and live jazz: Oh, girl -- if you are plagued with romantic visions made up of smoky rooms teeming with handsome men in pinstriped suits who confidently puff on expensive cigars -- you're a true New York City soul.
If you're stimulated by the very thought of spending an evening philosophizing in a cozy, red-velvet-adorned bar with the sexiest live jazz penetrating your ears as you slowly sip on a fine, top-shelf liquor, you will soar on the great isle of Manhattan.
Vinyasa flow and fresh air: Does the thought of breathing in impossibly fresh mountainous air whilst collectively whispering "namaste" with a group of healthy, hair-extension-sporting, perfect-ponytailed women sound like the ultimate way to spend your day off?
Do you wake up with an irrepressible urge to stretch your stiff joints, wake up the sky with a dutiful round of sun salutations, followed by the ingestion of a kombucha? If so, get on the next flight headed WEST because you were born to be in LA, baby.
Are your style icons celebrities or high-fashion aficionados?
Celebrities: In LA, celebrities rule the world of fashion. If you're obsessed with wardrobes of Nicole Richie, Lauren Conrad or Blake Lively, LA is the right place for you (at least stylistically).
The blonde A-list babes who grace the cover of People Magazine serve as the quintessential West Coast style icons that every girl (well not every -- there is a great underground Goth scene in "Hollyweird" too) residing in Southern California girl attempts to emulate.
Doesn't matter if you're in West Hollywood, Beverly Hills or Silver Lake, you will always find a surplus of females stampeding down the street in extra large, mega sunnies, a plethora of honey blond hair, cut-off shorts and tanned bare legs blissfully sipping on a massive iced-to-go cup of coffee out of a straw.
High-fashion aficionados: New York is the American home to haute couture. If you like a little edge, a little bite to your Balenciaga -- NYC is more suited to your style aesthetic. New Yorkers don't care for actresses or reality "it" girls.
Here's a quick guide: Do you find the bruised under-eye area of the 90s model to be chic? Is the late Diana Vreeland your spirit animal? Have you been religiously following fashion week from the confines of your Midwest bedroom since you were 12?
If you answered YES to one or more of these questions, it's time to pack up your asymmetrical black dresses and take that fateful Greyhound to the big, bad city of New York.
How do you feel about big, open spaces?
I prefer to be immersed in a sea of diverse people: NYC. If you have the wherewithal to withstand living in an apartment the size of a shoebox in a six-story walkup with four roommates for no less than $1200 a month, you can handle the urban jungle (probably).
On the plus, if you live in New York F*cking City -- the entire world is at your doorstep!
I need SPACE in which to collect, ground and breathe: LA. If you're a girl who requires ample space, Los Angeles will graciously give you that (and not for horrendous heaps of money; rent is significantly less than New York).
On the down side, you will spend your life in stuck in traffic.
Do you come from a place of YES or a place of NO?
YES: If you will deliver an unabashed "YES" to almost anything presented your way, then you are in sync with the Los Angeles energy. LA is the land of the great, gorgeous "YES," the enthusiastic "FOR SURE" and the fluorescent, white-toothed "Yeah!"
It's a town where the general masses are willing and eager to accept your invitation to the party, event, yoga class (though try not to be disappointed by the no-shows and last-minute cancellations; it's part of the culture).
NO: If your default reaction to most things is an eye roll, it's imperative you live on the East. Us New Yorkers live our glorious lives from the great place of "NO."
Daunting for the enthusiast, yet the only home for the alienated cynic. Nothing feels more right for a caustic realist than to live in a city made up of your own kind (no one will ever accuse you of being negative).
Important to note: On the rare occasion a city person tells you yes -- he or she f*cking means it.