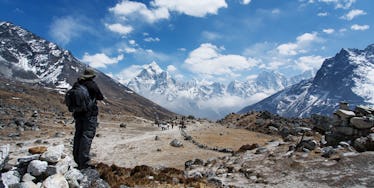 How Adventure Travel In Nepal Opened My Eyes To Life's Truths
Arriving in Kathmandu, I could instantly feel an immersive and penetrating energy.
Walking the dusty streets, Nepalese culture comes alive in vibrant clothing, local eats and profound common courtesy.
Even their greeting of "namaste" represents Nepal's transcendental beauty.
Its meaning shows a deep respect: "The light of my soul feels the light in yours, and we are connected as one."
The word transcends language and spreads to its people and where they live.
I felt a special energy calling me to Nepal. It is a great country to experience adventure travel for a cause.
Nepal is a country full of epic adventures. A thrill seeker can scale the Himalayas, paraglide through majestic scenery and raft rough waters.
But, it's more than just the self-expanding adventures that make Nepal enchanting.
I had the privilege of volunteering at a privately-funded primary school in Sarangkot, an underprivileged village just scraping by to provide basic needs, like essential vitamins for children.
It's interesting to compare third-world countries to developed countries in regard to giving a helping hand.
Underdeveloped countries have open arms and hearts to allow any type of assistance.
I have walked into orphanages and schools ready to make a positive impact in any way I can.
Compared to the US, where résumés, interviews and other logistics tend to complicate the nature of giving, poor countries of the world are humbled by the heart of foreigners.
Playing with those children (3 to 5 years old) in Sarangkot, I saw and felt the world through their eyes.
Every day, there was something new and exciting; life was so simple.
I imagine just pushing their toy cars makes those kids feel like Jeff Gordon racing for the title.
One can relate it to traveling, gaining new perspectives from peak experiences and learning lessons from situations that, at times, are even drastically challenging.
The recent 7.8 earthquake shook up everyone's world.
Being 70km from the epicenter at the time of the initial quake, I was able to witness its devastating blow to everyone in Nepal, locals and tourists alike.
Having trekked to Everest Base Camp a couple of weeks prior, I felt a connection, like many others, to the greatness one can find in those lands. But, such beauty has a frightening side.
Time to time, over millions of years, it has revealed its full nature.
How can one reflect on such a tragedy of nearly 8,000 lives lost?
In uncontrollable situations such as these, we must learn and grow on a much deeper level.
It emphasizes our responsibility to live our lives to the fullest potential because so many couldn't.
Everything can change so fast, so it's imperative we take life's epic opportunities and make the world a better place by seeking out new challenges and empowering others to do the same.
We do this by improving ourselves and having new and exciting experiences.
As a result, we positively impact the world around us.
After experiencing this ordeal, I had a lot questions. But, if trekking to Everest Base Camp taught me anything, it was to keep moving forward.
When walking a purposeful path through pain, exhaustion or confusion, we have to move just one more step.
Undeniable truths hit me while circling the World Travelers Association (WTA), and the vision of my adventure travel for a cause became clear.
The impact of the massive earthquake proves how valuable our time really is.
We've heard this from older generations, but it affects you differently when you see it in front of your face.
It's necessary to do what we love, and we have to conquer the dreams that have been buried by fear.
Through just one more step forward, we're making our world better.
Continuing to let our light shine so bright that it inspires others is a deeply rewarding feeling. It guides others to do the same on a Namaste-ic level.
I have felt this synergistic reward for some time, and I now look to share it with others on the trips I plan with WTA.
Even though life's punches hurt, we always have the choice to keep adapting, improving and becoming better. You must always inch toward your lit path.
Not fulfilling one's true potential is another tragedy in its own right.
So, shine on, you crazy diamond, and let's share an epic life together.