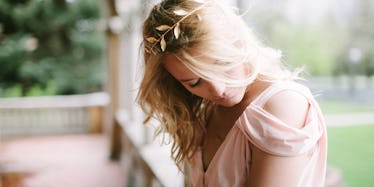 8 Reasons Arizona Is Hands Down The Best Place To Live
Stocksy
Welcome to The Grand Canyon State, where beautiful people congregate and the beginning stages of skin cancer are inevitable.
Go ahead and cancel your fake-baking membership because there's more than enough sun in Arizona to go around.
No matter where you go, you can almost guarantee you'll never be more than 100 feet away from a pool.
It's hard not to love a place that doesn't require you to own a lawn mower or a snow blower. So, pack your bathing suits and grab some sunscreen; it's time to take a trip to the desert.
Here are eight reasons why Arizona is the best place in the world:
Sunny And 75
Everyone knows it tends to get warm in the Southwest; however, triple-digit temperatures are a fair tradeoff when we get fewer than 12 inches of rain and 200-plus days of sun per year.
These conditions also mean we have two seasons: three months of "winter" and nine months of summer. This allows us to be in our pools well into the months when most people are shoveling snow.
Monsoon Season
Now, for the rain.
It comes during a time we like to call monsoon season, but even our storms here are awesome.
Monsoons are 10- to 20-minute shows that include lightning, torrential downpours and haboobs (which are just giant sandstorms, but who doesn't want to say haboob?).
Anyway, as you can see, even our bad weather is more than tolerable. The only problem with this is trying to find somewhere to travel when you live in a vacation spot.
Instagram Approved
From endless mountain ranges to streets lined with palm trees, it doesn't get much better than this.
Not to mention, we're one of the only places in the world with cacti. And, if you claim a 10-foot-tall plant covered in thousands of needles isn't cool, you're a liar.
If you aren't into normal exercise, like jogging or hitting the gym, there are more than enough hiking trails that will have you on top of the Valley in no time, so get your camera ready.
Also, make sure you have your phone handy during sunsets because the Arizona sky never disappoints.
Whether you're looking for mountains, lakes, desert or rivers, Arizona has what you want to see within a reasonable distance.
Snow's Optional
If you decide for some crazy reason that you miss the snow, Flagstaff is a short drive north. You can be on the golf course in the morning, have a full day of hitting the slopes during the day and be back in the heat by night.
Unlike the rest of the country, the snow here is easily avoidable. Not to mention, while you're up north, there's a famous hole in the ground called The Grand Canyon you can always check out.
Daylight Wasting Time
If the scenery isn't enough to sell you Arizona, try never needing to change your clocks for Daylight Saving Time. That's right, no trying to figure out how the clock on your microwave works and no losing an hour of sleep.
That being said, there's basically no reason why we skip Daylight Saving Time besides wanting to watch Eastern Time Zone sporting events at 4:30 pm instead of 5:30 pm, but that's beside the point.
Sporting Events
Along with great weather, we also have our fair share of awesome sporting events in the desert.
Half of MLB is here for spring training; there's an annual party during a PGA Tour event called the Waste Management Phoenix Open, and there's usually a Super Bowl here every five years.
This helps to ease the pain of the Arizona Cardinals being the only local team that has a chance of winning anything.
Country Thunder
If sports aren't your thing, no need to worry because the Woodstock of honky-tonk comes through every year.
Country Thunder is a four-day event full of country music, binge-drinking in the sun and obnoxious cowboy outfits.
Nothing says America quite like 75,000 shirtless drunks in cowboy hats slurring their words to an Eric Church song.
Easy Escape
Believe it or not, sometimes, the desert can become a little repetitive, but lucky for us, it's only five hours to the beach and about four hours to Vegas.
Why not live in one of those places, you ask? Because California means traffic, humidity and high living costs, and the Las Vegas lifestyle is only enjoyable in moderation. Plus, Vegas doesn't need more club promoters.
You can see all of the pictures you want, but they'll never truly do Arizona justice. So, as soon as you're ready to get out of the frozen tundra you call home and thaw out, we'd be happy to have you here.