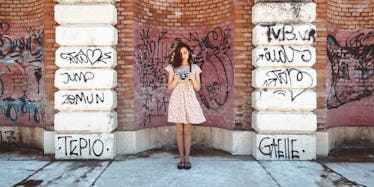 5 People, 4 Places And 3 Things That Make Vancouver The Best Of Canada
Stocksy
Anyone who has ever lived or was born in Vancouver knows there is a stigma that comes with being from the Canadian West Coast.
We are the only place in Canada where you can go skinny-dipping on the beaches, skiing on the mountain top and get lost in the forest — ALL in the same day.
That is right; Vancouver is the best place to live. We were ranked amongst the top list of most livable and best cities to live in the world.
It is for this reason that we Vancouverites are often disliked by our fellow Canadians because we are just too damn awesome!
And, why are we so awesome compared to our fellow Canadians? Here's why:
People
1. Vancouverites know the weather is unpredictable.
So, it's no surprise that when it comes to everyday errands, Vancouverites are always prepared and have their handy raincoat/umbrella handy along with a pair of shorts and tee's for when that sun comes out.
2. Before they conquered the world one yoga outfit at a time, Vancouver-based Lululemon styled Vancouverites first.
Now the company can be seen dominating through Canada and around the world. Vancouverites make wearing yoga pants look good 24/7, 365 days a year. It doesn't matter if you're in the office or going out, Lululemon is always on point.
3. Compared to our fellow Canadians, Vancouverites are very lax.
There's a reason we are known for our "best buds," and no, I'm not talking about how chummy we are.
We are in no rush to get to our destination; we go with the flow and are often mistaken for constantly being high. But no, we are not high; we just aren't in a rush to get anywhere. Then again, how else could you be when the beach is right at your doorstep?
4. Vancouverites are often seen as tree-hugging granolas with a fashion sense, but can you blame us for wanting to protect our city?
Vancouverites are very environmentally conscious and take protecting and maintaining the cleanliness of our city to heart!
When there were the Playoff riots back in 2011, the city banned together to restore the damages done. Recently with the oil spill, again Vancouverites came out in full force to help.
Being friendly and nice isn't just a Canadian thing; we Vancouverites take it to the extreme and really define what it means to be Canadian.
5. When I moved to another Canadian city, the moment I told people I was from Vancouver, they asked me why I wasn't wearing Lululemon pants with a North Face vest and drinking Starbucks.
Vancouverites are notorious for sometimes being overdressed for something as simple as going to the grocery store or even for a cup of coffee. Vancouver, then again, is known for its world-class brands and stores. It makes sense we just dress so well, but we make it look effortlessly easy.
Places
1. When people say they are going to the VAG, you know they aren't referring to the female anatomy. They are referring to the Vancouver Art Gallery.
2. We are one of the few cities with two Starbucks that face one another, and have actually competed with each other for business. Two Starbucks on a corner just added to the pretentious stereotype of us Vancouverites.
3. How many cities in Canada can claim access to mountains all year round for skiing? Not in the mood for skiing? There's the Grouse Grind you can do. Yes, that's right; we Vancouverites consider going up 2,830 steps a fun and a leisurely activity.
4. Vancouverites know there is a Second Beach and Third Beach, on top of all the other beaches that line our beautiful coast. How many people — rather, Canadians — can say that for lunch, they went to the beach? Not many, and that makes us the envy of many.
Things
1. Having a car in Vancouver, especially when you live in the city center, is a luxury. With bus stops at your doorstep, and a Skytrain system that can take you from the airport to downtown Vancouver in less than 30 minutes, our transit system is considered to be one of the best in the country.
Not to mention, with everything so close and our weather never going below -40 (unlike some cities like Toronto, Calgary and Ottawa), walking is another mode of transportation that many Vancouverites utilize.
In 2014, Vancouver won the title of Most Walkable City in Canada.
2. Anyone who has been to Gastown knows of the Amsterdam Café and also that you are free to walk in there and have a whiff of some of BC's best buds without having to worry you'll get busted.
Vancouver's police have respected the business and the patrons who walk in. Given the location, the Vancouver Police have been very respectful and don't bust the chops of the homeless. Rather, they regulate their activity and ensure they are not harassed, and in turn, are not harassing Vancouverites and tourists alike.
3. There is very little Vancouver lacks — in comparison to many other Canadian cities, at least. We may lack in the typical Canadian winter, but we have our mountains to go to for snow.
We may be the butt of many jokes for our lifestyle, whether it be for our classy high life or hipster-esque bordering granola hemp wearing lifestyles.
Either way, Vancouverites are proud of our city.
Vancouver may be ranked as one of the most expensive cities to live in, but, hey, you can't put a price tag on happiness.