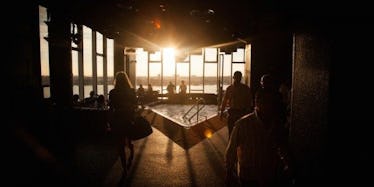 10 Tips On How To Study Abroad The Right Way
Stock
We've all been inflicted by a case of wanderlust, a yearning to learn a new language or simply a desire to step out of our comfort zone. Perhaps your parents are not from where you were born, and you'd like to follow in their footsteps and also start your young professional life abroad in a European city like Madrid, or a vibrant expat hub like Singapore or Shanghai.
Studying or working abroad is an exciting and fascinating time. The language, culture, people and gastronomy are all new things to rave about at home. If your future plans include moving to a new country to work or to study, check out these ten tips on how to squeeze out the cultural juices of the most uplifting experience of a lifetime.
Learn the language before reaching your destination and also during your time there
If you know for some time that you will be going to France, enroll yourself in an online course like Rosetta Stone or take night classes with a professor who is French. Once you get the basic grammar down, start to watch movies with subtitles in the same language so you can read along as you watch.
Once you arrive to your destination, you will already be equipped with the right tools to get the ball rolling. Depending on where you go, make sure you continue your language lessons. Unless you're advanced at the language and almost bilingual, don't think that by just living there and ordering a cup of café au lait every day will help you reach your goal.
Don't go to the Irish pub
This tip is specifically targeted at the Americans. Almost every city has an Irish pub that seems to attract every American living, or studying, abroad.
If you're living in a city like Rome or Madrid, focus on meeting locals or practicing your social skills with the language you're learning. If you find that your Fridays tend to bring you to the same corner Irish pub with shamrocks around the pub name, it's time to change scenery!
Don't only surround yourself with people from where you come from
The beauty of living abroad is meeting individuals from the city you are living in. The best plans are made only by knowing the local scene. The locals will take you away from the tourist zones, the restaurants that display pictures of meals they offer, and the Irish pub. You might as well stay at home if you only have friends that come from the same place as you.
Work hard; play hard
Studying abroad isn't all about having a full semester or year of partying. If you get up five days a week with a massive headache and are unable to attend your Spanish lessons, then you won't be going home to impress your future employer with your bilingual skills.
Learn to balance out a few really good nights with some intensive language courses throughout the week. Think about the future. You're more attractive and interesting to get to know, or to be hired for a job, if you speak more than one language.
Adjust to local times, customs and eating hours
Don't have dinner at 7PM if you're living in Spain. If you're living in Florence, don't walk through the streets in your gym clothes and running shoes. Moral of the story is, be aware of your surroundings and don't stick out like a sore thumb as you make your way through town.
Find a good gym and be health conscious
Stay fit, organized, healthy and maintain those every day exercise sessions you had at home. Finding a gym close to where you live is important to keep you motivated and keep you energized throughout your stay abroad. The gym can also be a very good place to meet locals.
Be open to the cuisine
This does not mean that you have to try fried insects on the street in Thailand, but do try to expand your gastronomical senses and indulge from time to time in some good wines from the region or some local delicacies.
Forget about being a vegan in Spain
If you're going to Spain as a vegan, eating out will be a problem. Meat, ham, eggs and fish are the country's prized products, not to mention the midafternoon café con leche. Forget about asking for soy or rice milk in a bar while ordering coffee.
Do museum visits at the beginning of your time abroad
Pushing the cultural tours to the very end "because you have a whole year" to do it will only leave you desperate for time at the end of your time abroad. Take your new local friends with you. I guarantee some of them haven't even seen the biggest museums they have around the corner from their homes.
Skype your parents and pay attention to them when they write on your Facebook wall
It all comes down to your parents supporting you to have this experience abroad. Take time out of the week to talk to them and give them updates about your new and exciting life. They'll be excited to see you when they come visit, so make sure you find the best local places to take them to!
Top Photo Credit: Getty Images