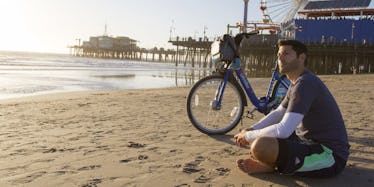 I Left My Corporate Job Behind And Rode A Citi Bike Across The Country
Lara Solomon
Quitting your job and heading into the sunset is a fantasy for many. Here's how I made it happen in the most unlikely way.
Job frustrations fueled a burning desire to find a better reality. It was one revolution too many on a stationary bike. I was working hard to pay rent and had so little left over. Could forward motion break me free from routine?
My plan was simple but absurd: Pedal a rental bike from New York City to wherever it broke down and figure out things from there. Along the back roads of America I would surely find enlightenment.
Why a rental bike? Well, the best part of my job was the commute on a Citi Bike. I wanted the natural high from biking to work to last all day, so I decided to commute from coast to coast and call it Countri Bike.
But let me back up a little.
Doing what you love
Just follow your passion. The money will come later.
This cliched dream-speak came from people who gave talks and wrote articles about dropping something miserable and succeeding in what they love.
I yearned to follow in their footsteps and dump an unfulfilling occupation that occupied my waking hours. The weekend was never long enough. I wanted every day to feel like the freedom of Friday afternoon.
So what do I love? Travel and writing. But travel writing isn't financially stable. Even those who win at this envious pursuit are not necessarily satisfied by the perks. Just ask my friend Jeremy Scott Foster.
My one writing success is the app New York City Essential Guide. Royalties weren't enough to cover living expenses, so I took the salaried stability of a sales job with travel opportunities at a corporate event planning agency.
"We do events globally," my future boss said during the interview. "If you sell an event in Rio, you're going to Rio."
I wanted to go to Rio.
Once on board, however, I realized the company had never done an event in Brazil or anywhere in South America. The farthest I traveled for work was 40 miles to Connecticut, where our tent lighting underwhelmed even our own technical director.
The client complained. We gave a partial refund, but the damage was done. We lost my first client. I no longer dreamed of flying to conferences — I worried about staying at my desk.
Ctrl+Alt+Del
Insecurity ruled the workweek. When the president called a "family meeting," we gathered in a circle of nervous anticipation. Then he fired the marketing manager in front of everyone.
Standing 6'5", the former minor league baseball pitcher shrank to the size of a bobblehead doll. I felt similarly small and unsteady witnessing this humiliation.
I shifted into his marketing role, and a new guy with more experience took over my sales duties. He was younger, taller, broader, and had a sweet tattoo sleeve. I wanted him to fail hard where I had failed softly. I reorganized my desk so I could clear out quickly whenever the next family meeting was called.
Freedom pedal
My bike commute filled my appetite for achievement. Even in a polar vortex, bicycling in the Arctic air was better than passively commuting on subways underground. Moving on my own power through the Manhattan grid was a small yet measurable success.
During winter, the morning commute was my only chance to feel sunlight on my skin. Colleagues nicknamed our windowless work area "The Grotto." We taped over the switch that triggered the fluorescent lights, preferring desk lamps to set the mood. I shut my eyes frequently.
At the stroke of six, I dashed out the door and undocked a Citi Bike outside the Port Authority Bus Terminal. Zombie commuters stomped on sidewalks on their programmed march back to New Jersey.
I broke free of the herd and began my freedom pedal toward Brooklyn. Workday worries burned off with each block. Escaping my job by self-propelled power replenished my self-worth. I was in control.
Into the unknown
As the company struggled and my workload lightened, I biked to work each morning wondering if it would be my last. Instead of waiting to get fired in public, I arranged a departure date with my boss in private.
Delighted to discard office life, I was also daunted by having nowhere to step next. At the same time, my apartment lease in downtown Brooklyn expired, and I moved into a storage unit. I didn't sleep there, but all my stuff did. I crashed with friends and made periodic trips (by bike share, of course) to swap out clothing and refill travel-sized toiletries from their big bottle brethren.
Standing in front of my mountain of boxes, the pit of failure hit my stomach. The business travel I dreamed of had never materialized. The corporate stability I had craved had collapsed. My career had no path.
I'd wasted 22 months at a job and was back to square one. I had no income, no bed, and no plan—just an unshakable urge to ditch everything and cross America guided by passion and Google Maps, using the one thing that made me happy -- a bike.
Bike-sharing systems like Citi Bike are designed for short trips around town. Weighing 45 pounds and having only three gears, a Citi Bike is a terrible choice for long-distance cycling, but for me it was perfect.
I delighted in its bulky design and visibility to motorists. I also had formed an emotional bond to the bike as the source of my empowerment during uncertainty at work.
Citi Bike declined my request to collaborate with a discount, so on August 7, 2015, I took off anyway and paid their maximum fee of $1,200. That was the easy part.
Riding out of the service area was a rule-breaking and uncertain endeavor. I had never biked outside of the city. I was more afraid of failing to find a new reality than failing to reach California.
In the end I achieved both. I pedaled 3,020 miles across 19 states, making a lifetime of memories in five months. I hitched a trailer packed with camping gear and minimal clothing and toiletries to the bike. No tools, no spare parts. I stopped to eat someplace local when I got hungry. I stayed for free with hosts in the cycling community, paid for a basic motel or crashed at a campground.
After I flew back to New York, Stephen Colbert invited me and Countri Bike on The Late Show. I rode the stickered bike on stage and sat in the plush armchair usually reserved for celebrities.
Late-night TV was fun, but more meaningful was meandering through small towns. Admiring the grandeur of the national parks. Learning the history of presidential homes and Civil War battlefields.
Who I met, what I saw, when I almost gave up, and how many flat tires I got are all detailed in my Road Reports. But until now I've never shared why I did this or how it felt.
Under the inclusive umbrella of bicycling, I made awesome friends and championed the benefits of bike-share programs to anyone who would listen.
Defining success
I don't regret leaving my job or paying for a Citi Bike to be my getaway vehicle, but do I regret where I've ended up, at 35 years old?
College classmates are now mid-career professionals. Some have achieved prominence. I worked on the newspaper at Dartmouth with Mindy Chokalingam, better known now as Mindy Kaling. I took economics 101 with Henry Ford III. I graduated with Matt Klentak, the new general manager of the Philadelphia Phillies.
Others with lesser name recognition excel as law partners, educators, surgeons and at startups. Many have families. Some are on their second child, second house, or second marriage. I haven't yet reached my first.
Even after a bold and rewarding ride from the Big Apple to the Golden State, insecurities linger. I rolled into a former fraternity brother's garage in West L.A., parking my blue bike behind his white Aston Martin.
I don't have a fast car, corner office, or 15,000 followers on social media. I don't even have 500 on Twitter and Facebook combined. And that's fine. I learned that I prefer biking to driving, am miserable inside an office, and enjoy social media not as a way to build followers, but as a path to real friendships and offline conversations.
Ever onward
The promise of meeting new people pushed me forward. Without corporate sponsors or a support vehicle, I found strength from those who hosted me or cheered from the sidelines on social media. They were on my mind as I plodded alone against obstacles from all angles.
I battled rain, snow, wind and hills. I kept going.
I got run off the road on I-10. I kept going.
I was punched in the face by an axe murderer and got stitched up in an emergency room. I kept going.
I read vile comments about me posted on pseudo news sites and bike forums. I kept going.
I ran out of water in rural Missouri and ran out of warmth while camping in the California desert in December. I kept going.
I kept going because the new reality I was discovering, although painful at times, was more fulfilling than the status quo I left behind.
The hardest part was walking the bike onto a ferry bound for New Jersey. I accomplished my biggest goal on mile one: acting on the desire to change the course of my life.
Five months later in California, watching the sunset in Santa Monica wasn't the end. It was the beginning of doors opening to someone who dared to do things differently.
The dust hasn't yet settled, but one thing is clear: I dumped a soul-crushing desk job to take a chance and be true to myself. My only regret is that I didn't do it sooner.
You don't have to trek cross-country to change your life. Biking around town may be the answer to clearing your mind, boosting well-being, or finding new friends. The beauty of bike share is that equipment and maintenance are provided. All you have to do is pedal.