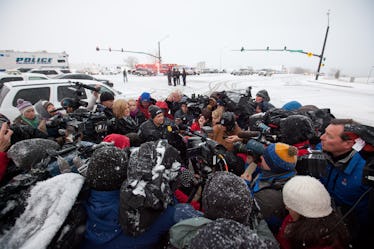 What It's Like Living In Colorado In The Aftermath Of The PP Shootings
Getty Images
I am a Colorado native, but I now call the Windy City home. To put it lightly, this Black Friday one of the most confusing days of my life.
Pride, grief, confusion, joy and the uncomfortable awareness of my own privilege were diced up by the recent shooting at a Planned Parenthood in Colorado Springs. Then it was all blended into a purée by the protests on the magnificent mile.
To understand this, I could include facts, statistics and names. I could write perfect arguments about why we should have better gun control, fight or improve our mental healthcare in this country.
I could then write about why we must do whatever we can to end institutionalized racism, and crush our country's horrific inequality.
But other people will do this better than me. Instead, I will simply tell you what I see and try to make sense of what I feel.
As someone from Colorado, I am well acquainted with high altitude hikes, a laid back way of life and two of the most memorable mass shootings in recent American history.
I used to clean horse stalls with a woman who was a student at Columbine the day of the shooting, and I got a text message from my best friend making sure I hadn't gone to see the last batman the morning after the Aurora shooting.
There were other, smaller shootings that we as a state, but also as a nation have mostly forgotten.
Yet I still remember the horse of the Denver teenager shot by a classmate before he was stopped from killing more people. Her parents brought the horse to the National Western Stock show, and the lanky hunter jumper walked somberly around the arena riderless.
Once the reports of the shooting in Colorado Springs came, I could smell the dry mountain air and hear the crunch of plowed snow, as I saw the images of cop cars in front of a shopping center and sage brush.
I also felt a familiar sense of sadness knowing more people from Colorado wouldn't be returning home that night and that the children of a Colorado Springs police officer would never have another holiday with their father.
After living in Chicago for more than a year, I understand why everyone always talks about the food, the art and the city's friendly Midwest sensibility.
I also know why all people from Chicago are smug about their public transportation.
However, I am only just barely starting to understand the disillusionment, pain and barbarity of the continued racism that is rampant throughout the United States.
If you have read this far, you are probably just as confused as I am.
How exactly are we supposed to make sense of these two things, let alone these two things juxtaposed beside each other? What could possibly fit them together besides happening on the same day?
Others will have many reasons, but I only have one.
As Americans, we are guaranteed the constitutional right to a fair trial with a jury of our peers before we are condemned to death or punishment.
We are innocent until proven guilty.
This is one of our oldest American principles.
It is sacred, it is precious and it is essential to a fair and just way of life. No amount of historic contradiction can ever override its utter necessity.
Not one name cried out loud yesterday deserved to die. Not 17-year-old Laquan McDonald, and not officer Garrett Swasey. It is unjust, it is unkind and it is un-American.
Even the man who killed three people at the Planned Parenthood, whose name I will not say, does not deserve punishment until he has a fair trial. Even he has that right.
But what about the rights of Michael Brown, Sandra Bland, Freddie Gray and many others?
I will not deny the flaws in our justice system and I will not deny the other facts that played a role in both stories. But I will continue to be saddened at the loss of life.
And I, not as someone from Colorado or Chicago, but as an American, I am left grappling with what to do to keep it from happening again.