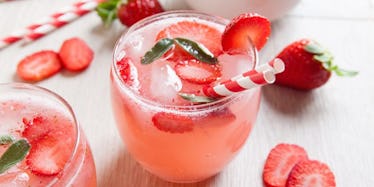 7 Easy And Delicious Cocktails To Make For Your Kentucky Derby Party
Every year when the Kentucky Derby rolls around, one thought initially comes to mind: Bring on the mint juleps, and keep them coming.
If you're hosting a party of your own this year, mint juleps are the cherry topping to your affair… along with the festive food, whimsical picture hats and pretty pastel decor to accompany.
We all know planning and hosting a bash of your own can get a tad stressful if you don't have all of your ducks in a row. From invitations and shopping for party goods, to DIY-ing the decorations, your checklist can add up real quick.
To make it a lot easier as far as your beverage menu is concerned, these cocktails will ensure your Kentucky Derby affair is oh-so classy while you're sipping and savoring.
1. Mint Julep
You simply cannot host a Kentucky Derby party without the OG cocktail; it would be sacrilegious.
As a matter of fact, the mint julep has been the event's staple drink for almost 100 years, so it's only appropriate that it's an honored guest at your bash.
This refreshing cocktail is pretty simple to make. Southern Living's recipe calls for mint simple syrup, fresh mint and bourbon.
If you're all about those mint julep vibes, but also have an undying love for sweet tea, this cocktail is the ultimate combination for your party.
Southern Living's recipe highlights cold sweetened tea, sugar, sliced lemon, bourbon, crushed ice and mint sprigs for garnish, of course. You'll be dreaming of warm summer nights when you're drinking this gem.
Yeah that's a mouthful, but seriously: This cocktail is summer heaven in a glass.
This refreshingly sweet spin on your typical mojito is the perfect companion to chill with on the deck after dinner to watch the sunset. It's also a great treat to whip up for your Kentucky Derby party.
All you need is lemonade, sweet tea flavored vodka, lemons and fresh mint. Don't forget to serve the cocktails in mason jars for the full effect.
What's better than adding booze to the signature drink you enjoyed so much as a kid throughout the summer?
This Orange Julius is specifically for adults, consisting of milk, frozen orange juice concentrate, sugar, vodka and ice. Add all of the ingredients to your blender, and just like that, you'll be sipping in no time.
If you're all about that #DoItForTheGram lifestyle, this vibrant pink cocktail is literally your spirit animal.
You won't go wrong including this fruity number on your cocktail spread for the weekend. It's made with honeysuckle vodka, seeded and cubed watermelon, fresh lime juice, lemon-lime soft drink, sugar and ice cubes.
Don't forget the diced watermelon, lime slices and mint leaves for garnishing.
This drink is a great option if you find yourself in the grocery store debating between picking up pack of beer, or making another cocktail to accompany your Mint Juleps. The decision is easy: Go for the Raspberry Beer Cocktail.
It's made with fresh raspberries, beer and raspberry lemonade concentrate... and looks absolutely delicious.
7. Red, White, and Blue Sangria Pops
OK, these boozy pops aren't your average cocktail in a glass. They're also a bit more time-consuming than the other drinks on this list (you'll need to freeze them for at least four hours). But, they don't only require wine, fresh fruit, juice and honey... and the prep part is easy peasy.
Trust me, they're well worth the little bit of extra effort... and your guests will go wild for them.
Who doesn't love a good popsicle that'll get you lit?
You can even stick the popsicles into glasses of Prosecco when they're ready to serve.