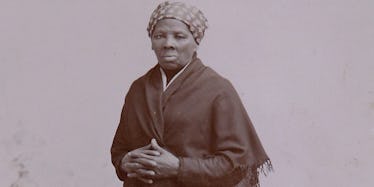 8 Civil Rights Movement Leaders Who Paved The Way For Feminism
Getty Images
Before Taylor Swift's girl squad even existed, there was the OG girl squad. This girl squad was made up of a group of women who were pioneers in the Civil Rights Movement.
They were #GirlBosses, and they stood up for both themselves and the greater good. They fought for their rights and created change.
1. Sojourner Truth, Early Civil Rights Leader (1797-1883)
Sojourner Truth was born into slavery and experienced many owners and violence in her life until she escaped. Once free, Sojourner became a passionate abolitionist and one of the earliest advocates of women's rights.
She published a memoir, "The Narrative Of Sojourner Truth," and helped recruit black troops for the union army. Sojourner Truth also met with President Abraham Lincoln many times.
2. Harriet Tubman, Early Civil Rights Leader (1822-1913)
Harriet Tubman — who was known as "Moses" for her courageousness while leading slaves to freedom — was enslaved for many years of her life. Born into slavery, Harriet Tubman endured many beatings and prayed for a life of freedom.
After the creation of the Underground Railroad, Harriet Tubman fled to Philadelphia. She then risked her life to return many times, in order to help family members and others escape slavery.
3. Ida B. Wells, Early Civil Rights Leader (1862-1931)
Born a slave and freed six months after her birth, Ida B. Wells was a woman of many passions and titles. She was a journalist, teacher and founding member of the National Association Of Colored Women.
She risked her life researching lynching events in the South in order to raise awareness, and after getting fired from her teaching job, she created the first African-American kindergarten in her community.
4. Septima Clark (1898-1987)
Septima Clark paved the way for African-American teachers. She teamed up with the NAACP to garner enough signatures to get Charleston, SC to allow the hiring of African-American teachers.
She even helped work on a case that sought equal pay for black and white teachers. After winning the case, teachers' salaries increased.
She became the director of education and teaching for the Southern Christian Leadership Conference.
5. Rosa Parks (1913-2005)
After she refused to give up her seat on a bus in Alabama, Rosa Park was arrested. Her arrest sparked the city-wide Bus Boycott in Montgomery.
Many of the city's buses were parked for five months because people opted to carpool or walk. This led to the law requiring segregated buses to be lifted.
Rosa Parks was the Montgomery NAACP chapter leader, and because of her protest, she received the NAACP's Spingarn Medal.
6. Maya Angelou (1928-2014)
Maya Angelou broke ground for African-American women in many areas. She became the first African-American woman to land on the bestsellers list for nonfiction, the first African-American woman to be a cable car conductor and the first African-American woman to have a screenplay produced.
She also holds the record for the longest amount of time on The New York Times paperback nonfiction bestseller list: two years.
7. Coretta Scott King (1927-2006)
Along with her husband, Coretta Scott King was a leader in the Civil Rights Movement. She participated in the Montgomery Bus Boycott and worked to successfully pass the 1964 Civil Rights Act.
After her husband's death, she founded and served as the president of the Martin Luther King Jr. Center For Nonviolent Social Change. She even became a regular commentator on CNN to advocate for civil rights.
8. Dorothy Height (1912-2010)
Dorothy Height was honored with the Presidential Medal Of Freedom and the Congressional Gold Medal. She was a civil rights and women's rights activist.
She started as early as high school. There, she participated in anti-lynching campaigns.
She later became the president of the National Council Of Negro Women, and directed the integration of all YWCA centers. She stood next to Martin Luther King Jr. as he delivered his "I Have A Dream" speech.
At that time, she realized men felt they were in charge and had more power. This led her to help form the National Women's Political Caucus.
These are just a few of the people who stood up and fought back during the Civil Rights Movement in the 1800s and 1960s. These women showed courage and determination, and they never backed down. They are the true #GirlBosses, and their legacies will remain forever.