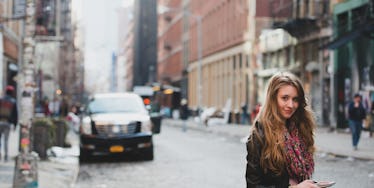 People Who Live In Cities Are The Most Productive And Creative
There's something imaginative about the city during sunset.
The world seems to get quieter as urbanites retreat to their cozy brownstones.
They fill up quaint outdoor cafes to quench their thirst with sangria after the hustle and bustle of a productive workday.
A sense of accomplishment sways the late afternoon breeze, as another successful checkmark settles in on the calendar.
Clicking heels and idling taxicabs send a vibrating hum down quieter streets.
Another page is nostalgically turned as the day comes to a close, and the sunset, in all of its grandeur, fills the final chapter.
The most vibrant palette of orange, crimson and pink hues melt into one another like a bowl of (foodgasmic) sherbet in the heat.
The sharp grey cityscape sets a bold tone against the melting backdrop -- a gorgeous, neutral palette all of its own, a blank canvas awaiting each and every urbanite's personal masterpiece.
Although their unique features are worlds apart, the sunset and concrete jungle complete the scene, creating an irreplaceable bond. One manmade, the other unearthly.
This is surely the prime backdrop for wine o'clock on the rooftop -- all you have to do is sip, embrace the buzz and gracefully stroke your paintbrush.
You are the artist, and everything the city has to offer is yours for the taking.
I am a firm believer some people were born to share a passionate, beautiful love with the city.
True city-lovers wouldn't trade the charm of their shoebox apartment for anything in the world.
Personally, I am and forever will be one of the city's lovers and appreciate the person it has shaped me into today.
The city makes you more productive because that's what your environment demands.
I had the amazing opportunity to live in the heart and soul of Boston (Beacon Hill) for four years during my college career, complete with a charming brownstone where ivy dangled down the front door.
Boston taught me to be more productive than I already was, to get into routines and ultimately prioritize my life.
I woke up early to get sh*t done, with a venti coffee in hand.
I even motivated myself to go for morning runs along the Charles and get my namaste on after classes.
When you're keeping up with the speed of such a fast-paced environment, crossing things off the list is as rewarding as the sinful indulgence of any food, latte or delight imaginable post-workout… right at your fingertips.
Literally, the physical action of putting a bold line through or checkmark next to a completed task feels extremely invigorating.
Researcher at MIT Wei Pan states,
If you think about productivity, it's all about ideas, information flows, how easily you can access ideas and opportunities.
Pan believes the daily interactions we encounter are "what drives the productivity of the city."
According to CityLab, as the cities we live in expand in size, we meet more people and establish new connections. This yields more ideas and opportunities, which is the heart and soul of productivity.
Writing for multiple publications, attending classes and even just going to my favorite cute cafe on Charles Street constantly exposed me to a variety of professionals and individuals from all walks of life.
I was surrounded by culture, experience and opportunity in the heart of a city. I loved and embraced every second of it.
It is that competitive "drive" factor that motivates and challenges us to excel, grow and succeed. We keep time and rhythm with the fast pace of the city and everyone in it.
Living in the city also gives you a creativity boost.
When I studied abroad, I resided in an adorable apartment in the center of Florence, Italy, where daily doses of gelato and limoncello were imperative to my well-being.
The scent of delicious pizza pies being prepared in the restaurant below would waft through my oversized green shutters.
Even when it rained, I couldn't help but take a cup of tea as my companion and watch the city get even more beautiful as the rain completely soaked it.
One of the things I love most about Firenze is that creativity surrounded me every time I walked out the door… even in the most unpredictable places not apparent to the traveler's naked eye.
Hole-in-the-wall panini joints where you couldn't even breathe they were so small, gorgeous street chalk artwork lining every corner and the innovative presentation of each extraordinary dish I would order are what I think of when the term "home" comes to mind about Firenze.
I soaked up the amazing Italian culture, made native friends, lost my heart to the divine cuisine and, of course, found my favorite coffee shop (because an urbanite without a coffee cup in hand is simply sacrilegious).
Similar to my lifestyles in Boston and NYC, I spent much time relaxing in cafes in Firenze.
In basically every city in the world, you can be sure to find a coffee shop on every corner -- a heavenly light at the end of the block, if you will. A refuge in which to relax, get work or reading done, observe and kick back.
According to Coffitivity, the perfect mixture of sounds in a coffee shop, from people chatting to the hum of an espresso machine, make our creativity begin to circulate.
Needless to say, you basically have a creative haven to retreat to for your innovation fix on each city block.
This is only one out of many experiences that proves city living truly opens one up to a wealth of culture, food, connections and opportunity.
Living in different cities, along with my irrevocable passion for completely embracing them with all that they have to offer, has fueled the innovative, productive person I am today.