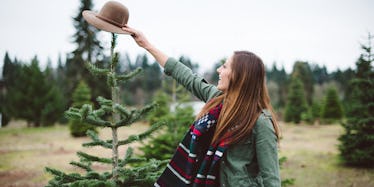 How To Make Christmas Special When You're Spending It Abroad
It's already the holidays, and Christmas has so many different colors depending on your location on the planet.
Christmas in Quebec is white, snowy and festive, and I never thought I would be missing the smell of a good turkey, fudge and a few extra pounds.
Last year, I celebrated an Aussie Christmas on a beach with a barbecue smell.
This year, I might be milking cows.
Depressing, isn't it?
But, I guess someone has to work to pay the next part of the trip, right?
Who said that traveling would always be fun?
Who said that traveling with a tiny budget would be easy?
So, you are about to celebrate Christmas abroad?
If it's your first Christmas, be ready for it.
Here's what it's really like to celebrate Christmas abroad:
1. You'll think of them.
As they prepare themselves to celebrate Christmas, you send them greeting cards so they know you still think of them.
If you're lucky, maybe you'll get the same attention.
Yeah, being on the road does also mean not having a mailbox.
Christmas is coming, and you'll think of them.
I remember last year, I wasn't in the holiday spirit at all. This year, it's the same.
Christmas as I know it isn't quite the same here.
Australia, you got it all wrong.
2. You might have to deal with a homesick rush.
I don't regularly deal with homesickness.
But, there is one exception: Christmas.
This one day is enough to create that harsh feeling.
It simply triggers all the cravings from home.
Last year, I felt alone, even though I was actually in my apartment with my international roommates.
I just felt so far away.
Although I'm not a fan of Christmas, I was surprised to realize how much I missed the traditional celebrations.
3. You'll celebrate Christmas at a different time, and it sucks.
Dear time difference, you are so annoying.
As you are already enjoying Christmas, the rest of the world awaits impatiently.
You'll feel like you're on a different planet. And the farther you go, the greater is the difference.
So while my parents wished me Merry Christmas, I was already facing Boxing Day.
So, how can you make Christmas more enjoyable, you ask?
1. Create a new family.
Surrounding yourself with friends you meet on the road will help you focus on the moment.
Choose the people who matter to you to make the most of your Christmas.
This year, I am happy to share Christmas with the boyfriend (and cows).
If you are alone in a new country, don't worry; there are plenty of hostels organizing celebrations for their travelers.
2. Treat yourself.
Surprise yourself.
Be sure to make your day enjoyable.
What about an original Christmas-themed meal or an international buffet with your new friends?
And what about giving yourself a Christmas present?
It might be the only one you'll get.
3. Create epic memories.
This is the best time to create the best memories.
Crazy cravings and bucket lists are welcome.
You'll always remember that time when you spent Christmas abroad.
What are your plans for Christmas?
What would you say to a traveller who is about to spend his or her first Christmas abroad?
The article was originally published on A Broken Backpack.