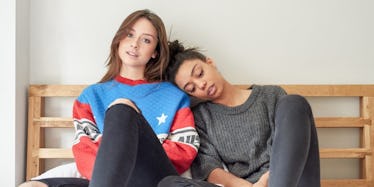 10 Affordable And Super Chic Things You Deserve To Have In Your Dorm Room
Guille Faingold
Heading back to school marks the end of summer, but it also means you're about to head to dorm life. Whether you're going off to college for the first time, or returning to your old haunt with a roomie you're closer with, it's time for you to start brainstorming how to decorate your dorm room so it looks as good as the semester you're about to have.
Your dorm should be free of clutter, but it should also look effortlessly stylish. Here are 10 cheap and chic things your dorm room deserves to have this year.
1. 3D Floor Designs
3D Universe Galaxy Ceiling Wall Decals, $8, iWallSticker
Add this cool galaxy wall art to your ceilings and floors for a magical touch. It's the perfect way to give more life to your room in a way that requires minimal upkeep.
2. Retro Lava Lamp
Retro Lava Lamp, $20, Amazon
It's time to throw it back to the 80s and 90s. A funky lava lamp will light up your room with pretty, fun colors. Heck, why not get one for your nightstand and your desk?
3. Inflatable Cafe Club Chairs
Intex Inflatable Junior Cafe Club Chairs, $15, Amazon
Have your friends pop a squat on something colorful and cute other than your twin bed. These inflatable cafe club chairs are portable and actually look like real furniture. They'll give your dorm room the extra pop of color it needs to come full circle.
4. Bluetooth Speaker Flower Pot
Smart Music Flower Pot, $20, Amazon
Here's an easy, modern way to bring some pretty flowers to your dorm room this semester. This Bluetooth speaker not only hosts a potted plant, but also connects to your music devices so you can fill your room up with music and plants. What's better than that?
5. LED String Lights Photo Clips
LED Photo Clips String Lights, $14, Amazon
Give a nice, visual shoutout to your friends and family members back home with these cool string lights that you can attach physical photos to. If you're not the type to post family photos, then you can also add fun notes of encouragement, or photos of your favorite celebs. These clip-on string lights leave a lot of room to be creative.
6. Eyes Of India Mandela Floor Pillow
Purple Mandela Floor Pillow, $12, Amazon
If inflatable chairs aren't your vibe, then how about a low-key floor pillow? It's comfy and boasts a really gorgeous design. Bonus points if your comforter matches perfectly.
7. Mason Jar Set
Mason Jar Desk Decor, $35, Amazon
Stay organized in the cutest way possible with this mason jar set. It features a trendy rose gold design, and you can store a bunch of your desk supplies in these cute jars.
8. Plush Lined Eyeglass Holder
Plush Lined Eyeglass Holder, $10, Amazon
Keep your glasses safe, sound, and cozy with this glamorous eyeglass holder. It will look super cute on your desk, and you'll most likely never lose your glasses.
9. Modern Littles Laundry Bin
Modern Littles Chevron Folding Laundry Basket, $15, Amazon
Your laundry bin will be a mainstay in your dorm room. Why not snag one in a pretty color and print? This one is awesome because you can fold it up when you're not using it.
10. Double Layer Makeup Organizer
Osier Fashion Double Layer Makeup Organizer, $21, Amazon
Tame your massive makeup collection with this pretty organizer. It will look incredibly chic on your desk, situated right next to your makeup mirror. Besides, your lip glosses deserve the royal treatment.