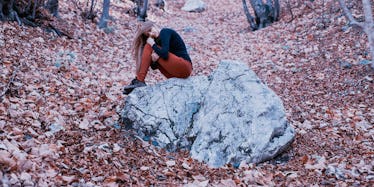 My Name Is Brittany Maynard And I Am Choosing To Die With Dignity
Stocksy
Brittany Maynard has courageously chosen to end her life on November 1, 2014. She suffers from glioblastoma -- terminal brain cancer -- and will travel to Oregon with her husband and her mother to peacefully end her life under the state's Death With Dignity Act.
At just 29, Brittany was faced with a decision: Would she let her end-of-life prognosis envelop her, or would she choose to use what little time she had left to live her life sweetly, wholesomely and unapologetically.
In the days following the media's sweeping coverage of Brittany's controversial decision (only five states in the US currently offer terminal patients death with dignity options), Brittany has used her prognosis to advocate for access to death with dignity through The Brittany Fund and the Compassion & Choices organization.
She has chosen to share the story of her illness, her life and her right to choose with Elite Daily.
For the past two years, I had been going to doctors who told me over and over that the debilitating headaches and migraines I had been suffering from were simply "women's headaches," and that they'd go away once I got pregnant.
But I never did get pregnant; although, as my husband and I rang in the start of a new year in Healdesburg, we were trying.
While there, after months of misguided medical advice, I finally had a CT scan. What it revealed would change my life forever.
As many of you already know, I was diagnosed with terminal brain cancer the next day. Everything that came after that fateful day, was the beginning of a completely new reality.
Within nine days of my initial diagnosis, I was in three hospitals and underwent an intrusive partial craniotomy to try to debulk my tumor and de-pressurize my cranium.
While the craniotomy was successful in alleviating some of my pressure and pain, 70 days later, we learned that my tumor had swelled, showing enhancement indicative of a grade change.
Doctors told me I had six months to live.
I am 29 years old.
When I found out I had so little time left, my first thought was about everything I needed to say to my family and friends: the gratitude, the adoration. I immediately wanted to tell them how much I love them.
My diagnosis has also reaffirmed my philosophy on how I live my life: to value people, not things. To travel, to see the world.
After college, I was lucky enough to get to volunteer abroad, specifically in the developing world. The children I worked alongside had known a great deal of strife and suffering, but still they had the most profound resilience.
Serving them gave me purpose, and taught me so much about the strength of the human spirit.
So when doctors told me that my cancer was incurable, but that I had treatment options that would prolong my life but expose me to pain and suffering, I chose a different path. I chose time with my husband and mother. I chose travel. I chose adventures.
My greatest challenge has been accepting that death is part of my story this soon in my journey. It's not that I am unafraid now, but I've gone through an intellectual and emotional process over the last seven months that has brought a lot of acceptance.
Accepting death became significantly easier once I had access to death with dignity.
I cannot tell you the relief that comes from knowing I don't have to endure prolonged pain and suffering. Because my body is young and healthy, my end-of-life was going to be especially horrendous, as my brain cancer advanced and went to war with my body.
Not only do I want to save myself from that fate, but I love my family too much to make them carry the memories of my deterioration for the rest of their lives.
I made a choice. It's not the right one for everyone, but I do believe – deeply and truly – that every terminally-ill American deserves access. They deserve to choose for themselves.
Most days I don't even think about having the pills. But I know that when the day comes, I will have the courage and conviction to choose what is right for my family, and take it. I will pass peacefully surrounded by those closest to me.
I chose to do something very public at a time in my life when I was craving quality time with my family because I want my story – and my legacy – to drive forward a specific change: I want death with dignity to be accessible to every terminally-ill American. I won't live to see it happen, but I hope you'll all take up my fight.
To learn more: www.thebrittanyfund.org