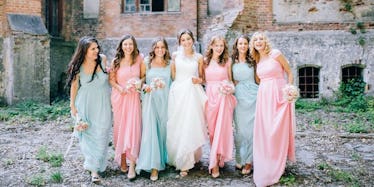 10 Stunning Bridesmaid Dresses Under $100 You'll Actually Want To Wear Again
shunevich24/Fotolia
Weddings have become a lavish (and expensive) endeavor, so brides and their bridal parties are often looking to save money wherever they can. While it's true that cheaper isn't always better, it is possible to find cute and affordable bridesmaid dresses that work for everyone. You may have to visit many stores and websites before you find what you're looking for, but when you do the extra effort, it will be so worth it.
If you're willing to wait it out until you find the one, the most perfect, unique bridesmaid dress may be way more than that. When the bride's style matches your own, you can often find an excuse to wear your bridesmaid dress again someday after the wedding. That's one perk you have that the bride definitely doesn't. Here are a few bits of inspiration to get your bridal party ready to shop 'till you drop.
1. This Blush Beauty
ASOS WEDDING Cami Frill Maxi Dress, $32, ASOS
Perfect for a wedding? Yes. Perfect for date night or a summer trip with the squad? Absolutely.
2. Something Sweet And Simple
Chiffon Short Bridesmaid Dress with Pleating, $70, David's Bridal
This pleated chiffon dress is as perfect for a morning brunch or night out as it is for a wedding. The dress itself is super simple, but the studded straps give it some beautiful bling. It's the best of both worlds.
3. Casual A-Line
A-Line, V-Neck Chiffon Short Gown, $89, CocoMelody
It's just casual enough to wear out on the town, but dressy enough to look classy AF wherever you go. Any bridesmaid would be more than happy to be seen walking down the aisle in this number.
4. This Wrap-Around Gown
Jessica Stretch Jersey Bridesmaid Dress, $99, Weddington Way
This light and airy dress is perfect for a summertime wedding, or any summer event, really. The wrap-around belt and stretchy jersey fabric will keep you comfortable, while the chic neckline keeps all attention on you. It's a winner for sure.
5. This Off-The-Shoulder Look
Aubrey Stretch Jersey Bridesmaid Dress, $75, Weddington Way
Off-the-shoulder is so in RN, so brides are sure to be picking up on the stunning trend. Luckily for their bridesmaids, there are tons of dresses like this one at affordable prices to choose from. You'll definitely get your money's worth... and just look at that bright and beautiful color.
6. Vintage-Inspired
Vintage Inspired Cocktail Bridesmaid Dress With Bow, $96, June Bridals
Anything vintage is definitely popular for weddings, including bridesmaid dresses. While this dress isn't actually 60 years old, it gives that vintage sort of feel while still being incredibly cute. The bow on the back adds the perfect touch.
7. Something Bright
High Neck Chiffon Short Bridesmaid Dress with Keyhole Back, $80, June Bridals
Could this be the perfect bridesmaid dress? Definitely. Could this even be cute for a business meeting? Hell yes it could.
8. Magnificent Maxi Dresses
Make Me Move Burgundy Maxi Dress, $89, Lulu's
The deep burgundy color is flattering any time of the year, and the cold shoulder accents make this dress super chic. An empire waist accentuates your beautiful bod while the maxi skirt keeps you covered and comfy. What more could you want?
9. This Strappy Style
Simple A-line V-neck Long Pink Prom Dress with Criss Cross Back, $92, Modsele 
OK, this fashionable dress is actually dubbed a "prom dress," but who would even know the difference? It would look cute just about anywhere, but especially while walking down the aisle. The adorable straps will keep everything in place, while the flowing skirt gives you an ethereal look. That little girl inside of you who always dreamed of being a ballerina will be super excited, too.
10. A Pastel Princess Look
Chiffon V-neck Knee-length A-Line Bridesmaid Dress, $84, JJ's House
This dress has just enough of everything you need for that perfect wedding look. The deep V-neck adds a little spice to an almost royal ensemble, which is perfect for a bride's big day. An added bonus -- you can wear it again and again.