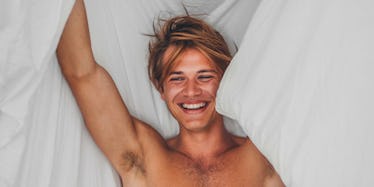 The 7 Best Sex Toys For Men, As Told By A Male Sex Writer
Studio Firma
Sex toys are a female-dominated market. Aside from Fleshlight perhaps, the majority of sex toy manufacturers tend to take care of a woman's sexual needs first.
I'm not here to make a political statement, since the reverse is true in basically every other life situation. I'm merely pointing out the market's clear discrepancies between the genders.
That said, there are effective sex toys for men on the market.
So why are so few guys using them? Or at least admitting to using them? Partly because a man's ability to cultivate an orgasm is quite easy -- especially when compared to a woman's. Guys usually don't need much to get off, so spending money (good money, because these things aren't cheap) on something that you can do yourself seems kind of redundant.
Another reason is that there is a stigma around the use of sex toys for men. Some guys are threatened by the idea of sex toys in general, believing one day these toys will render the human penis worthless. (Not today, robots. Not today, not tomorrow.)
As a sex writer, I've been fortunate enough to have received numerous male sex toys to my doorstep, which I then have to explain to my girlfriend (who, bless her, is OK with it all). As such, I tend to know more about the topic than your average pervert.
So with this knowledge -- in addition to the penis nature so graciously provided me for sex toy testing purposes -- I present to you the best sex toys for men on the market.
We only include products that have been independently selected by Elite Daily's editorial team. However, we may receive a portion of sales if you purchase a product through a link in this article.  
This toy can do it all. Though it was created for couples, the LELO TIANI 3 is also effective for solo masturbation sessions for either gender. Between my girlfriend and I, we've agreed this is by far our favorite sex toy of the lot. While it isn't as effective for solo use as it is for couples, at the end of the day, it does its job.
For male solo use, wrap the toy around the base of your penis, load up some porn and play with the vibration settings on the remote control as you stroke away. Solo use for women is more of the same. Just place the toy inside the vagina so that the vibrator lies on the clitoris, both internally and externally -- it should be hugging the clitoris, essentially. She can then play around with the settings as she sees fit.
For couples, you use TIANI 3 the same way a woman would when solo, except during intercourse, both parties feel the vibration sensations as the toy lays inside the female. Only now the penis doesn't have to work as hard!
I myself own three Fleshlights. Yes, they were sent to me for free, but damn am I thankful.
If you're not familiar with the Fleshlight (welcome out from under that rock, dude!), the toy is a flashlight-sized male masturbator with a penis-hugging sleeve made from Fleshlight's SuperSkin technology.
So dudes, if your hand's got you bored and your girlfriend doesn't exist or otherwise won't have sex with you, a Fleshlight is by far your best option for next-level masturbation. It feels as close as anything possibly can to the real thing.
Fleshlight models all feature different textures inside the sleeve, but I chose to go with the Classic Pink Lady as my recommendation because, well, she's a classic for a reason. Want to know how to use it? Just put your dick in and move the Fleshlight up and down. That's about it.
Easy.
Some words of advice, though: Always use lube. I made the mistake of forgoing it once and immediately regretted it. It felt like I was voluntarily skinning my penis in some sacrificial ritual. Not good. Not good at all.
If you're scared of prostate play, consider your sex toy selection cut in half. LELO BILLY is arguably your best option for the prostate, as it's smaller than most (great for beginners) and is rather intuitive with various vibration settings.
The toy is built to hit the prostate, so how it works is pretty simple: Insert LELO BILLY in you so that the toy faces toward your belly button (lube is a must). Once you're in there, play around with the vibration and intensity settings until you've found what feels right.
Think prostate play is only something gay guys do? Wrong. 71 percent of straight men in a relationship have tried or at least admitted they'd like to try prostate massage, according to a LELO poll.
This is one of the more popular prostate massagers on the market, so take from that what you will.
Like the LELO BILLY, usage is straightforward. Insert the toy in your anus so that the LOKI WAVE curves toward the belly button. This is where your prostate is. Since this model is much thicker than BILLY, you're definitely going to need lube. No playing around.
Still afraid of prostate play? Consider this: LELO reports that men who incorporate prostate play during intercourse have orgasms that are 33 percent stronger than those who merely tend to the penis. Also, men who stimulate their prostate report stronger, thicker erections as well.
Admit it: Prostate play is starting to sound much more appealing, isn't it?
OK, this is technically not a "toy," but it IS the best lube money can buy. Boy Butter looks, feels and is packaged like supermarket butter! Made from both coconut oil and an organic silicone blend, these two ingredients are homogenized (like real butter is) and last longer than lubricants made from water or silicone, making it ideal for masturbating.
An added bonus: It doesn't stain! Which is a rarity for most oil-based lubes, but also saves you from confessing to masturbating in bed when your partner comes home. (Or is that just me?)
If you ever wanted to feel like Iron Man in a sexual sense (though I'm not sure why, but now that I said it, Hell yeah I do!), then HELLO TOUCH X by JimmyJane is the product for you.
The toy turns your hand into a personal vibrator. Whether you choose to use this device with your partner (touching her nipples, stimulating the clitoris, etc.) or you just strap that baby to your hand and tug away with added vibration, one thing is certain: You won't be disappointed (maybe a little weirded out by the prospect of a robotic-looking hand gripping your penis, but definitely not disappointed).
While I have the original HELLO TOUCH, HELLO TOUCH X (which is new and improved!) uses electrostimulation in addition to the standard vibrations available in the original. The thing actually turns you into a superhero of sex. Which is the best kind.
When it comes to male masturbators, Fleshlight is king. However, if you want to support the little guy, let me suggest Piu, an interactive male sex toy that reacts to videos viewed through the toy's app. The good part about Piu is that the toy does most of the work for you, instead of the more manual method required for the Fleshlight.
So if you have one, you don't need the other. I'm just giving you options. The only difference with the Piu is that it has adjustable vibration settings, which is certainly an advantage. Just put it on your penis (with lube, to be safe) and put it to work.
While I've personally had experiences with enough sex toys to be considered an authority, I'll admit my introduction to said toys wasn't something I was excited about. At all. I initially saw sex toys as redundant. Perhaps it was my ego making me believe my partner and I didn't need them. But once you've tried, you'll see why they're so popular.
So trust me when I say that I understand why guys feel threatened. These toys are bigger, better and thicker than us. Plus, they vibrate, for crying out loud; how can a guy possibly compare to that?
My advice: Introduce yourself to sex toys with a male toy first. Be selfish; try a toy that tends to your needs. Once you've done this, I'm sure you'll be more confident with the idea of sex toys in general. Because you'll see how awesome they really are.