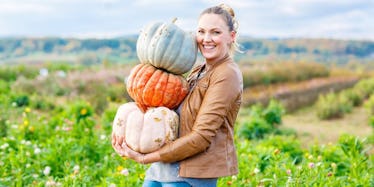 7 Best Pumpkin Patches Every Sister Squad Who Loves Fall Needs To Visit
Irina Schmidt/Fotolia
To truly enjoy the wonders of fall, there are a few things every sister squad must cross off their bucket list: drink a pumpkin spice latte, crunch the crunchiest leaf on the ground, and visit the pumpkin patch. The latter is an autumnal tradition that we can't get enough of throughout the season. There's something about the simplicity of selecting the perfect pumpkin that can fill even the darkest hearts with youthful joy. Some of the best pumpkin patches are right in your backyard, so get to exploring this fall.
If you and your sister are #obsessed with fall, a trip to the pumpkin patch is the ultimate best friend date. Not only will you both come home with your very own pumpkin, but you can explore the other produce and activities that are bound to be at any pumpkin patch. From corn mazes and hayrides to arts and crafts, the special perks of a pumpkin patch are too good for any fall lover to miss. Here are just a few of the most fun and unique pumpkin patches that any sister squad who loves fall just can't pass up.
1. The Great Pumpkin Farm in Clarence, New York
TODAY: The Great Pumpkin Farm Fall Fest, @CentralTerminal & @CanalsideBflo ghost tours & more! http://t.co/bFwLUNKO0q pic.twitter.com/BcW0kW0qra — VisitBuffaloNiagara (@BuffaloNiagara) October 18, 2014
At The Great Pumpkin Farm, you can expect fun and cool finds any day of the week. On weekdays, you can shop for your pumpkin, delicious autumn treats, and other Halloween decor. Each weekend is a special festival to celebrate the seasonal fun of fall. These festivals include hay rides, a corn maze, amusement park rides, and costume contests.
2. Tom Thumb Pumpkin Patch in Dallas, Texas
At Tom Thumb Pumpkin Patch in Dallas, 90,000+ pumpkins, gourds and squash come together to create Pumpkin Village. https://t.co/b5yW9epZMh pic.twitter.com/X3pRANTBUA — Rocketmiles (@rocketmiles) October 12, 2016
Inside the Dallas Arboretum is the great pumpkin village of Tom Thumb Pumpkin Patch. Thousands of pumpkins create fall-themed art and a literal fairy tale village. This year, the theme "Pumpkins, Squash and Gourds, Oh My!" draws inspiration from The Wizard of Oz. Different pumpkin varieties are on display to view and buy, so little ones of all ages can learn to identify them.
3. Vala's Pumpkin Patch in Gretna, Nebraska
I LOVE FALL #valaspumpkinpatch pic.twitter.com/KAVqKHw35q — Laura Vonch (@laura_audrianna) October 16, 2014
Vala's Pumpkin Patch may look more like an amusement park, but really it's the best of both worlds. There are several mazes (both the corn and haunted kind), lots of animals, and endless activities for the whole family, including mini golf, paintball, and shopping. Amidst all the festivities, don't let yourself forget about bringing home the perfect pumpkin.
4. Craven Farm in Snohomish, Washington
We braved the rain to go to this cute pumpkin patch. #cravenfarm #thatsdarling http://t.co/LsRi2ApiF7 pic.twitter.com/7JWzwFvMxA — Aileen Allen (@athomeinlove) October 10, 2015
At Craven Farm, you can expect to find lots more than just the average pumpkin. The farm sells many varieties of pumpkin as well as other fall produce. Other activities include a themed corn maze that's open late for night owls, a selection of food and decor at the gift shop, and lots of activities for everyone to enjoy. It sure helps that the farm is absolutely beautiful, because it is often booked for weddings and other events.
5. Cool Patch Pumpkins in Dixon, California
#LelakuneJagad : Cool Patch Pumpkins Corn Maze di Dixon, USA, adalah Labirin terbesar di Dunia, dg luas 22 hektar. pic.twitter.com/zbsXFHoyir — Drixxx (@cz_drixxx) May 20, 2015
With a Guinness-certified record for the world's largest temporary corn maze, it's kind of hard not to be impressed with Cool Patch Pumpkins. The maze is certainly one you'll want to check off your bucket list this season. Cool Patch's pumpkin patch features food, hayrides, a mini maze, and a pumpkin cannon for visitors to try.
6. Papa's Pumpkin Patch in Bismarck, North Dakota
ETA took on papas pumpkin patch pic.twitter.com/XhDDtkRlBi — CMU Exercise Science (@CMU_ExSci) October 23, 2015
Papa's Pumpkin Patch is the place to be to enjoy fall's most seasonal activities. There are tons of spots on the farm for photo-ops with your sister, and lots of activities at the patch are free. There's also food and a gift shop, so you'll be all set for the perfect autumn day.
7. Jumbo's Pumpkin Patch in Middletown, Maryland
Guess who's opening today?! We're so excited that we drove by at 6:30am. #Jumbos #JumbosPumpkinPatch #earlybird pic.twitter.com/ffkTbQCtXM — Mae Updegraff (@Custom_Maed) September 19, 2015
Apart from a huge pumpkin patch and a 15-acre corn maze, Jumbo's Pumpkin Patch also boasts more than 6,500 square feet of shopping. Yes, you read that correctly. Needless to say, your wallet might need to be on lockdown if you decide to take a trip to Jumbo's.