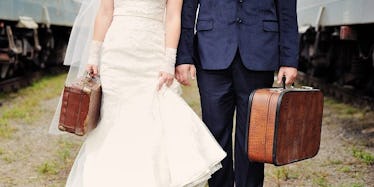 7 Best Fall Honeymoon Destinations That Are Too Dreamy For Words
Shutterstock/Nosenkoos
Almost just as important as your wedding day is your honeymoon. This is your time to choose a place for you and your love to celebrate your marriage. Honeymoons happen all year long, and while many people have a preference, it's all about the memories you're determined to make. There's nothing wrong with a fall honeymoon. In fact, the cooler weather will give you even more reason to keep each other... um, warm? There are some of the best fall honeymoon destinations out there waiting for you to go on. And let's be real, the fall foliage makes for the best pictures with your SO.
Fall is truly a perfect time to plan your honeymoon, because while the earth is rejuvenating and starting anew, you are also starting an exciting new journey with the person you love. What better way to seal the deal on a marriage than to actually embody the same freshness and adventure Mother Nature is providing outdoors? OK, enough with the metaphors.
Seriously though, any honeymoon is special if you're spending it with your best friend and newly-made spouse. Fall is no stranger to honeymoons, and if yours happens to land during that season, you have a lot of opportunities at your advantage. Here are seven best fall honeymoon destinations that are too dreamy for words.
1. Sleep Under The Stars In A Bubble Tent
New Stargaze Outdoor Single Tunnel Inflatable Bubble Camping Tent with Blower Outdoor… https://t.co/bnf9wzwGTlpic.twitter.com/sgBqLxUtYb — David Colon (@crazymaddeals) July 2, 2017
Fall provides some of the best scenery there is, so why not stay in an inflatable bubble tent at a beautiful camping destination of your choice? This is perfect for the couple who loves the outdoors and is on a tight budget. Acadia National Park in Maine is supposed to be exquisite in the fall. So, get close and cuddled up under the stars, and look up at the infinitely beautiful visuals the sky has to offer. Wishing on shooting stars is also mandatory.
2. Get Cozy In A Rented Cabin
Cozy cabin vibes pic.twitter.com/jlfnqcAlSc — Beautiful Pictures (@BEAUTIFULPlCS) August 15, 2017
Cabins are just meant for getting cozy and snuggled up with your new spouse. Even if you aren't a super outdoorsy person, a cabin is the perfect place for some newlywed bonding time in the fall. A fireplace would be an added bonus. Virginia is a great location for fall cabin honeymooning. Not only does the state really wear the season, but Shenandoah National Park will be added to list of things you've fallen in love with, aside from your SO.
3. Explore The Napa Valley Vineyards
Enjoy a 20% discount midweek Aug - Nov at SENZA Hotel in #NapaValley! https://t.co/yfSdVkEihN#VisitNapaValleypic.twitter.com/TfyO41TOjN — SENZA Hotel (@SENZAHotelNapa) August 18, 2017
Just like wine is a year-round affair, so are honeymoons. Exploring the vineyards will be a breeze in Napa Valley. The weather is basically perfect, and did I mention hot air balloon rides are a must?
4. You Had Me At Peru
Stunning sunset at Cashibococha Lagoon in #Pucallpa. The beauty of the Peruvian Amazon Rainforest just for your eyes. #Perupic.twitter.com/bzkoCTNDfn — Perú (@peru) August 20, 2017
Whip out those passports and head over to Peru. Not only is it absolutely stunning, but there's a lot of history to discover there, too. Lima, Peru's capital, is a great spot to book your honeymoon for a plethora of beautiful artwork, sightseeing, and museums. You also can't forget about the nightlife. Partying is a universal language.
5. Take On Thailand Together
I must visit Thailand pic.twitter.com/NMl2OAZcBO — Traveling (@TraveIings) March 14, 2015
Thailand during the fall months is a mixture of sunny days, along with some rainy ones. Relaxing on the beaches will truly make this romantic trip come full-circle for you and your SO. You also can't forget about the elephants.
6. Fall In Love With Croatia
Our dream destination this week: Dubrovnik, Croatia #TravelTuesday#TuesdayMotivation#Dubrovnik#Croatiapic.twitter.com/Gy3XaR3OFS — Smooch Dating (@SmoochDating) August 22, 2017
Prepare for a lot of swimming if you visit Croatia during the fall months, as the weather is beautiful and mild. It's crazy that there are actually crystal clear bodies of water out there where you can see your toes in the sand below, huh? This place is literally relaxation at its finest.
7. Oh, Canada
Tofino is Vancouver Island's favourite outdoorsy retreat #Canada150#BC#BritishColumbia#Tofino#travel#beachtownhttps://t.co/lyFw8uMDa9pic.twitter.com/9ZIGzkZbG8 — Chris Williams (@RealManTravels) August 20, 2017
OK, Canada is super close to the United States, but there's so much to experience there. If you're a surfer, you already know the deal. The fall is a great time to head to Canada for its stunning foliage and fall festivals.
Your fall honeymoon has the potential to be great if you really weigh your options. Try not to get too stumped about the season your honeymoon falls in. Get stoked that you're about to embark on a new adventure with the person you love.