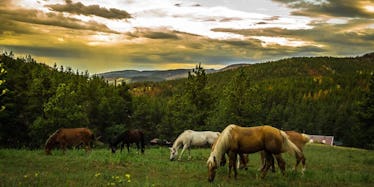 6 Dude Ranches Across The Country To Escape To This Fall With Your BFF
Brian/Pexels
When life gets a little too stressful and you need to get away from the chaos of the office, you can escape to a frontier paradise that will make you forget all about your demanding city life. Especially in the fall, when the weather cools down and autumn colors are in full bloom, you can truly immerse yourself in the great outdoors. Some of the best dude ranches to visit throughout the country are actually a lot closer than you think, so you can plan your next weekend adventure with ease.
As a guest at these ranches, you'll get the best of both worlds. You'll get that charming small town vibe from staying on a ranch and enjoying the natural landscape, but you'll still get the luxuries that resorts have to offer. You may be living a life completely unlike your everyday one for this special getaway, but without having to rough it in the wilderness.
Grab your bestie, pack your bags, and hit the road, because these incredible dude ranches are waiting just for you. You can leave your work at home and turn your cell phones off for the weekend, because all you need is right there in front of you. Here are some of the most unique and luxurious dude ranches in the country that you and your squad can escape to this fall.
1. The Alisal Guest Ranch And Resort In Solvang, California
Welcome to the #serenity of the beautiful Alisal Guest Ranch and Resort. pic.twitter.com/ZnG68ALJAE — Alisal Guest Ranch (@Alisalranch) May 5, 2017
This Southern California paradise combines the appeal of the Old West with the modern luxuries of a resort. Alisal also brings back old family traditions, like dressing up at dinner, which gives the entire resort a community kind of feel. There are no electronics in the guest rooms, so you will be fully immersed in your country getaway.
2. The Hideout Lodge And Guest Ranch In Shell, Wyoming
This image titled "On a Fence at Sunset" is one of my favorites from my Cowboy Collection. Taken at the Flitner Ranch near Shell, Wyoming. pic.twitter.com/NoCys06vuo — GaryHamburgh (@GaryHamburgh) August 20, 2017
The Hideout is an incredibly small and intimate ranch that accommodates only around 25 guests in any given week. With approximately 650,000 acres of land for riding and adventuring, you won't be able to see it all in one visit. Guests do most of the work on this ranch, so you're in for an experience that's as rewarding as it is relaxing.
3. Mayan Dude Ranch In Bandera, Texas
Lots of fun with some of our interns and trainees this weekend at the Mayan Dude Ranch. pic.twitter.com/WpYXhGIiyN — Cultural Vistas (@CulturalVistas) November 17, 2013
Mayan Ranch highlights a ton of fun activities, including hayrides, cowboy breakfast cook-outs, poolside drinks, delicious barbecue fare, and more. There are two daily trail rides with three full course meals in between. The family who owns the ranch provides guests with nightly entertainment and southern hospitality.
4. Southern Cross Guest Ranch In Madison, Georgia
Autumn is a #beautiful time at Southern Cross Guest Ranch https://t.co/9it5GQd59c #guestranch #horses #vacation #fun pic.twitter.com/IdvueF8GbB — Ashlie Dove (@RanchSeeker) December 9, 2015
Southern Cross Guest Ranch is a family-owned ranch, horse farm, and cozy bed and breakfast. Guests are encouraged to interact as much as possible with the horses and foals on the farm. Enjoy some horseback riding and take in all the serenity this beautiful ranch has to offer.
5. Tanque Verde Ranch In Tuscon, Arizona
Get your cowboy hat & take a trip to one of America's old cattle ranch's Tanque Verde Ranch https://t.co/7NXrSwexUG pic.twitter.com/QZCjU9evbJ — DiscoverNorthAmerica (@DiscoverU_S_A) June 16, 2016
Tanque Verde Ranch offers activities for everyone in the family. You can explore the desert on foot or on horseback, or you can lounge by the pool or in the spa. There are basketball and tennis courts, as well as ample opportunities for off-site explorations such as downhill skiing and mountain climbing.
6. Pinegrove Ranch And Family Resort In Kerhonkson, New York
Pinegrove Family Dude Ranch - 3 Star #Resorts - $252 - #Hotels #UnitedStatesofAmerica #Kerhonkson https://t.co/7l3fILYrq9 pic.twitter.com/2M2dgZW2ay — JustiGo.com (@justigocom) October 15, 2016
Pinegrove Family Dude Ranch is dedicated to hospitality and fun. They offer spectacular activities for anyone within a breathtaking landscape. Each guest room has a private bath, and the ranch hosts nightly events for guests, giving this place the best kind of vacation feels.