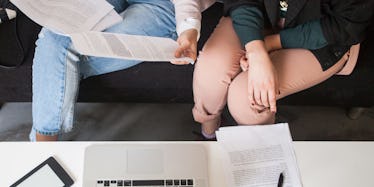 Why The Best Hire For The Job Won't Always Have The Glossiest Résumé
In a recent TED talk, Regina Hartley, a human resources manager for UPS, advocated hiring the scrapper over the silver spoon when both are qualified for a job.
While she made a point of noting that people who have graduated from Ivy Leagues and have cultivated the perfect résumés should not be overlooked or in any way discredited, she underscored the advantages of giving an interview to someone with a less desirable résumé.
Often, the silver spoon is someone who was born into a successful family. This is someone who has been given everything.
Sure, he or she will still have to work hard in school, get good grades and put in the time. But he or she already started out ahead of the curve.
On the other hand, it's the people who are born into poverty, abandonment, the death of a parent or a mental or physical disability who have to overcome hardships in order to craft a successful life.
These are the scrappers Hartley was referring to.
One study found that one-third of such individuals experience post-traumatic growth. This means they rose out of a traumatic event in order to achieve success.
While I was fortunate enough to be born into a family led by two hard-working parents, I watched them build their business from the ground up.
They started out as elementary and middle school teachers, and my mom taught special education children too.
After nearly a decade as educators, they decided to start their own venture.
My mom split her days between her business responsibilities and being home with me and my sister during non-school hours.
My dad devoted his time to the business. They agreed to give it a year.
They had no income, a mortgage to pay and a family to support. Everything was riding on the success of their business.
They met naysayers head on.
They pushed through the pain of uncertainty with hard work, dedication and forbearance.
Now, three decades later, they have a successful business to show for it.
When you fight tooth and nail to get what you want, you experience growth.
As Hartley said, those who meet adversity head-on are driven by a sense of purpose that prevents them from giving up.
They are able to adopt humor to get through tough times. Laughter helps people change their perspectives.
Steve Jobs is an example Hartley uses. He overcame tremendous obstacles in order to achieve tremendous success.
The late co-founder of Apple was given up for adoption. He never finished college, bounced from one job to another and spent a year on a sojourn in India.
On top of all that, he had dyslexia. Hartley notes that this disease exists in 35 percent of the world's most successful entrepreneurs.
Steve Jobs didn't have the perfect résumé, but his legacy speaks for itself.
Hartley also notes that "you don't overcome (adversity) alone."
Mentors, family and friends can all help you achieve your goals and push you through your struggles. No one achieves success alone.
Even if you weren't adopted as a child or born with a disability, this principle extends to you.
No matter the struggles you encounter, if you practice forbearance and mental toughness, you will realize you can get through them.
Work hard and don't give up. Let passion and purpose drive you.
Don't adopt a negative, pessimistic world view because of your tough childhood or because you weren't dealt the perfect hand in the game of life.
Be proud of the odd jobs you had to work to get yourself through school.
Craft a résumé that highlights your ability to face challenges with a positive perspective and achieve impressive results.
Everyone's life doesn't start on an equal playing field, but there are no limits to what you can make of yourself.
The world owes you nothing. You must make your own reality with the hand you were dealt.
So embrace your struggles, find your inner drive, channel positive thoughts and display the grit of your struggle to greatness loud and proud on your résumé.
When you land that interview, be proud of being a scrapper.
You've come a long way.
But this is only the beginning.