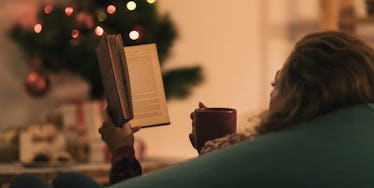 5 Books To Read Over The Holidays When You Need A Break From Everything
Stocksy
The holidays are almost here!
It's better to stick your nose in a book this holiday season than to stick it in other people's business. Reading over break will not only be beneficial to improving reading comprehension and increasing your vocabulary, but it's also therapeutic.
Reading books takes your imagination to magical lands, away from the stressors of reality, and keeps you on your toes.
Reading helps you become a person who thinks outside the box. It allows you to expand your knowledge, think critically and start new and exciting conversations with people.
Reading serves as a refreshing beverage to the brain; it's a way to recharge your batteries.
If you're really looking for a break from life, check out these five books to read over the holidays.
1. "The Sleep Revolution" by Arianna Huffington
Since Arianna Huffington's resignation from Huffington Post, the "Sleep Revolution" campaign has been a hit all over college campuses in the US. This is definitely one of the books at the top of my list.
If Millennials aren't getting enough sleep, then we aren't doing our job as humans. This book sheds light on the sleep deprivation crisis that many Americans face, particularly students, and how detrimental this can be to the future of our nation as far as mental health and wellness.
The culture of sleep in America is changing and more Millennials need to be part of and aware of the revolution.
This book literally sets out to "transform your life, one night at a time." Arianna aims to redefine success through more sleep.
She sends a message that many adolescents do not want to miss. By being aware of lack of sleep, we can transform our quality of life by making sleep a priority. Sleep is the gateway to a more fulfilling, balanced and relaxed lifestyle.
2. "The Girl on the Train" by Paula Hawkins
British author Paula Hawkins gives readers suspense with this psychological thriller. "The Girl on the Train" debuted at number one on the New York Times Best Sellers list.
It remained at the number one spot of UK's hardback book charts, longer than any other book that has ever held the top spot.
Recently turned into a film, the book is a must-read before heading to the theater. The mystery thriller drama will keep you at the edge of your seat.
3. "Harry Potter and the Cursed Child" by JK Rowling
Because seven "Harry Potter" books weren't enough, we now have access to the eighth official leg of our favorite series. This is a two-part play that started previewing in the summer of 2016 in London.
The first brand-new Wizarding World story in nearly a decade was a huge hit that satisfied the "Potter" fans craving for more. Read as a dark chain of events unfold and a much older and mature Harry takes the stage with his children, based in the year 2020.
If you're still craving more from the "Harry Potter" series, this is the book for you! You can finish the book in several hours or in a few days. It's a quick read to give you what you've been missing from your childhood.
4. "Why Not Me?" by Mindy Kaling
Star of "The Mindy Project," Kaling makes this book a fun and lighthearted read, perfect for a good laugh and break.
The New York Times Best Seller is super relatable for Millennials. Kaling shares her journey of love and work and finding contentment in the adult life. If you want a hilarious read, then this book is for you!
5. "#GirlBoss" by Sophia Amoruso
The Washington Post called this book a "'Lean In' for misfits."
This one's for all the #GirlBosses out there. Sophia Amoruso takes us on a journey from dumpster diving and college dropout to owning the fashion retailer Nasty Gal.
This inspirational read and New York Times Best Seller encourages entrepreneurs to follow their passions and turn them into a lifestyle and career. (Yes, this is still a good read despite Nasty Gal filing for bankruptcy recently).
Whether you need a self-help book or positivity in your life over break, here are some great reads that can get you started.
Enjoy a nice cup of coffee under warm blankets and a good book this holiday season! You deserve a break, why not with your nose in a good book!