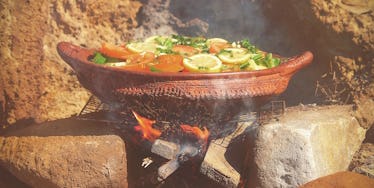 14 BBQ Vegetarian Cooking Tutorials That May Make You Ditch Meat For Good
Unsplash/Aziz Acharki
I don't know anyone who doesn't love a great outdoor barbecue. There's something about the amazing smoky smell, the fresh veggies, and a hot afternoon in the sun that just screams summer.
And what better time than the Fourth of July to fire up the grills?
I'll be honest: I'm definitely no vegetarian. But after seeing these cooking tutorials, I'm tempted to throw myself wholeheartedly into the vegetarian world, just in time for the holiday.
These yummy barbecue vegetarian recipes look so good, I'm literally heading out to my backyard to give one a go as we speak.
Here are 14 mouthwatering vegetarian barbecue recipes perfect for your Fourth of July party.
1. The Most Delicious Grilled Corn Of The Season
This isn't your run-of-the-mill corn, guys. Just look at that golden grilled goodness just waiting for you to take a bite.
2. Vegan Pulled Barbecue Mushroom Sandwich
Ready to enjoy some good old-fashioned pulled BBQ? I'll take two, please.
3. Vegan Barbecue Ribs
Say what, now? My mouth is already watering uncontrollably.
4. Smoky Stuffed Sweet Potato
Gimme all of the toppings, please, and keep them coming.
5. Vegan Korean Barbecue
This one is super quick and delicious. BRB, breaking out my apron and chef hat to make this.
6. Vegan Barbecue Sauce
What's a good grill session without some prime tasting sauce? Your barbecue would be incomplete without it.
7. Cauliflower Barbecue Wings
Real talk: Is anyone else drooling over the crunchy barbecue goodness? This recipe looks like a must-try.
8. Grilled Veggie Kabobs
This is truly the ultimate meal. You can decide on whatever veggies you like best, and build your kabobs from there.
9. Vegetarian Falafel Burger
Keep your food processor handy; after these falafel burgers, you might never go back to meat.
10. Vegan Mushroom Sliders
Ah, so cute! So tiny, and so easy to whip up, too.
11. Grilled Veggie Panini
This recipe is totally customizable, so get creative in the kitchen and at the grill.
12. Grilled Mediterranean Pita Pizza
This one takes home the gold medal for simplest and most Instagram-worthy, for sure.
13. Fresh Grilled Hot And Sour Pineapple
I can't be the only one daydreaming about this sweet and savory side dish.
14. Vegan Barbecue Nachos
This recipe is seriously epic... and who doesn't love nachos?