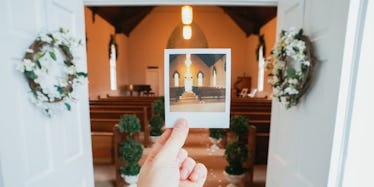 Why You Should Ban Social Media From Your Wedding, According To 8 Brides
Who would have ever thought one of the hottest topics and pre-wedding debates between couples would be whether or not they should make their wedding social media-free?
Most wedding guests make sure they have a drink in one hand and their phone in the other. Whether or not they have a plus-one, they have their phone to keep them company. With Pokémon Go being all the rage these days, I'm sure there are a lot of fearful brides out there who think guests will be playing during their vows or will run onto the dance floor during the first dance to catch Pikachu.
So if you're about to tie the knot and you're wondering if you should completely ban guests from using their phones or going on social media throughout the night, here are eight stories from Millennial brides on how social media ruined their wedding.
These stories might just help you decide:
1. The secret was out.
I'm still so pissed about this, but one of the bridesmaids posted a pic of me on her Instagram before the ceremony and before my first look. Literally hundreds of people saw me in my wedding dress before my friends, family and fiancé did. By the time another bridesmaid told me, the photo had 150 likes and so many comments. It was an awful way to kick off the day.
— Priscillia, 25
2. Offline fights went online.
We had four guests who just had so much beef with each other that they not only had verbal fights at the wedding, but during the wedding, they got into a Twitter war and wrote nasty stuff about each other. It wouldn't have been so bad except one of them was dumb enough to use our hashtag. All the mean things he wrote were then associated with our wedding.
— Krista, 29
3. Nobody paid attention to me.
All my bridesmaids were constantly on their phones, Snapchatting and on Facebook. I felt like they weren't even in the room with me in the morning. When I noticed they were all just posing for selfies with each other and not even inviting me, I started to get a little bridezilla on them.
— Donna, 27
4. I got a nosebleed.
I was dancing on the dance floor beside my hubby and friends, and someone reached their arm up to take a Snapchat video of us and knocked me right in the nose. It was an accident, but I ended up with a bloody nose and dress.
— Justine, 29
5. I wasted so much time.
I was so nervous on the morning of my wedding that the only thing that could keep me calm and occupied was scrolling through my social media feeds. I probably spent a good two hours on Facebook and Instagram. It was better for me than talking to people. I just wanted silence. But I feel like I wasted so much time that morning. I could have spent longer getting ready or even asking the photographer to take photos. Your wedding day flies by, and all I really remember is a wasted morning on Facebook.
— Stacey, 28
6. It totally upped my stress level.
I wanted to be the first to post pics from my wedding on social media. So literally right after I said 'I do,' I went back to the bridal suite, grabbed my phone, had a family member send me a good pic from the ceremony and I posted it on Instagram. I did that all night whenever anything awesome happened. It was super stressful being on top of my social media game.
— Lauren, 26
7. Nobody was on the dance floor.
Seriously, after dinner was served, people stopped doing anything but sitting at their table on their phones. Nobody wanted to dance. Nobody moved from their seat except to go to the open bar or get a selfie with me. It was the most anti-social environment ever. But the same thing happened at a friend's wedding two months later. Maybe that's just the kind of world we live in these days?
— NicolE, 27
8. Our hashtag was a bad idea.
I don't really know why we thought having a hashtag was a good idea in the first place. I almost think we did it because everyone else did. But it turned out to be such a bad idea. People took so many pictures of themselves rowdy and drunk at the wedding and then used our hashtag. Honestly, when you scroll through pictures that are attached to that hashtag, our wedding looks like a frat party. That's not how I want people who weren't there to think it looked like. It was a $100,000 event.
— Pam, 31