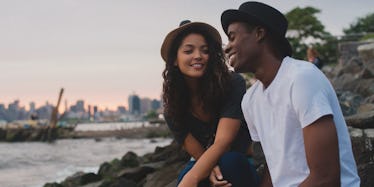 Guys See You As A Bro: 17 Things That Happen When You're The 'Chill Girl'
Lauren Naefe
Unless you live under a rock, I'm sure you've heard the news: Being the chill girl is all the rage lately. (And "You have no chill" is the worst insult.)
You can be the chill girl or the crazy girl, and there's really no in-between. And since being called "crazy" by your peers does not seem like the best option here (though girls can do literally anything and come off as crazy, but I digress), I assume most girls try to shoot for being chill.
Who is the chill girl? You know who she is. She's the girl who's outside chugging the beer with all the guys. She's the one who's totally fine with the casual, no-strings-attached hook-up buddy. In fact, she prefers it! She's that girl who's more than happy to just go with the flow and let life take her where it may.
Now, here's the deal: I'm lazy and, to be honest, not a huge fan of confrontation or any sort of super aggressive behavior. So in the whole crazy-chill battle, I often find myself falling under the umbrella of chill.
But what people don't tell you when they paint a glamorized picture of the chill girl is how f*cking awkward her life really is.
For every wild story about her wild antics that the crazy girl has to share, the chill girl will have just as many of the awkward situations that her passive-to-a-fault behavior has gotten her into.
BEING CHILL IS AWKWARD. Why? Because real, honest, normal social interactions don't work so well when one of the parties is too chill to make them happen. Like, nobody is going to know you have feelings for him or her until you, I don't know, SAY it. If that part never happens, you can imagine how things get awkward.
Or how about when you were too chill to remember to respond to your friend's text, and she thought you were mad at her? OR the classic time you decided you were chill enough to drink with the boys -- but then remembered (the hard way) that you are, in fact, a 90-pound girl?!
You get the picture. Being chill is awkward. Don't believe me? Read for yourself.
1. When you tried to shotgun the beer...
…and it ended up coming out of your nose.
2. When you ended up in the "casual" relationship..
…because he assumed that's what you wanted.
3. When you found yourself hanging with your ex and his new girlfriend...
…because, DUH, you can be friends with them! Right?
4. When you went to absurd lengths to prove to the guy you liked that you had no feelings for him...
…because you're not the kind of girl who catches feelings, right?
5. When you tried to take the massive bong rip...
…and ended up coughing everywhere.
6. When you were just "friends" with the love of your life...
…and slightly wanted to die every time the two of you platonically hung out.
7. When you had a full-fledged panic attack at the thought of your text coming off as un-chill...
…you know, one of those very chill, breathing-in-and-out-of-a-paper-bag situations because you accidentally sent the "I love you SO SO SO SO much" text meant for your mom to your co-worker, who actually thinks you're cool.
8. When you got stuck hanging out with the person who annoyed the sh*t out of you...
…because you didn't care enough to be like "No, f*ck off."
9. When you waited too long to shoot the friend request...
…and now it's been awkwardly too long and it's weird that you guys aren't friends.
10. When you waited too long to say how you felt...
…because you thought you had all the time in the world. But now it's been a year, and he's over it, and it's just so awkward you can't even handle it.
11. When you picked the coolest song at karaoke...
…but then realized you don't quite know the words or the melody to "So Fresh, So Clean" quite as well as you thought.
12. When you played hard-to-get with your crush...
…and you just ended up being a giant b*tch.
13. When you told your friend you weren't into your crush...
…so she ended up hooking up with him.
14. When you hooked up with mediocre boys...
…and they still were the ones to end it, because you were too chill to bother.
15. When you tried to take a shot with the boys...
…and ended up having the world's most brutal blackout.
16. When people thought you were being passive-aggressive...
…but they didn't realize that you really legitimately are just passive.
17. When you showed even the slightest sign of emotion...
…and everyone lost their sh*t, because YOU'RE SUPPOSED TO BE THE CHILL ONE!