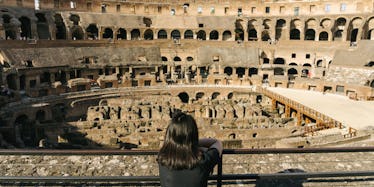 6 Ways To Avoid Tourist Traps When You Go To Rome For The First Time
Maa Hoo
I have always been a lover of Italian cuisine. Throughout the years, I have constantly tried to combine different seasonings to create flavors that are similar to those of my favorite Italian entrees. But for some reason, they never quite tasted the same.
I looked forward to the day I would make it to Italy and eat my heart out. I had a feeling the flavors there would taste significantly better than anything I had ever tried before. How wrong I was.
My first day in Rome, I galloped into a packed pizza place. It was the first one I laid my eyes on, and I had always been told that a busy restaurant meant good food. I was eager to try one of everything.
I told the waiter to surprise me with the best types of pizza. I was soon given a platter of eight slices. Excitedly, I took a huge bite of the first slice. I couldn't help myself; I started to gag.
It didn't taste like pizza. There was no way it could be called pizza. The flavors were appalling.
How could this be? I asked the waiter, "What is this pizza made of?"
It looked just like a regular cheese slice, but I soon found out the base was mixed with anchovies. Just for your information, this is traditional pizza from Naples, Italy.
I decided I would not let this unpleasant taste in my mouth deter me. I went onward. Unfortunately, I found that all the slices – as well as the food at several other restaurants – tasted like it had been sitting out all week to rot. My love for Italian food began to waver.
I was disappointed and left starving for some truly tasty Italian cuisine. I was also going through major denial, and I was on the verge of breaking up with my true love, Italian food. Some people told me it was because I'm used to non-authentic, American versions of Italian food. But, I refused to believe that.
I then discovered you must complete, what I call, a Rome restaurant quest prior to eating out in the city. This is because Rome is extremely tourism-based. Sadly, many places there take advantage of that. Most do so by serving inedible, microwaved food, which sometimes comes along with an unpleasantly high bill (so not worth it).
Thankfully, a local, born and raised in Rome Italian highly recommended a restaurant down a small alleyway. It was difficult to find, thanks to Rome's windy, cobblestoned roads, but it was supposedly a favorite local food spot. She mentioned walking there would be easier than any other form of transport.
Ecstatic to finally have some great quality food, I began speed-walking with joy. I ended up tripping over an uneven cobblestone on the way there, and I uncomfortably limped upon arrival. However, it was extremely worthwhile because it ended up being the best Italian restaurant experience I have ever had.
Firstly, the menu was only in Italian. This scared me at first, as I now knew that anchovies were a popular Italian add-on. However, this fact confirmed I was at a genuine Italian restaurant.
The waiters (and mostly everyone) communicated only in Italian. I am not one who expects English to be spoken everywhere because I do believe we can communicate without speaking the same language. But, I still like to feel welcomed.
I was the only American at the place, but everyone made me feel at home. From that moment on, I was no longer sidetracked by that one distasteful pizza experience. I fell in love with Rome and Italian food all over again, maybe even more than before. I began to appreciate all that the city had to offer.
The architecture was unbelievable. The gelato was the best I have ever had in my life. I learned that Rome is a great city to explore. I found it to be one of the easiest cities to navigate by foot. To top it off, the wine was always flowing.
To save you from choking up anchovies upon your arrival, I have compiled a list of my Rome must-dos. They will make your vacation seem so much better:
1. Eat at an authentic Italian restaurant.
It is very easy to stumble across tourist traps while traveling. You will know you are at one when the menus are available in several languages. Yes, it is comforting to be able to read what you are ordering. But, if you're interested in eating outside the box and having a true Italian experience, you must try Pizzeria La Montecarlo in Rome.
It is known for its deliciously thin and crispy classic Roman pizza. The restaurant atmosphere is fun and energetic, the local Romans highly recommend it and your glass will always stay full with great-tasting wine. Most of the pizzas are served with an egg in the middle here, but they taste delicious.
If you choose to forgo this, keep in mind that you should take some time to go on your own Rome restaurant quest. Think about where you're going to eat in advance. It will be extremely worthwhile, and your tastebuds will appreciate the effort. Buon appetito.
2. Take a tour of the Colosseum.
I am not always fond of taking tours; I much prefer to explore a city independently. However, I highly recommend you take a tour of the Colosseum. While you're walking toward the main entrance, there will be a bunch of Europeans trying to sell you "cheaper and better" tickets.
It may sound appealing, as the line at the Colosseum might be quite long. However, there is no guarantee you'll be purchasing a "real" ticket you can actually use, or even the guarantee that you'll be going on a knowledgeable tour. You might just end up being gypped.
I love getting the best deal, and sometimes, I enjoy taking risks. But, I've learned not to in Rome. Just say "no." You will thank me later.
The tour in the Colosseum itself is only a few Euros more. It even has additional perks, such as an expert guide who will lead you through the most colossal amphitheater ever built, one that will take you about 2,000 years back in time. That sh*t is priceless.
You will not believe this amphitheater was built only out of concrete and sand. It could hold an estimated audience of 65,000 people.
An extra tip: If you are an EU national, bring your ID card. You will get a discount both here and at many other famous attractions.
3. Spend quality time at the Trevi Fountain.
The Trevi Fountain is a must-visit spot, no matter whether you're traveling solo, as a couple, with friends or with family. It is the largest baroque fountain in Rome, and is known as one of the best fountains in the world. In addition to that, it has appeared in several films.
Originally, it was thought "a thirst-quenching glass of water from the Trevi Fountain would ensure good fortune and a fast return to the Eternal City." Nowadays, tossing a coin over your shoulder suggests the guarantee of a quick return to Rome.
Take some time to be here without feeling rushed. Enjoy the beauty of this architectural gem. This spot will really make you feel like there's no place like Rome.
4. Give yourself enough time to explore Vatican City.
The Vatican City is a city-state enclosed by Rome's walls. It's described as the smallest country in the world.
You simply have to see it. Most visitors will wait as long as it takes to step foot inside St. Peter's Basilica after spending some moments absorbing the richness of St. Peter's Square.
Walk about five minutes, and you'll see the Vatican museums. This is where you will find the famous Sistine Chapel (the official chapel of the Pope). The ceiling has been painted by Michelangelo, and it includes the Creation Of Adam, which is one of the most reputable paintings of all time.
You are not allowed to take photos inside. I first had mixed feelings about this, but looking back, I'm glad. I remember sitting on a rich brown bench and taking it all in. It is much better to enjoy the moment, instead of observing it through a lens.
An extra tip: If you are a student, bring your student ID card. You will get a discount here.
5. Watch the sunset at the Piazza di Spagna.
This was the last thing I did before I caught a flight out of Rome. It became my most memorable traveling experience. I am now excited to share this secret with the world.
Located at the bottom of the Spanish Steps (the 135-step staircase seen in films), the Piazza di Spagna is one of the most famous squares in Rome. It is full of gorgeous Italian shops and outdoor markets, and it's home to the best gelato I have ever tried.
I highly recommend arriving there about 20 to 30 minutes before sunset. Allow yourself time to sit on the Spanish Steps with gelato in hand. Straight ahead is an alleyway that provides you with the perfect view of a unique Italian sunset. It will be a sunset you never forget.
6. You can survive by learning the "Roma way."
Finally, before sending you out to eat, drink and frolic around this unbelievable city, I must share what I learned about the "Roma way." When you arrive, you will be asked over and over again to purchase a "Roma Pass." Romans will tell you it's definitely worth it if you are visiting for more than two or three days. It is about 36 euros, and it provides free metro, bus, tram and urban train rides that stop within the city boundaries.
It sounds like a steal. I ended up being one of the buyers.
Now, I am here to tell you that no one has ever looked at my ticket. No one validated it when I got on the metro, bus or tram, and I practically begged drivers and security to look at it (or even just glance at it to make me feel like it was useful). I soon came to find I would have been able to get on any type of transport without anything.
I'm not telling you to cheat the system or sneak onto Roman transport. However, this taught me that tourists do not need to spend money on this Roma Pass. I found it much easier to travel around the city by foot. I now know you can easily pay per ride and end up saving a little money if you really need to use public transport.
Romans on the street are not too helpful. You might speak five languages, but if you don't speak Italian, you will not get anywhere. Make sure you have access to a map (or some WiFi access) so that you can find your way around by foot conveniently.
Lastly, enjoy this experience. Remember it is OK to get out of your comfort zone. You will definitely learn something new, and you'll have great stories to tell. Rome is such a unique city. It has so much to offer each and every traveler. Divertiti (have fun).
 This article was originally published the author's personal blog.