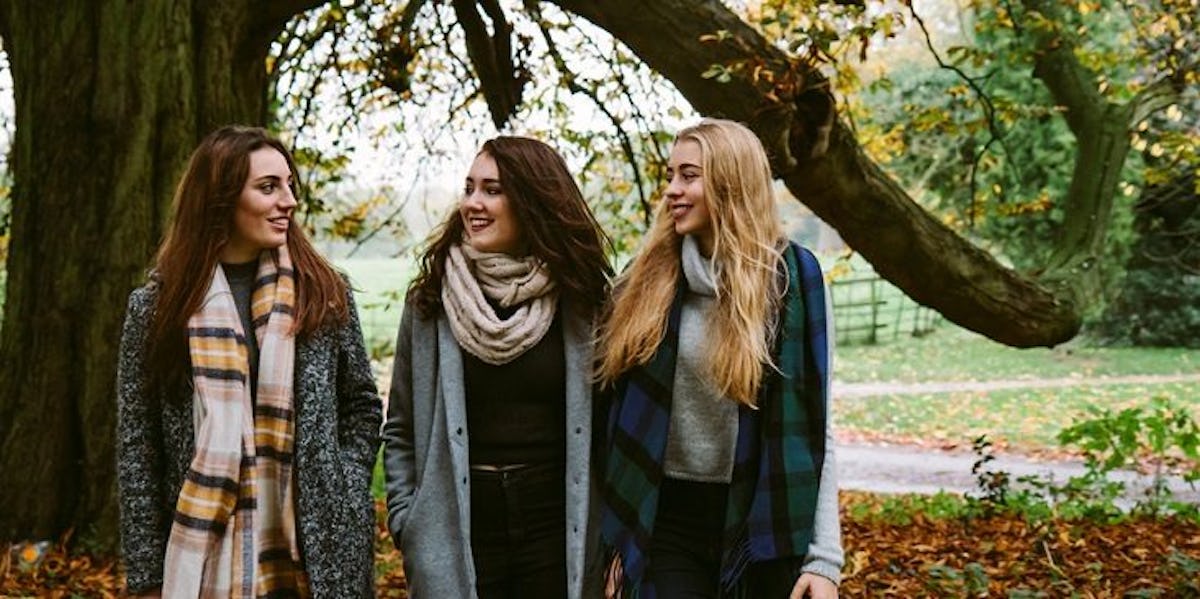 9 Autumn-Inspired Friend Dates To Do Before It's Too Cold To Go Outside
Helen Rushbrook/Stocksy
Fall is truly one of the most beautiful times of the year. If you look outside your window, you can see everything is in a breathtaking Instagram-like filter made up of oranges, reds, and yellows. We know we must take advantage of the beauty outside while it lasts, because winter is coming, and pretty soon, it'll be too cold to go outside. In fact, there are so many things to do with friends this fall that your squad needs to jump on right now, because this spectacular season flies by within the blink of an eye.
Although we love the fall, it has the tendency to be very sneaky. One week, it's perfect weather, and the next, it could be a frozen tundra out there and you're dying for some hot chocolate to warm up. When I lived in New York City, it was a race against time to get most I could of the outdoors, because it felt like we only had the perfect fall weather for seriously one week. And you can count on my Florida-self to not even attempt to get out of my cozy, warm bed when the temperature drops. If you feel like you're also pressed for time, don't stress it. Here are nine outdoor friend dates you need to go on this fall. You don't even have to think about it, because we've compiled an awesome list for you. Now get out there with your squad, and make the most of one of the dreamiest times of the year.
1. Bring Your Sunday Funday To The Park For Touch Football
Let's get ready to rumble. Take advantage of being outdoors and football season coming back. Get a group of friends together to have a Sunday funday in the park playing games like touch football and ultimate Frisbee. You can even make it a potluck-style picnic so you have snacks to refuel in between your game time.
2. Hit Up The Petting Zoo At A Local Farm
There's so much you can do on a farm that will instantly put you in the fall spirit. From apple picking and hayrides, to corn mazes and even a petting zoo, your day will be entirely booked with autumn activities. If you live in the city, you can find a farm nearby and plan a road trip to visit for the day. Don't forget your camera, because you'll definitely want to snap all the pics of your squad embracing the lovely sweater weather.
3. Go On A Scenic Hike
When we were little, many of us loved to go outside and play in the leaves all day long. And yes, can still totally do that as an adult, but you can also go on a scenic hike among the gorgeous foliage. You and your friends can choose a trail or mountain you haven't checked out before, and have fun enjoying the surrounding nature. Don't forget to pack your pumpkin spice trail mix for a snack break.
4. Host A Cozy Bonfire And Game Night
It'll be cooler at night, but not totally freezing, so a warm fire will keep you and your friends cozy. You can make s'mores, and if you're feeling in the baking mood, get creative with some autumn-inspired snacks. Pick some fun games to play, and you're set for a night of laughs.
5. Go Camping With Your Dogs
There's no denying that fall is the perfect time of year to go camping. Your friends can all bring their furry friends, which will make for extra coziness when you're snuggling under the stars. This weekend will be one for the books.
6. Attend An Outdoor Barn Dance
If your friends are anything like mine, they absolutely love to dance. So, grab your entire squad, and get ready to break out your moves at a barn dance. It's always fun to dress up in your best flannel and cowgirl boots with your main girls by your side.
7. Go Pumpkin Picking And Carve Them Outside
I mean, you can't have the fall without mentioning pumpkin picking. They just go hand-in-hand, which is why it's a must for you and your friends to head over to a pumpkin patch and take your best pick. Carving them can get a little messy, so you can do it outside in the nice crisp air. Then, toast the pumpkin seeds and snack on them while you work.
8. Host A Backyard Movie Night
If one of your friends has a projector and a nice backyard, you can all get together for a movie night. Stream either a Halloween classic, like Hocus Pocus, or put on a rom-com, like You've Got Mail. You and your friends can cuddle up with blankets and sip on warm apple cider.
9. Find A Fall Fair To Attend
Fall fairs have everything, from fried dough and fun rides, to live music and homemade apple pie. You and your friends can pretty much find something every member of your squad will love at a fair. You might have to travel to a nearby town to go to one, but on the way over, you can ride with the windows down with the crisp fall air blowing and the beats turned all the way up.