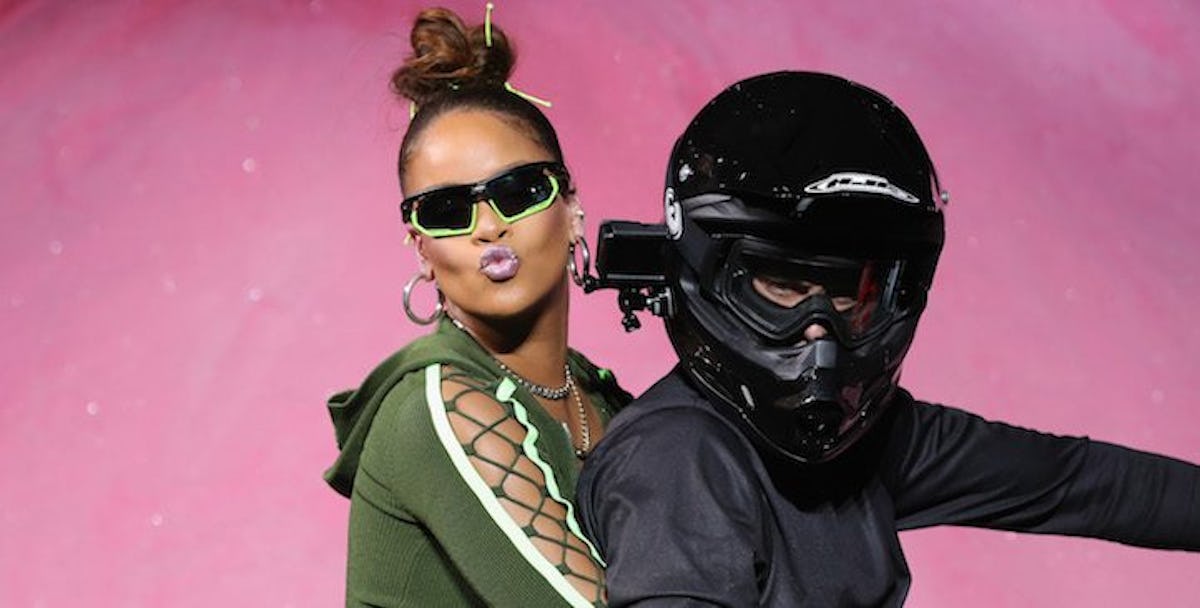 Ashley Graham Called Out Rihanna For Her Fenty Show And Makes A Legit Point
JP Yim/Getty Images for FENTY PUMA By Rihanna
Rihanna is on top of the world right now. Her first foray into the beauty world, with Fenty Beauty, launched to near-universal love and sold-out products. "Wild Thoughts" continues to ooze through club speakers and inspire questionable dance moves, many weeks after its release. Everyone is righteously enamored with RiRi right now, so who in their right mind would criticize her? Another famous, talented, multi-hyphenate phenom, that's who. After taking in the spectacle of Fenty Puma by Rihanna from the front row, Ashley Graham called out Rihanna for Fenty's lack of size diversity. The show, which took place during New York Fashion Week, was RiRi's fashion return to NYC after two years away in Paris.
"It's sad," said Graham. "It's funny to me, because I'll look at runways and think, 'I'd look so great in those clothes' or 'I know curvy women who would look so great in those clothes," Graham told Yahoo! Style. "I was at Fenty last night, and that was an amazing show. But how dope would it have been to see some curves on the runway?"
Even though she lead with praise and poise, Graham's comment is especially stinging. As a designer and product creator, Rihanna has stated how significant inclusivity is to her heart and business model alike. But the question lingers, are Graham's words valid? Elite Daily reached out to Rihanna for comment, but did not hear back at the time of publication.
In the meantime, let's examine the facts.
Indeed, none of the models that walked at Fenty Puma by Rihanna were what Graham calls "curve" sizes. However, the author of A New Model: What Confidence, Beauty, and Power Really Look Like praised Fenty's above-average representation of skin tones as a total boon. "It was a very diverse group of women, which was really nice," Graham said. Before we rush to condemn either Graham or RiRi, two truly queen-level ladies, it's important to understand the reality of fashion shows.
High fashion has never been an inclusive industry. Consider the term plus-size, a phrase that literally means there are sizes, and then there's another set of sizes above those that are different. Or that every year after fashion week wraps, style websites routinely publish diversity reports chronicling how many models of color walked the catwalks that season. Fall 2017 was the first New York Fashion Week in which every show had at least one model of color, and yes, you read that correctly. It's been disappointingly, embarrassingly bad. That's been the nature of fashion for decades; it's an industry distinguished by what it is not.
But women like Graham and Rihanna are changing that. Ever since she exploded on social media, Graham has made a massive dent in reductive beauty standards. She walks in major shows, delivers TED talks, and lands massive contracts, all the while documenting for her over 5 million Instagram followers. For her part in fashion week, Graham debuted her line of curve-sized lingerie on the runway at Addition Elle, an online store with sizes ranging from X-4X and 12-24.
She sizzled down the runway next to the likes of Insta-famous curve model Jordyn Woods (who's besties with/married to Kylie Jenner), and an altogether stunning cast of ethnically and size-diverse models. "This is what the future of fashion looks like," wrote the Independent of the show.
The Addition Elle show signifies a shift in the fashion world, which is slowly but surely embracing the women who spend $22 billion annually on plus-sized clothing as customers. The next season of Lifetime's Project Runway will be the first to feature plus-size models, and host Heidi Klum is excited. "When you walk down the street in New York or in any city in the world, not everyone is a model-size walking down the street, so who are you really designing for? Are you just designing to pat yourself on the back?," she told InStyle. "You have to design for real people, and they come in all different shapes and sizes and age groups and shorter and taller and more voluptuous and some are thinner and everything in between. So if you want to be a good designer you have to be able to create for everyone."
As far as how Rihanna will react to Graham's suggestion, I have a feeling the woman who launched one of the most diverse beauty lines ever will take it both in stride and to heart. And how meta would it be if she invited Graham to walk in Fenty's spring fashion show?
Here's hoping.