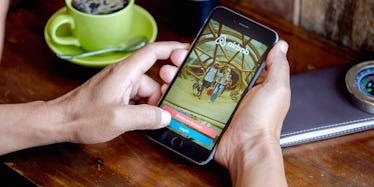 3 Reasons To Choose Airbnb If You're Looking To Vacation Like A Local
Shutterstock
I have a severe case of "needing to GTFO of here." For now, this doesn't mean flying to exotic places like Ibiza, Spain or Easter Island. It just means experiencing someplace unknown, like the next state over.
I'm more interested in that experience than materialistic things. But according to my bank account, I can't have either.
So, for a long time, I accepted dumb souvenirs and scrolled through my Instagram feed, which was filled with people playing tourist. I double-tapped their pictures with envy. I could barely afford my extra guacamole at Chipotle.
Sure, I could've saved my paychecks to go to Chicago or Boston fairly quickly, but getting there was never the issue. Bus, train and plane tickets are affordable. Hotels aren't.
The only way I pictured it was this: If I were to stay at a hotel in NYC (four hours away), I would survive off $1 pizza slices and $3 glasses of bottom-shelf liquor for the entire trip. There's nothing "unknown" about that.
What I really wanted was to get lost on 10th street and walk into a random coffee shop. I wanted to take all day to scope out every piece of art at the Whitney, and I wanted to pretend I was somebody in Beverly Hills. I refused anything short of this, so I found a way to make it happen.
On my 19th birthday, I joined over 50 million adventurers by staying at an Airbnb. I searched through tons of sketchy listings with grainy photos and no reviews before I found one that seemed legit (aka, everything was verified). But I still prayed I wasn't getting into a "Hostel" type of situation.
I opened the door to find everything as expected: an open layout penthouse with a rooftop pool and fireplace, overlooking the skyscrapers of downtown LA. Ever since then, I travel the smart way. It just so happens to be the best way, too:
1. There's no need to break the bank.
I have champagne taste on a beer budget. I'm similar to most college students, and Airbnb lets me make the most of it. I don't have to succumb to fast food when I'm actually craving authentic gnocchi from Little Italy.
I have the extra spending money because it's cheaper to rent the cozy brownstone in the East Village for a week than to get a dirty motel room in the city for a few nights. A hotel room can't offer me a walk-in closet, a stocked kitchen and the easiness to feel at home, anyway.
2. Comfort is everything.
Hosts tend to have the general attitude of "mi casa es su casa." They are flexible with their house rules while they're away.
At a hotel, this isn't the case. I have to worry about strict check-in times, and I have to wait to get my vacation started if a room isn't available. I have to make sure I don't forget to put the "Do Not Disturb" sign outside, or I risk cleaning ladies banging on my door at 7 am, when I'm too hungover to shoo them away. I have to keep my music down (as well as other noises) to avoid awkward phone calls from the front desk.
My vacations run smoother when I stay at an actual apartment or house. I can stumble in with no shame after a date night fueled with tequila, and I have the freedom and access to whip up pasta whenever I want.
Except in the East Village, where they have gas stoves. I almost burned the house down, and my boyfriend didn't let me cook pasta in there. He also wasn't too thrilled when he had to cram his 6-foot body into a tiny window to open the apartment in California I locked us out of, twice.
This can't happen at a hotel, but it's all part of making memories, am I right?
3. Locals do it better.
My intent isn't to get a taste for a city like a tourist. But I do want to experience it like local. So, I get the one-bedroom Airbnb in a neighborhood in Pasadena, and I wander with the crowd of people walking their dogs because they know the place the best.
I eat at the corner burger spot where all the townies eat, and I ride the L train like I would if I lived there. It's the only way I get the realest feeling of a foreign space in a short amount of time.
I finally understand how to experience the things I desire from traveling, which means I'm done settling for the tourist pictures on my Instagram feed and the ugly souvenirs. Plus, I'd rather remember a city by its coffee shop on 10th street than an overpriced, "I Heart NOLA" t-shirt anyway.