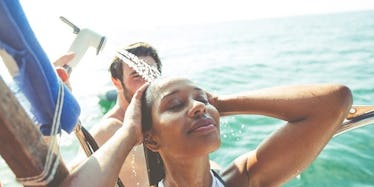 6 Super Dreamy Houseboat Rentals For That Unique Getaway With Bae
oneinchpunch/Shutterstock
Any getaway with bae is highly-anticipated, but if you're looking to spice things up, why not head on over to the majestic wonders of the water? Yes, it's almost fall, but getting cozy near or on the waves is still an option. Forget about getting a hotel that hovers the shoreline, and get right on the dock. Amazingly, Airbnb houseboat rentals are more common than you thought.
Even if you don't quite have your sea legs, stay posted on the dock in a houseboat as you and bae take in all the beauty that Mother Nature has to offer. These places really are a home away from home. They're cute, comfy, and really don't even cost as much as you think they would. Your weekend getaway just got that much more innovative and memorable.
Can you see and hear it yet? You two cuddled up in the corner of one of these babies, listening to the subtle waves push against the side of the houseboat sounds so romantic. The setting couldn't be anymore breathtaking and inviting. Throw in some wine and music, and the rest is for the books. Amplify your normal expectations of a date or getaway and spend your time together a little differently. If you're ready to take on a new adventure with your boo for a relaxing weekend getaway, dock your stress and hop on one of these houseboats.
1. Enjoy The Sunset On The Salem Water
We're On A Boat, Airbnb
How can you not get cozy in something like this? You may almost forget that you're even on the water. Of course, that's until you step outside and see the beauty that encompasses you.
2. Get A Taste Of Paradise In San Diego
Beautiful B&B Sailboat On The San Diego Bay, Airbnb
Take in that cool breeze by the water and park it right on the deck with bae in the bay. Why didn't you ever think of this before? As long as you're next to your special someone, you're surely in the right place.
3. Cuddle Duties Call On This Kentucky Houseboat Cottage
Four Bedroom Blue Harbor Cottage Houseboat, Airbnb 
This place defines class. Hey, because of how big this houseboat is, you may even be able to get a few other couples to jump aboard and enjoy the fun. There are plenty of rooms to go around (four bedrooms, to be exact), as this place serves as a mini boat mansion.
4. Feel Right At Home In Rhode Island
40 Foot Houseboat-Downtown Providence, Airbnb
Seriously, why would you ever want to stay in a hotel again? This houseboat is so comfy and inviting, you two are never going to want to leave. Make yourselves at home with all the amenities you'd get anywhere else, but with the added bonus that you're steps away from scenic bliss.
5. Table For Two Aboard This California Adventure
Harbor House Getaway 4 Two, Airbnb
Whether you have a menu planned out or not, any meal will be best served on any one of the three decks this houseboat spotlights. Get the candles lit, wine poured, and sit and listen to the beautiful sound of getaway success. Airbnb for the win, seriously.
6. Fall Hard For Some Seattle Romance
Unique Seattle Experience, Airbnb
OK, that tempurpedic mattress is calling your name. Wake up to the calming sound of the water as you gaze out of those cute little windows in the AM. Of course, waking up next to bae is rewarding in itself, but this setting is the cherry on top. Getting on a houseboat for your next getaway with bae is a great way to step out of your comfort zone and tally off a new adventure together. Give your romance some extra flair and anchor down those good times to be had.