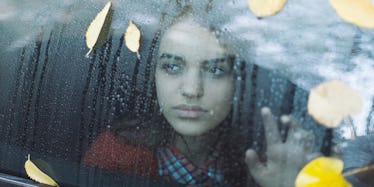 The Holidays Are Over And We're Depressed As Sh*t -- Here's Why
I've always loved the holidays with a fierceness.
I love the gorgeous sea of twinkling lights that beautifully soften the hard city streets. My heart soars into the brilliant winter sky as I strut down Fifth Avenue in my platform boots and take in the over-the-top, creative displays in the department store windows.
I'm a sucker for anything dramatic, like the unapologetic campiness of gaudy Christmas decor.
I love an excuse to rock bright red lipstick with a flaming red manicure and oxblood red pumps. And most of all, I LOVE a really f*cking badass holiday party. (Don't tempt me with a decorative cheese board, kittens.)
'Tis the season to get super-sloshed and gushy with old friends. 'Tis the season to do both of my favorite things — eat chocolate cake and drink champagne. 'Tis the season for really slutty Christmastime sex. (Slide down my chimney and lez make HOLIDAY LOVE.)
And let me tell you, I might be a half-Jewish little queer girl, but this Christmas season, I did it RIGHT.
I got drunk in a tulle party dress. I decorated a tree (a meditative healing process for us visually inclined creative types). And despite being sorely hungover, I still woke up in pink pastel silk pajamas on Christmas morning, which provided me the perfect falsified sense of "togetherness" that my hot mess self craves.
Even Christmas day was magical. It was an endless party. My style icon mother decorated the table with large silver swans and lit a slew of black candles. I guiltlessly ate all the Christmas cookies and stayed up gossiping with my best friend from high school.
My mother's BRILL Xmas tables. A photo posted by Zara Barrie (@zarabarrie) on Dec 26, 2015 at 4:59am PST
And then came December 26: I woke up with an all-consuming wave of relentless sadness. My glittery perspective had abruptly faded. As I did my morning scroll through Facebook and saw all the smiling "happy" families, for some reason, I felt like crying.
Like what the f*ck are you trying to prove? NO AMOUNT OF MATCHING HOLIDAY SWEATERS AND CHRISTMAS ORNAMENTS ARE GOING TO HIDE THE FACT THAT YOUR 17-YEAR-OLD IS SNORTING HIS ADDERALL AND YOUR WIFE IS F*CKING THE GARDENER.
And then came the engagement pictures.
Suddenly, all the pretty diamond rings made me feel like screaming. DON'T DO IT. YOUR LIFE WILL BE OVER! YOU'RE GOING TO GET KNOCKED UP AND MOVE TO THE SUBURBS AND GIVE UP ALL YOUR DREAMS! YOUR LIFE WILL BE EMPTY AND SEXLESS, A NEVER-ENDING STREAM OF SOCCER VANS, AND XANAX, AND MARTINIS. PRETTY SOON, YOU WON'T RECOGNIZE YOUR OWN FACE IN THE MIRROR.
You know, a totally normal reaction.
Why was I feeling so triggered just 24 hours after the elation of Christmas?
Maybe the holidays are akin to a dirty drug: They make you feel sky high in the moment but are followed by a brutal, hardcore comedown.
I wasn't surprised to find out most of my friends are knee-deep in the post-holiday blues as well. I had dinner with a few of my best friends last night, and we were all in a dark state of being. The dinner was silent and sad.
So why are we so f*cking blue after Christmas? What is IT?
It's the comedown.
The holidays are "cheerful." The presents, the parties, the the cocktails -- they all distract us from our everyday issues.
But once the temporary material high of Christmas subsides, we are left with the same problems, fears and anxieties we had before. Christmas is like putting a little Band-Aid over the gaping wound: It covers up the ugliness and makes it look pretty. But a Band-Aid doesn't last forever.
We get an adrenaline rush over our new toys and sparkly manicures — but those aren't enough to really make us happy. Once the nail polish chips, we realize it's just cold f*cking miserable winter. And now there's nothing left to look forward to. When will we even get time off work again?
We crash from our Christmas highs and feel the sting again.
The holidays hold up a mirror to what we don't have.
It's the morning after Christmas, and I'm scrolling through Instagram. It's one big showoff about who has what. This one is engaged. That one is in love. This one has babies. MERRY CHRISTMAS FROM MY PERFECT FAMILY TO YOUR F*CKED UP FAMILY.
The holidays hold up a mirror to exactly what we don't have. Love. Money. A happy family with matching Christmas sweaters.
Now we are just fat, and hungover, and cold.
I love the holidays because my vices are totally justified. I can have as much booze and sugar and cheese plates as I so please.
What the f*ck is a gym? Hand me the honey-soaked Brie, and get me a large glass of wine, thankyouverymuch.
Now it's December 26, and I can't zip up my jeans. My face feels puffy, and I can see my cheeks in my peripheral vision. I hate myself. I'm cold. I'm hungover. And I have a sinking feeling it's going to be a long, dismal winter.
We are so broke.
It's the time of reckless spending. And now our bank accounts are drained, and we are left with nothing.
The thing to remember is this: We might be feeling broke, bloated, single and alone, but none of that really means anything at all in the grand scheme of things.
Money and a new quilted Chanel bag with a gold chain might make us feel good for a hot second, but it's not real happiness. The bloat that's stopping us from fitting into our clothes will subside once we get back into our routines (and who says a few extra pounds are SO BAD anyway?).
And a relationship with another person will never make us feel whole if we don't feel whole already. The relationship you cultivate with yourself is the one you should be working on. And I bet some of those newly engaged bitches don't have the deep connection to themselves that you have.
So let's get through the post-holiday depression together. Let's remember these blues are like anything else — temporary.
Let's take a deep f*cking breath, grab a pen and paper and write out some NEW YEARS RESOLUTIONS.
Because 2016 is the year WE CRUSH it in life.