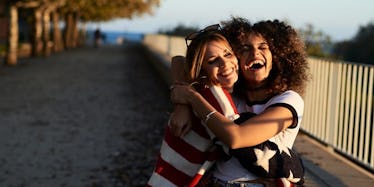 8 Adorable Friend Dates You Can Still Have With Your Long Distance Bestie
Guille Faingold/Stocksy
Even though you and your long distance bestie aren't in the same place, that doesn't mean you can't still hang out all of the time. Don't fret, because it's time to think outside of the box and get planning. A little distance really has nothing on a true, genuine friendship, right? You and your long distance BFF can still have adorable best friend dates.
When you don't live in the same zip code, it just means you have to get a little more creative with your friend hangs. Luckily, we live in a time with technology that allows someone miles away to feel like they're right there beside you. You can always FaceTime each other, but when you want to switch things up, here are eight ideas for BFF dates that anyone far away can do together. These cute date ideas will seriously give you all the feels.
1. Make Dinner Together
You can send each other your favorite recipes and decide on a night to make them together. Set up a laptop or speaker phone so you can stay in touch as your working your skills in the kitchen. Then, when the meal is done, you can sit down together and taste it at the same time. Yum!
2. Go To The Same Movie
Pick out a movie you both have been dying to see in theaters. Then, find a time that works for both of you guys to see it. Call each other immediately after to dish on how you felt about it.
3. Watch Your Fave Reality TV Show With Wine
If you both have a show you watch together, like Game of Thrones or The Bachelorette, you can watch it live at the same time. You can either FaceTime during it, or call each other afterwards to talk about the juicy details. You both won't have to worry about any #spoilers the next time you talk, because you watched it together. Cork open a bottle of your favorite wine and get cozy on the couch.
4. Get Gaming
You can let some friendly competition go down by playing a fun online game. Something like Words With Friends is always a fun option, or Facebook Messenger has a ton of games you can choose from, so your gaming streak really never has to end. It's like you're having your own bestie game night, but all through your phone.
5. Have A Long Distance BFF Book Club
Have a long distance book club together. You both can pick out something you've been wanting to read, and then catch up after every few chapters to discuss. You could even go back to classics you guys loved reading while growing up, like the The Baby-Sitters Club. Don't forget some cheese and crackers for your Skype discussion.
6. Go For A Scenic Walk On The Phone
Catch up with your main girl while getting some fresh air. Just taking a walk around the block or heading to the trails while talking on the phone with your bestie can be so fulfilling. It's like you're both going for a walk together, just not in the same neighborhood. You can even revisit all of your favorite spots you two used to go to.
7. Take An Online Language Course For Your Next Vacation Together
There are a bunch of free online courses you can take in just about any subject. Maybe you both can sign up for a class learning a beautiful new language. It could even be the language of someplace you both want to visit, so you can also plan your next vacation together in the process.
8. Send Care Packages Of Fun Things
You guys can send each other fun friend date activities through care packages. Send each other things for the other friend to do, like adult coloring books, movies to watch, and your favorite snacks. After getting your respective package, spend an evening doing those fun things together while FaceTiming.