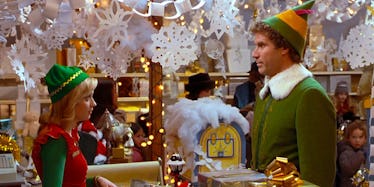 7 Things That Officially Mark The Start Of The Holiday Season
New Line Cinema
December first rolls around and you know what that means.
Cue music: "It's beginning to look a lot like Christmas."
The holiday season is in full effect after the turkey is devoured and the clock strikes midnight on the first of the month.
Sleigh bells begin to ring, and suddenly everyone is spreading holiday cheer.
Could it be ABC Family's 25 Days of Christmas begins at the start of the month that gets us into the spirit? Or because ever single store has Christmas music blasting throughout?
Either way, this month, we all turn into merry little elves.
Hold your sexy Santa suits, and spiked eggnog drinks; the holiday season is in full effect and here is how you know.
Christmas music everwhere.
In the car, in the store, at the gym, in the dining hall, at the doctors office, in the hair salon, in your own home.
There is no avoiding the cheer of holiday music wherever you go this month.
You should be used to it by now, being that some places have had holiday music on repeat ever since the Thanksgiving turkey was set on the table.
The lights, tinsel and decor everywhere.
Christmas lights have become used more often that just for the Christmas tree.
They are great used when used sporadically to add a little cozy light to the bedroom (perfect for Netflix and chill dates of course), but you know it's the holiday season when you can see people's houses from space, and building are beginning to break fire code because of it.
Not to mention, the tinsel and garland strains are dangling everywhere, and it becomes difficult to not get yourself tangled up in the restive mess.
Christmas trees tied to the tops of cars.
Talk about safe driving when you have the top of a Christmas tree dangling down onto your windshield.
Let's not even talk about the fact that your entire family is packed into one car to go cut this tree down. Now, not only are you squashed in the trunk, but the driver can't see out of the front windshield.
It's fine, everyone wanted to experience the Griswold's family traditions at some point.
Ugly sweater parties.
Sorry ladies, you have to actually wear clothes to these parties: a full on sweater that covers you.
While ugly sweater parties can be fun and festive, the point is to actually wear something ugly.
Don't take the fun out of it and where a designer sweater with a tiny reindeer neatly stitched onto it.
Holiday drinks get spiked every single time.
Hot chocolate? Yeah, let's add a splash of vodka to that.
Peppermint vodka? Yes, that works even better.
Eggnog? Yes, let's add a splash of something to that, too.
We sure know you did not become so merry all on your own. That vodka definitely did the trick.
Festive flavors for everything.
Holiday Oreos with the red frosting? Absolutely.
Candy cane and gingerbread vodka? Hell yes.
Red and green M&Ms only? Of course.
Red and green colored bagels for breakfast? Duh.
Iced gingerbread cliff bars, and peppermint flavored Pringles?
Tons of added sugar and calories for the holiday season? Count me in.
And of course, Santa impersonators EVERYWHERE.
The mall is swamped with wannabe Santas. And don't forget about the Santa who shows up at your office's holiday party handing out secret santa gifts.
What about the guys who will dress up as him and stand on the streets of the city charging money to take photos?
We all know your secret, guys, you're not the real Santa.
You're not fooling anyone.