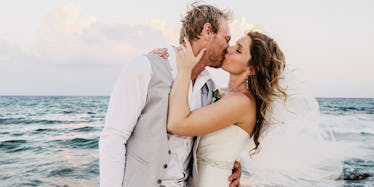 7 Things Besides Sex That Will Give You The Same Feeling As An Orgasm
Stocksy
An orgasm is often thought of as a sexual event, and rightfully so.
But despite their sexual origins, orgasms don't always have to result from sex, masturbation or whatever gets you off.
In fact, there are other, more common actions that prove to produce the same feelings as the Big O.
Here are some of the most surprising:
Meditation has the same effect on your brain.
Meditation and orgasms aren't too far off from each other. Spiritual gurus have been saying they both result in tranquility, and that the orgasm isn't a sexual experience, but a spiritual one.
Research also shows they both have a similar effect in our brains, where blood rushes to right prefrontal cortex.
Moreover, both actions serve as a short escape from our thoughts.
An article in Scientific American says meditation and orgasms ultimately generate bliss, which decreases our sense of self-awareness, alters our bodily perceptions and reduces our sense of pain.
Coregasms are a thing.
Yup, there's more incentive for you to work out. Research has shown 40 percent of women have reported a coregasm -- an orgasm induced by core workouts like crunches and planks -- and 20 percent achieved one through yoga.
A lucky few even experienced sexual pleasure during weightlifting, swimming and cycling, likely due to increased blood flow to the vagina and use of the deep pelvic floor muscles.
Orgasmic birth can alleviate the tremendous pain of natural birth.
Childbirth is obviously a less common trigger, but sometimes, the unbearable pain of giving birth can be supplemented by pleasure.
After years of anecdotal reports, the 2009 documentary, "Orgasmic Birth: The Best-Kept Secret," brought the discussion to light.
It all boils down to anatomy.
When a baby is coming down the birth canal, it's stimulating the exact same spots that would be stimulated for an orgasm, Dr. Christiane Northrup, a certified OB-GYN and author, told ABC News.
She adds:
And labor itself is associated with a huge hormonal change in the body, way more prolactin, way more oxytocin, way more beta-endorphins -- these are the molecules of ecstasy.
One survey found midwives reported witnessing orgasms among 3 percent of births, according to Live Science.
Sleepgasms don't even require a dirty dream.
The male wet-dream isn't a foreign phenomenon, with kinky dreams inducing full-on ejaculation in your sleep.
Women have an equivalent. An increased blood flow to the vagina and pelvic muscles during REM sleep can result in an orgasm. That, paired with your brain being mostly shut down during sleep, helps explain why this can happen.
Unlike men, women don't have to be thinking erotic thoughts or touching themselves for it to happen.
One study confirmed genital stimulation for women can actually be generated by your brain, not your hands.
But the strongest piece of evidence supporting these claims is a survey reporting 37 percent of women had orgasms in their sleep, but it was published in 1953.
More recently, a Glamour.com poll found 80 percent of respondents reported sleepgasms.
Your brain can experience an orgasm from watching YouTube videos.
As we've previously noted, research has indicated most women can fantasize themselves into a physical orgasm.
Sex fantasies aside, intimate videos of whispering and tapping fingernails can cause pleasurable tingles in your brain. It's called ASMR, or autonomous sensory meridian response.
Videos aren't the only way to get the pleasurable head rush.
The Atlantic reports getting a haircut, ear exam or even a lice check at school can trigger ASMR because of the close, personal attention.
Similar to an orgasm, the strongest type of tingle feels like "little fireworks," and gives you the feeling of being pleasantly exhausted afterward, a source named Maria tells The Atlantic.
Sneezing has similar characteristics to an orgasm.
We've all heard the urban legend about sneezing seven times in a row. Getting a sneeze off your chest is no doubt a wonderful feeling.
Similar to an orgasm, it involves a buildup and a release. But we can't quantify pleasure in this case.
Although the scientific evidence is scarce and we cannot conclude sneezing = orgasms, there are similarities.
Live Science reports that like orgasms, sneezes can release endorphins, and both the nose and genitals contain erectile tissue.
Shop 'till you drop just got a whole new meaning.
Turns out, finding a good deal brings a lot more to the table than a happy shopper that saved some cash.
Researchers at the University of Michigan concluded finding steals while shopping generates similar feelings to great sex.
Using MRIs and facial tracking technology, researchers found increased levels of pleasure when shoppers found a good deal in the same part of the brain that lights up in reaction to other catalysts of pleasure, like sex.
But overpaying for an item resulted in the opposite reaction, according to Focus News.