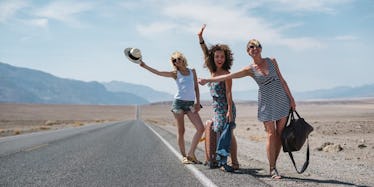 7 Fun Road Trips You'll Only Want To Take With Your BFFs Before Tying The Knot
Your BFFs have been with you through it all. They've known you pre-boyfriend, pre-glow-up, and definitely pre-fiancé. When it comes time to tying the knot, they'll also be there. But there's no doubt that after the wedding, things will be a little bit different.
Before you embark on the incredible journey that will be your marriage, you and your girl squad need some you-time. And what's the best way to get quality time, have fun, and see as much as you can? That's right -- a road trip, baby.
These seven breathtaking road trips are the perfect getaways for you and your BFFs just before you settle down with your forever person. Whether you've got time for just one of these trips, or you want to try out a few, you're guaranteed to make some memories that'll last you a lifetime.
1. Pacific Coast Highway, California
Through all 123 miles of this gorgeous trip, you're sure to see some of the most amazing sites California's coast has to offer.
You'll end in Morro Bay, and if it's the right time of year, beautiful monarch butterflies will be there to greet you.
2. Black River Scenic Byway, Michigan
I might be biased because I grew up in Michigan, but the incredible wildlife of Michigan's Upper Peninsula is something everyone needs to see at least once.
You'll pass large sandstone rocks, Twilight-esque forests, and breathtaking waterfalls. I recommend taking this trip in the fall so you can enjoy the changing colors of the trees.
3. Hana Coastline, Hawaii
The 51 miles from Kahului to Hana take about two and a half hours, but you won't want it to end. You'll drive by beautiful wildlife, steep sea cliffs, and lots of mango trees.
Be sure you don't miss out on the coconut-syrup pancakes at Anthony's Coffee Co -- yum.
4. Route 66, Cross-Country USA
Route 66 is the classic cross-country road trip to take across the US. You and your girls can take on the whole 2,451 miles, or just try out the 38-mile stretch known as Singing Road in Albuquerque, New Mexico.
There, the road vibrations will make your car buzz to the tune of "America the Beautiful."
5. Diamond Scenic Byway, Utah
Prepare for the ultimate prehistoric trip. This 424-mile stretch from Grand Junction, Colorado, to Moab, Utah lets you you explore some of the nation's largest dinosaur fossils.
You can even stop at the Dinosaur National Monument if you feel like letting your little kid soul inside you run free.
6. Lake Champlain Byway, Vermont
If you're looking for a trip full of lazy days and classic food, this road trip on the Lake Champlain Byway is the one for you. The 134 miles will take you around farm towns, near small bars and restaurants, and of course, around Lake Champlain.
You'll get a kick out of blasting your music and stopping literally whenever you want.
7. Parks Highway, Alaska
If you're down to brave some colder weather, you'll love this getaway. This road trip starts in Anchorage, Alaska, and ends in Fairbanks. You'll drive through gorgeous mountains and wildlife, and you can even snag an awesome tour at Denali National Park.