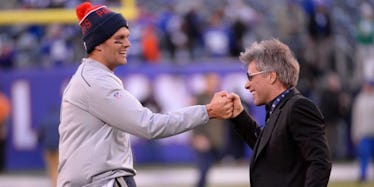 5 Reasons You'll Never Want To Move Back Home If You Go To College In Boston
USA TODAY Sports-Robert Deutsch
Although towns like Ann Arbor or Chapel Hill or Madison are rightfully considered some of the dopest college towns in America, there is truly only one place that can be accurately called "the best college town in the US."
That's right, it's Beantown.
Here are five reasons why Boston is absolutely the best city to go to college in:
1. There's like a billion colleges in the same backyard.
Think about it; Harvard, MIT, Tufts, Northeastern, BC, BU and Brandeis are all ranked as Top 40 colleges by U.S. News.
What other metro area can come even close to that?
This doesn't even mention all the other schools that may not receive as much national recognition as the aforementioned ones, but still attract plenty of interest and applications from prospective high schoolers.
If there's nothing going on at your school, there are bound to be a plethora of parties at any of the other campuses, most of which are within walking distance when the weather's nice.
2. The sports hub of the universe.
Along with all the Division I sports programs, the professional teams are obviously wildly popular and a huge part of being a Bostonian.
In any given year, the talk of the town could be about any one of the four major teams. Fenway is one of the most famous professional sporting venues in history and Gillette Stadium, located in nearby Foxboro, is a modern, state-of-the-art complex that provides far more entertainment than simply football games.
Fenway, Gillette and the TD Garden, which plays host to the Bruins and Celtics, also make fantastic concert venues.
In 2016, concerts by artists such as Kanye West, Billy Joel, Paul McCartney and Bruce Springsteen were performed in these venues. And, the teams they host are pretty good, too.
The Sox, Pats, Celts and B's have collectively won a total of nine championships in the last 15 years. Seems like everyone else is playing for 2nd place.
3. It's so easy to get around.
With a wide variety of public transportation choices at our convenience, it's arguably the most easily accessible major city in the nation.
The green, red, orange and blue lines can take you virtually anywhere in the city for relatively cheap prices.
The commuter rail also rides off to the beautiful suburbs of Boston, which makes for an incredibly efficient journey home for kids who grew up locally.
4. It's literally run by college students.
College kids make up roughly 25 percent of Boston's population, which is absolutely stunning if you really think about it.
The city is one of the top 25 most populated in America, with over half a million residents. Having a great social life is inevitable as a walk around town at any given moment will give you an idea of just how many different schools are in your proximity.
Dozens of sweatshirts featuring unwavering school pride are apparent on any given street, which makes for a wicked college atmosphere.
5. A small town feel in a big city.
Although the Greater Boston area is widely considered one of the best metropolitan areas in the world, it somehow manages to maintain a small town feel.
Boston is about three times smaller than New York City and less than 1/5 of the size of Los Angeles.
This can be great because it's typically not too overwhelming for students who aren't used to living in a city setting. Additionally, many of the college students aren't originally from Massachusetts, and a lot of universities have a fairly large international population.
It often doesn't feel extremely overpopulated like other major northeastern cities do, as New York's five boroughs hold about 8 million more residents than Boston.
Boston has it all. The city offers great food, sports, nightlife and an education to all those fortunate enough to call it home for four years.