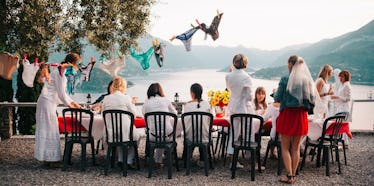 These Bachelorette Party Game Ideas Will Take Your Night To Another Level
Giada Canu
When your best friend is getting married, you know you have to send her off to her wedding in style. A bachelorette party is a rite of passage during which your friend gets to spend one more night as a single lady with her friends and family.
Since you want your favorite bride's bachelorette party to be just as special as she is to you, you have to organize an awesome party.
Here are some of the best party games for keeping the giggles and fun flowing all night long.
How Well Do You Know Him?
This spin on The Newlywed Game is the perfect way to blend your girls' action with the boys' party activities.
Before the event, have someone interview the groom and ask him questions about the bride's relationship with him. Try to mix up the questions by asking a combination of serious and embarrassing ones to keep things interesting. Then, read the questions to the bride at the party and see how many she can guess right.
For every wrong answer, she has to take a shot or do an embarrassing dare, such as dance on the bar.
Extreme Hot Potato
Also known as Pass the Parcel, this popular kid's game can be amped up a notch and transformed into one of the most fun bachelorette party ideas ever by carefully selecting the prizes.
Since there are just adults present, add a naughty twist by wrapping up risqué gifts, such as lingerie and massage oils. Then, watch as your guests and the bride blush and laugh their way through the game.
If you really want to keep everyone rolling, add a few dares into the mix that will help to stimulate conversation during the package passing.
Wedding Dress Fashion Show
Bachelorette party themes often center on glamour and beauty. Whether you do a spa day or a pub crawl, make sure you have your girls design and model a gorgeous wedding dress that is fit for only the most beautiful bride.
What's the catch? Your guests are limited to using toilet paper and have only five minutes to complete their mission. Then, everyone must walk down an imaginary aisle and try to sell their creation to the bride who is judging. Give awards for the best one along with some silly titles such as "Most Likely to Fall Off During the Ceremony" and "Most Extreme Veil."
Scavenger Hunt
This party game leaves lots of room for you and the other party planners to get creative. Split your group up into teams, and give them a list of items they must collect before the night is done.
Start with a few easy ones, such as an empty drink glass and lemon. Then, move on to some sexier dares, such as a kiss from a stranger or a single man's business card. This is also one of the best bachelor party ideas when everyone uses their cell phones to generate photographic evidence.
The first team to complete their lists gets a round of drinks and a silly prize, such as personalized wine glasses.
Who Said That?
This game is a spin-off of PostSecret, and it will add a personal touch to your bachelorette's party.
Fun ideas should always include recognition of the relationship the bride has with her guests, so invite each person to scribble a favorite memory associated with the bride on a sticky note. At the party, have the bride read each one and try to guess who wrote it.
Remember, this game is only as fun as the memories that are included on the notes. Silly arguments, drunken antics and weird ex-boyfriends are just a few ideas for creating interesting memories that will leave the bride giggling and blushing.
On your friend's last night as a bachelorette, you can keep things light and silly or heat it up with some naughty fun. Either way, you want to make sure she will always remember her special day. By planning fun activities for the bachelorette party that encourage interaction mixed with a hint of silliness, you can ensure that your favorite bride loves every moment of her last night of freedom.