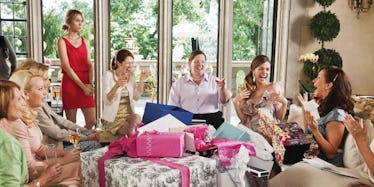 5 Ways To Throw A Bachelorette Party Without Draining Your Bank Account
Universal Pictures
With summertime comes wedding season. Things can be increasingly costly for all parties involved, including the wedding shower, invitations and — oh yeah — the wedding itself.
Usually, the most anticipated event for the bride is the bachelorette party. This is when the bride can let loose and celebrate her final moments of being truly single. There is usually a lot of drinking and celebrating, which can all add up rather quickly. There's bride-labeled gear, bar tabs, dinner tabs, hotel and so on and so forth.
If you are at that age when a lot of your friends are getting married, the cost of a bachelorette weekend can be too much for your 20-something bank account. But fear not: There are a lot of ways you can avoid spending an absurd amount of money and still have a weekend to remember.
We all know bachelorette parties are more about celebrating the bride-to-be, not getting the most expensive limo ride of your life to the club with the most overpriced drinks. So, your love and affection for your friend doesn't have to be expressed by how much money you spend.
Here are some DIY, cost-friendly ideas to throw into your bachelorette weekend for the bride-to-be:
1. Airbnb
We live in a world with the fabulous resource that is Airbnb. Whether you're traveling to Las Vegas, Hollywood, Newport Beach, The Hamptons, Cape Cod or even Boston, you can find a place for an affordable cost, which can be split up between the bride tribe. Or perhaps, you have a family member that has a nice beach house you can borrow for a weekend.
My sister is getting married this summer, and her bachelorette weekend is in two weeks. We were lucky enough to use her fiancé's parents' beach house on the Cape. Use your resources. Brainstorm with your bride tribe. Communication is key, as it is in most situations. You could have options you may not even realize are there.
2. Scavenger Hunt
Scavenger hunts are not only cheap, but they are a perfect excuse to run around like an idiot and have it be entirely acceptable. Make sure the list of tasks involve the bride's interests. Break off into teams, and go for it. Make sure to take plenty of pictures.
Let loose and forget how old you are. Remember how much this weekend means to the bride and how happy she is to have all of her closest friends together to celebrate her big day.
3. Dress Code
A lot of bridal parties get matching shirts, but an alternative to that idea is making use of the clothes you already have. Wear the colors that match the bridal party, and coordinate outfits with all attendees so you look like a team. You are a squad, so look like one.
It's not about how much money you're able to spend on bride gear. It's about a group of people coming together for one common interest: the bride and giving her one hell of a celebration.
4. DIY Manicures And Pedicures
You're girls, and my guess is, you've painted your own nails before. So, pay it forward and get the same in return. That way, you can experience the comfort of doing manis and pedis in a relaxed environment, not a high-priced salon. Add in some female bonding, pop some champagne and have fun.
This is an activity everyone can take part in. You skill level doesn't matter, and if you mess up, that's what nail polish remover is for. #BYONP.
5. Games About The Bride
Who doesn't love some attention? Go around and tell the group one of your fondest memories of you and the bride-to-be. Just try not to embarrass her too much. Everyone will be able to learn a little something new as you share, and you may even relate to each other's stories.