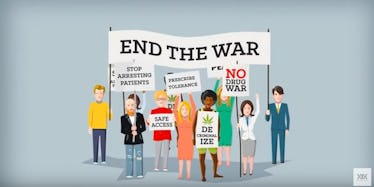 High Expectations: Here's How You Should Really Be Celebrating 420
Dixie Brands, Inc.
Tomorrow marks the start of April -- and America's worst holiday, but let's just pretend April Fool's Day doesn't exist.
More importantly, April 1 is the start of a smoky yellow brick road, wafting us toward 4/20.
The holiday at the end of the month tends to get a bad rap: People associate it with lazy stoners looking for an excuse to get f*cked up and sit around doing nothing all day.
Because the marijuana industry has become about so much more than simply getting high, it's about time 4/20 elevated itself to meet the current tone and incorporated some of the activism and productivity that's newly associated with weed.
There's really nothing else in the world like marijuana. It's advocated for equally, it seems, in both medical and recreational capacities and has the power to reshape pretty much every facet of society, from environmental and scientific to political, educational and social concerns.
Dixie Brands, a major marijuana elixirs and edibles manufacturer based in Denver, CO, is doing something to reframe the day's image. Along with the Marijuana Policy Project, the company's new initiative aims to "Plant The Seeds Of Change" by highlighting some tangible consequences caused by existing prejudice and providing you with an outlet to enact change.
Watch the first video in the movement's new, three-part advocacy series, "Pot & Prejudice," up top to glean some insight into where cannabis currently stands in the United States. Also, if you're in California or Colorado, check out Dixie's Limited Edition Elixir -- for every case sold throughout April, the manufacturer will donate $15 to the Marijuana Policy Project, or you can donate directly here.