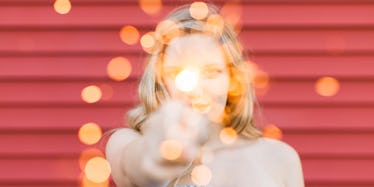 11 Things To Do This Fourth Of July Weekend That Don't Involve Drinking
Holidays can be challenging experiences as a sober person, or heck, even as someone who simply isn't interested in drinking all that much.
The Fourth of July in particular seems to be an excuse for many people to gorge on hot-dogs, micro-brews, and overall, get weird.
As a non-drinker, I still attend plenty of events and parties where alcohol is present, but I always manage to find ways to have fun without drinking at all.
Here are just a few ways you, too, can enjoy this holiday weekend without getting sloppy drunk.
1. Have A Movie Marathon
I would do this all day, every day if I could.
Make some hot-dogs, blast the AC, stock up on seltzer and ginger ale, and choose any genre of your liking -- post-apocalyptic dystopias, Gerard Depardieu, perhaps some Bollywood? The celluloid world is yours.
If you're definitely looking to get out of the house, movie theaters will definitely still be open, so there's always the possibility of enjoying a double-, or even triple-feature with a bottomless bucket of popcorn.
2. Host A Theme Party
One of my favorite theme parties I've ever had was a talent show.
Sure, there were people who drank at the party, but because everyone was so psyched to perform their numbers, the alcohol wasn't the focus of the event by any means.
Trust me, you'd be surprised by how much you can accomplish with a simple backdrop sheet and a wooden spoon as a makeshift mic.
3. Get Competitive And Play Some Sports
Play some volleyball on the beach, or perhaps a little badminton in the backyard.
Make it a tournament to get the competitive vibes going real strong.
And for those of us who don't exactly like to partake in that thing called sports, we are more than happy to watch and provide commentary with a cold, lemon-lime Zevia and a spray fan.
4. Go On A Hike
There has to be some mountain or trail nearby that has long beckoned you to come along and explore.
The Fourth of July is your day to conquer it.
Put on some hiking shoes, and get your crew together.
Maybe there's even a swimming hole or waterfall to help you cool off at the end of your journey.
5. Go Bike-Riding
Honestly, you don't even need to have a destination in mind. In fact, I kind of think it's more fun if you don't.
Perhaps you'll take a ride to the beach, or through a nice patch of woods, or even just to a local ice cream shop.
6. Have A Bake-Off With Your Friends
Lemon bundt, devil's food cupcakes, one of those layered Jell-O desserts -- the world is your oyster.
Invite some friends over who are great at baking (and some who definitely aren't, you know, for the comedy), and come up with different prize categories, like "most delicious" and "most unique" (unique, of course, being the nice way to say, "what the f*ck is this, and how do you expect me to eat it?).
7. A Very Fancy Mock-Tail Picnic
Make a delicious baguette sandwich, put on your best Gatsby-esque outfit, and bring along some easy-to-make mock-tails to the park with a group of people who make you laugh.
Get creative with mint, crushed fruits, or syrups for your drinks.
My personal favorite is a super-cold club soda with elderberry syrup, with a pop of raspberry on top.
8. Get Crafty
There's never enough time to craft during the weekly grind.
Get out that basket you've been meaning to weave, some beads you've wanted to make into a rad bracelet set, or invite friends over for a little mosaic party.
Put on some great tunes, and all hail the homemade guac!
9. Spring, Or Summer, Cleaning
Sometimes the best way to celebrate a holiday is to not celebrate the holiday at all.
Blast some music, and clean the crap out of your bedroom. If you're not singing (but really, screaming) along to the songs off-key, you're not doing it right. 
For me, I always feel spiritually lighter after a good dusting and a material purging.
10. Shop At A Flea Market
There are so many flea markets across the nation this weekend, my friends.
Get yourself one of those massive blue Ikea bags, chug about 14 iced coffees, and get shoppin'.
You can put all your new trinkets in your clean, clean room.
11. Fireworks, Because Duh
I mean, you kind of have to, right?
Wherever you are, you certainly don't need booze to enjoy the fireworks.
Whether you decide to go to a park, a rooftop, or even just stay in your bedroom and gaze out the window, it's sure to be a beautiful show.