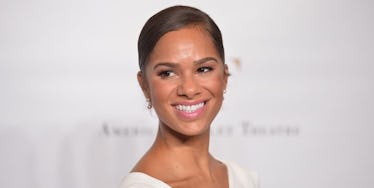 10 Inspirational Misty Copeland Quotes To Live Your Life By
REX/Shutterstock
When thinking of Misty Copeland, we picture the beautiful vision she is on stage, and the role model she is off stage.
Her movements are pure magic and unparalleled. In 2015, Copeland became the first African-American Female Principal Dancer in the American Ballet Theatre.
Misty was introduced to the exquisite world of ballet when she was 13 years old. During that time of her life, she resided in a motel room with her mother and five siblings.
In Time 100's video called "Misty Copeland On Changing the Face of Ballet," the 34-year-old ballerina describes the beginning of her dancing days to be "very unexpected."
The ballet sensation worked her way up to pointe shoes within three months of her very first dance lesson. In a little over a year's time, Misty was already a professional dancer.
Misty opened up about who consistently inspired her,
There's just been a whole slew of African American women who have just really pushed me and motivated me during those times that I didn't know if I could do it.
Just as Misty looked up to those women, aspiring ballerinas and fans alike look up to Misty for all of her incredible achievements.
One of my favorite quotes from Time 100's video seriously gave me chills. Misty said,
I never thought I could make a career out of something that I enjoyed doing, something I was passionate about, something that gave me a voice.
Her voice and words are an inspiration to us all, and she continues to make it her duty to transform how people see ballet:
When you see the body outside of a costume and see the strength that it takes, people would look at dance a different way and see how athletic it is. You're not just born like that.
In honor of the incredible woman and dancer Misty Copeland is, here are 10 of her motivational quotes we can all live life by.
"You can start late, look different, be uncertain and still succeed."
"It's important for me to set an example of what a healthy image is, what a ballerina can be, that she doesn't have to be a white woman that's rail thin. That she can look like the world."
"Belonging shouldn't mean you are like everyone else."
"I would want a younger child looking at me on the cover to see themselves. To see endless opportunities; to see possibilities that maybe they never even thought were something that they could attain."
"I just try to approach every opportunity on stage as if it's my first time and my last time."
"Going on stage and transcending the audience and becoming this otherworldly thing makes you a dancer. It's not so black and white."
"Speak up for yourself and what you believe in. You can still be an elegant woman and be strong and powerful."
"All you can do is be your best self. I'm representing more than just me. I think every person should think that way."
"Without my mentors, there is no Misty."
"You can do anything you want, even if you are being told negative things. Stay strong snd find motivation."
Not only is Misty Copeland a role model for her angelic performances on stage, but for her outspoken sense of self off the stage as well.
Citations: Misty Copeland