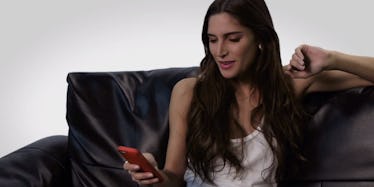 Girls Reading Terrible Tinder Lines Proves How Desperate Guys Can Be
In a practically unlimited sea of singles, the men of Tinder have to be extra creative in order to get a woman's attention.
Just in time for Valentine's Day, intimate brand MeUndies asked women to prove romance really is dead by reading the cheesiest pickup lines in the cyber dating universe.
My personal favorites include:
I use pizza in the bedroom.
And:
Listen. I'm not here to put boots on caterpillars, do you want to f*ck.
It's not subtle, but it'll do the trick. If you get a laugh, you're practically halfway to a real date.